The Gold Coast has wonderful beachside walks and stunning national parks to explore.
From the dramatic, volcanic coastline hugging Burleigh National Park to the cool rainforest walks of Tamborine Mountain and blue-green lights of thousands of glow-worms at Springbrook, there is so much to see and do. Whether you want to picnic beside a freshwater creek, tackle a challenging bushwalk, photograph tumbling waterfalls, gaze at the ocean as you watch surfers take on the waves, or bounce your way along a treetop canopy walk, you'll find some great nature walks on the Gold Coast in Queensland which offer all these things and more.
Discover Springbrook National Park by day – and night
Springbrook National Park is a nature lovers' paradise with an impressive choice of walking trails, tumbling waterfalls like Purlingbrook Falls, and spectacular lookouts, each one making it feel like you've reached the world's edge. The highest lookout on the plateau, 'Best of All Lookout', lives up to its name with impressive views to Mount Warning and the valleys below. By night, you can visit Springbrook Research Observatory for a spot of stargazing or watch glow-worms provide a magical experience inside the cave at the Natural Bridge rock formation.
ENRICH YOUR QUEENSLAND HOLIDAY WITH THESE FIRST NATIONS EXPERIENCES
Connect with First Nations culture at Lamington National Park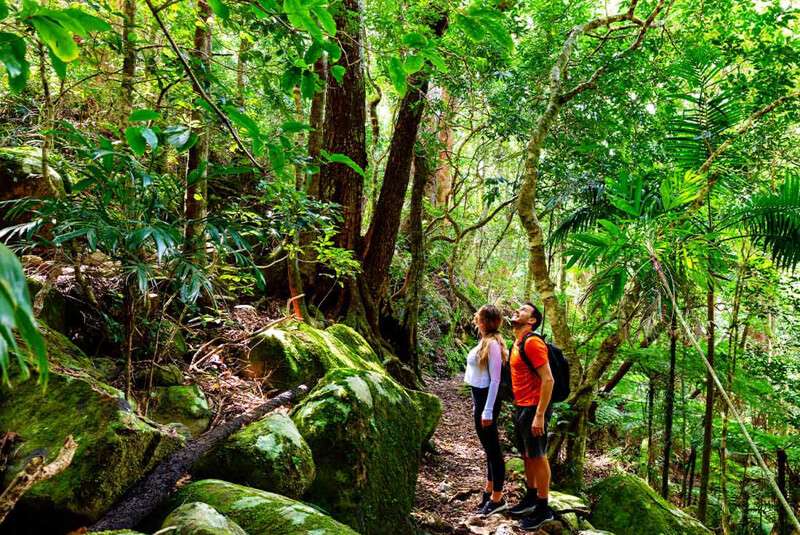 Lamington National Park has two sections—Green Mountains (O'Reilly) and Binna Burra — and two roads to choose from, both stunning in their own way. At Binna Burra, you can connect with the land's traditional owners on the Caves Circuit, a 5km return walk which travels through the fire-blackened Kweebani Caves which were once used for shelter and cooking by the Yugambeh people. At the top of Green Mountain, watch for yellow-throated scrubwrens and logrunners on the 30 minute Rainforest Return walk at the start of the lengthy Border Track. If you venture a little further, you'll discover the historic track building camp at Morans Creek.
Green on gold at Mountain Tamborine National Park
Mount Tamborine is a pretty mountaintop community that is an easy 45 minute drive from the Gold Coast but feels like a world away. Galleries and restaurants line the picturesque main street and Queensland's oldest national park, Tamborine Mountain National Park, offers stunning scenery and impressive views of the Pacific Ocean and Gold Coast's distant high rise. Admire the gorge, waterfalls and rock pools on a walk to Curtis Falls. The Cedar Creek Falls is suitable for strollers and assisted wheelchair access, or you can trace the footsteps of folklore on a walk at Witches Falls. As you zigzag down the mountain side, passing through a rainforest filled with giant strangler figs, it is not hard to imagine why local children once believed this forest was haunted by witches and giants.
FIND OUT MORE: DISCOVER MOUNT TAMOBORINE ON FOOT
Stroll or roll along the Gold Coast boardwalk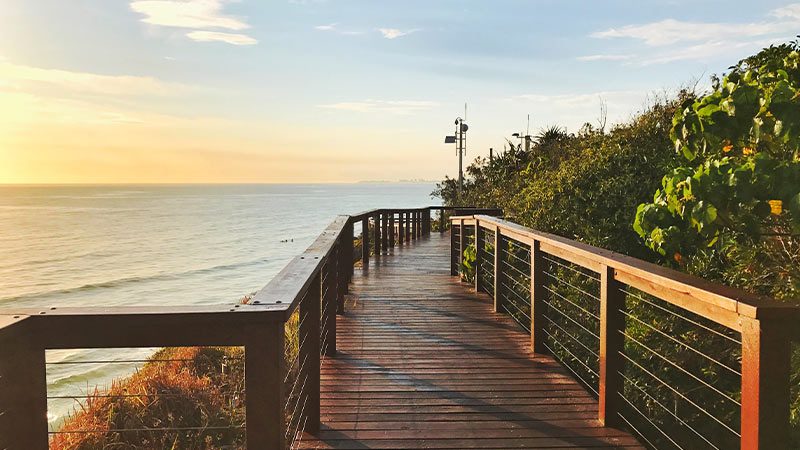 The Gold Coast has one of the world's longest stretches of beach and an equally long boardwalk courtesy of the Gold Coast City Council so everyone can enjoy it. The boardwalk offers the perfect way to explore on two feet or two wheels, or even four wheels if you ride a skateboard. You can walk or ride all the way from Surfers Paradise to Coolangatta on the predominantly coastal bike/walking paths, a distance one way of 54 km. If you don't have your own bicycle, you can rent a Lime electric bike and explore up and down the coast without running out of puff.
Naturally beautiful beachside escape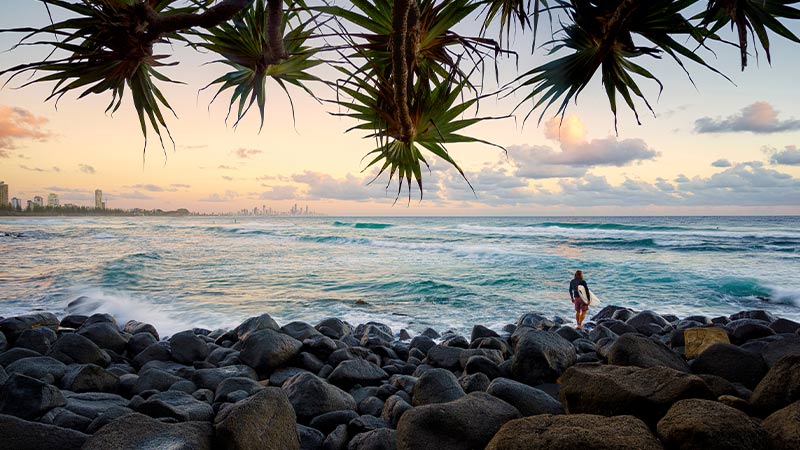 Escape the summer heat and crowds and retreat take a walk through Burleigh Head National Park where stunning Pacific Ocean views peek out from behind pandanus groves. After your walk, venture up the road to David Fleay Wildlife Park, where research, conservation and education remain at the heart of every visitor experience. Watch as a Park Ranger coaxes a shy ringtail possum to show her curly tail during the educational Creatures of the Night Show. Explore the park's wooden boardwalks to discover iconic Australian animals and visit the Nocturnal House where a playful platypus likes using his waterfall as a water slide. This wildlife park founded by renowned Australian scientist, Dr David Fleay, has inspired generations to love and care for Australia's unique wildlife.
Feeling inspired?