If these beaches in South Australia aren't on your bucket (and spade) list, they really should be...
Unless you've lived or travelled in South Australia, you might not know it's a paradise for beach lovers. People all over the world know about Bondi (looking at you, Bondi Rescue), the laid-back beaches of Byron Bay or the heavenly Whitehaven Beach, but South Australia's beaches are underrated, and we have no idea why.
From the ridiculously blue waters along the Eyre Peninsula to the dreamy coves on Kangaroo Island to secret surfing spots in Penong. Oh, and did we mention the countless wineries and cellar doors in McLaren Vale on the Fleurieu Peninsula? What better way to quench your thirst than with a glass of vino overlooking the vineyards. There's no need to jet off to a tropical island in the Maldives when you can escape to one of these gorgeous beaches in South Australia.
1. Almonta Beach, Eyre Peninsula
Located at the southern tip of the Eyre Peninsula, Almonta Beach in Coffin Bay National Park is nothing short of spectacular. Think bright blue water that begs you to go for a swim, wind-whipped sand dunes and fringing bushland home to local kangaroo, emu and goanna residents. Coffin Bay is also what seafood lovers' dreams are made of. Imagine wading out to a working oyster farm where you can pick, shuck and eat oysters while standing in the sea. Well, you can do just that. Surely that's as fresh as it gets.
2. Glenelg Beach, Adelaide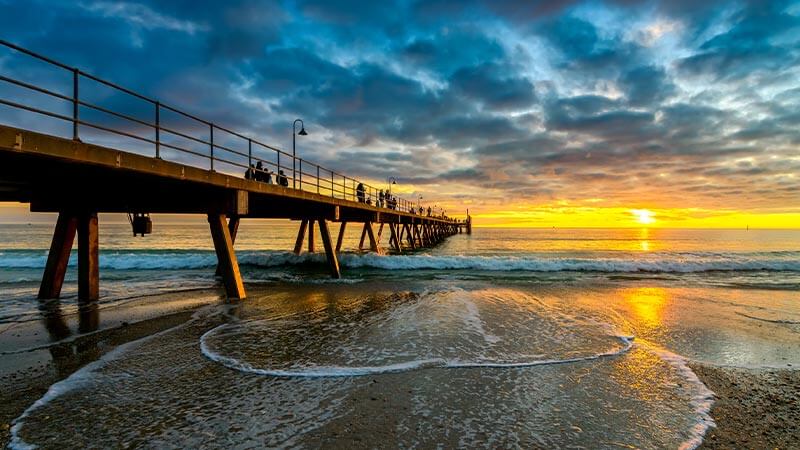 If you're in Adelaide, a trip to Glenelg is a must. Glenelg is just 11km from the CBD and is the most popular beach for city dwellers who flock to enjoy the long stretch of sand, historic Bay Discovery Centre and thriving Jetty Road area lined with bars, restaurants and shops. Take a walk out to the jetty for a fresh hit of salty sea air, jump into the water for a cool dip or plonk yourself down on the soft sand for some chill time. When you're all beached out, enjoy some espresso-infused retail therapy followed by dinner as you watch the sun go down.
3. Maslin Beach, Fleurieu Peninsula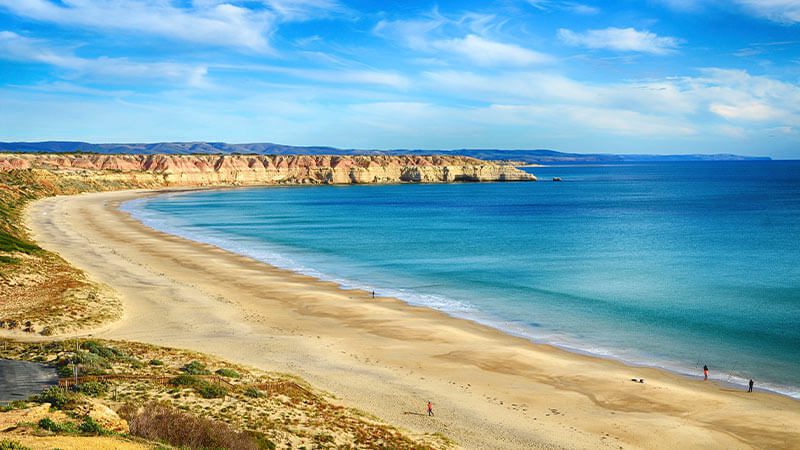 Next, we have Maslin Beach, or 'Maslins' as locals call it. The vast stretch of golden sand is enclosed within tall cliffs and sand dunes that glow during golden hour, and the calm blue waters are great for swimming and snorkelling. Fun fact: Maslins was Australia's first official nudist beach. Even funnier fact: it's also home to the annual Pilwarren Maslin Nude Beach Games (formerly the Maslin Beach Nude Olympics). Think tug o' war, sack races and frisbee throwing… but in the nuddy. If you'd like to enjoy swimming and sunbathing in your birthday suit, note that nudity is restricted to the southern end of the beach.
CYCLE MCLAREN VALE'S COAST TO VINES TRAIL
4. Port Willunga, Fleurieu Peninsula
It's no surprise Port Willunga is one of South Australia's most photographed beaches. With smooth golden sands, steep cliffs and the remains of an old jetty jutting out of the sand (know as 'the sticks'), Port Willunga feels a million miles from Adelaide, even though it's just 46 km away. The beach is squeaky clean and the water is an eye-popping blue. If it wasn't for the jetty ruins and parts of a shipwreck you can see at low tide, you'd never guess Port Willunga was once one of South Australia's largest ports. It's still a bit of a secret spot for locals, so enjoy it while you can.
5. Carrickalinga Beach, Fleurieu Peninsula
The views are cracking at Carrickalinga. Powder white sand, rocky outcrops, turquoise waters and the soothing sounds of lapping waves. Don't just take our word for it, Lonely Planet named it South Australia's best beach in 2013. The water visibility is amazing and rockpools emerge at low tide which is perfect for enjoying a shallow dunk or paddle with the kiddos. Have a lazy day soaking up the rays or explore the coastal walking trails between Carrickalinga and Normanville to soak up the views over Yankalilla Bay and Roma Mitchell Bay.
6. Vivonne Bay, Kangaroo Island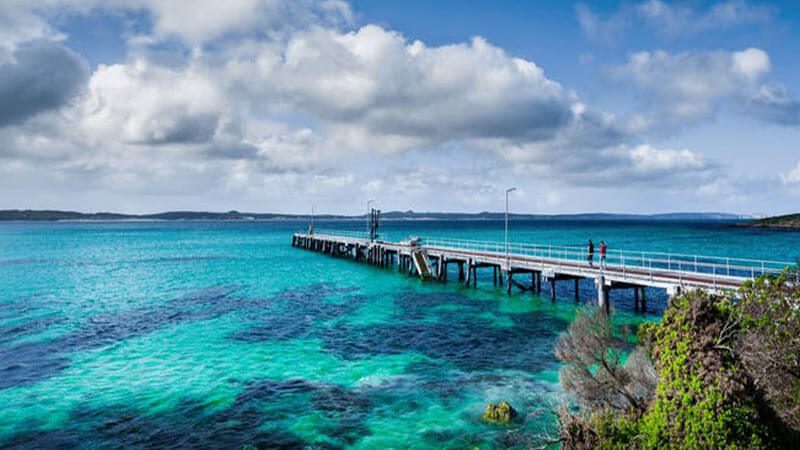 It doesn't get more idyllic than Vivonne Bay. It has everything an island paradise should have: 5 km of chalk-white sand, sky-blue waters that glimmer in the sunlight, a charming jetty and fringing coastal bush. On a sunny day, you'd easily think you were on a beach in the Philippines or Bora Bora. It's not just humans that love Vivonne Bay. Locals often spot dolphins in the surf, and Seal Bay – home to Australia third-largest seal colony – is just a bit further along. There's not much to do other than lap up the tropical haven vibes, and that's the best part about it.
DISCOVER THE NATURAL BEAUTY OF KANGAROO ISLAND
7. Cactus Beach, Penong
Cactus Beach is still a bit of a secret spot for local surfers, and they'd like to keep it that way, so shhh. It's tucked away in a remote area near Penong, but it's well worth it if you want to catch some of Australia's best waves. You'll also drive along the oh-so Instagrammable Watermelon Avenue (Lake Macdonnell) where the cotton candy-coloured salt lake pops against the sparkling blue ocean. Driving along Watermelon Avenue is a highlight in itself, but note you can only see it when there's water in the salt lake, which is usually in winter and spring.
8. Memory Cove, Eyre Peninsula
Forget memory lane, take a trip down to Memory Cove instead. Nestled in dense native bushland with sugar-white sand and sapphire waters that beg you to jump in, you won't be forgetting this isolated cove in a hurry. The bushland is home to a number of local residents – they're a friendly bunch and are known to hop down to the beach to hang out and enjoy the views (if you hadn't guessed, we're talking about the 'roos).
BATHE IN THE CRYSTAL CLEAR WATERS ALONG THE EYRE PENINSULA
9. Emu Bay, Kangaroo Island
Emu Bay Beach is another jewel on Kangaroo Island. With a long sandy shoreline stretching 4km, shouldering sand dunes and blue tie-dye colour waters, it's no wonder it's one of the island's most popular spots. Still, it never gets too crowded. There's not much around – the closest amenities are in Kingscote – but it's the only beach on the island that has vehicle access, so you could pack your car with supplies and drive down if you wanted to make a day of it. There's nothing quite like blasting the tunes with the windows down as you cruise along the shore.
10. Stokes Bay, Kangaroo Island
You'll be stoked after spending a day at Stokes Bay. It's one of the busiest beaches on the island, but we love it all the same. Nestled between rugged cliffs, the water is some of the clearest in Australia, and there's a giant rock pool (more like a bath, actually) on the shore where you can float, swim or snorkel. Or take a wander through the maze of caves to see if you can spot any sea creatures in the rock pools.
DISCOVER THESE BEACHES FOR YOURSELF ON A SOUTH AUSTRALIA TOUR
Feeling inspired?