Nepal's Annapurna Base Camp trail is one of the most jaw-dropping high-altitude treks in the world. Picture yourself on mountain trails winding through rhododendron forests and valleys, along rivers, and past ice caves. Incredible doesn't even begin to describe it.
Scenery aside, the Annapurna Base Camp trek is one you definitely want to be prepared for. Sure, there's training for a high-altitude trek (you'll develop an intense relationship with your gym's StairMaster in the lead up) and readying yourself for dal bhat at every meal, but you also need to make sure you're kitted out with the right gear.
JOIN US ON OUR 16-DAY ANNAPURNA BASE CAMP TREK. FULL DETAILS HERE. 
Between you and your porter, you'll need to carry everything with you, so don't go overboard on the packing. You don't need a different outfit every day. You'll wear the same socks/leggings/t-shirts/underpants multiple times. You will sweat. A lot. You likely won't have access to hot showers. You will develop your own unique fragrance. And it'll all be worth it.
To help you whittle down that list of packing essentials, here's everything you'll need on Intrepid's 16-day trek to Annapurna Base Camp. There's no need to splash out on expensive gear – anything you don't already own (or can borrow from a friend) can easily be picked up in Pokhara or Kathmandu. Both cities have an abundance of trekking stores, selling and hiring cheap clothes and equipment.
CLOTHES, BOOTS, ACCESSORIES
Worn-in hiking boots
These are essential. Obviously. Opt for water-resistant hiking boots (with ankle support), and make sure they're worn in to reduce the chance of blisters and sore feet. In the lead up to your trek, it's a good idea to wear your boots EVERYWHERE so your feet get used to being in them all the time: on practice treks, to work, and around the house.
Leggings or hiking pants
You don't need fancy pants here. A few pairs of exercise leggings or hiking pants will do.
EXPLORE OUR FULL RANGE OF ANNAPURNA TREKKING TRIPS HERE
Layers
Even if the weather's on the chilly side, your body temperature will start to rise as soon as you start walking. Wear layers you can easily take off when you heat up, and put back on when you stop. Consider taking:
4-5 moisture-wicking tank tops or t-shirts
2-3 long-sleeved tops
1-2 fleece tops or a cashmere jumper
Trekking socks (and a few pairs of warm non-trekking socks for apres-hike wear)
Newsflash: your feet will sweat like they've never sweat before on your trek to Annapurna Base Camp. And when you take off your shoes at the end of each day, they will smell like nothing else on earth. Invest in some quality, moisture-wicking hiking socks (don't think you can get away with regular socks) to get you through the day, and a few pairs of warm non-trekking socks you can wear in the evenings.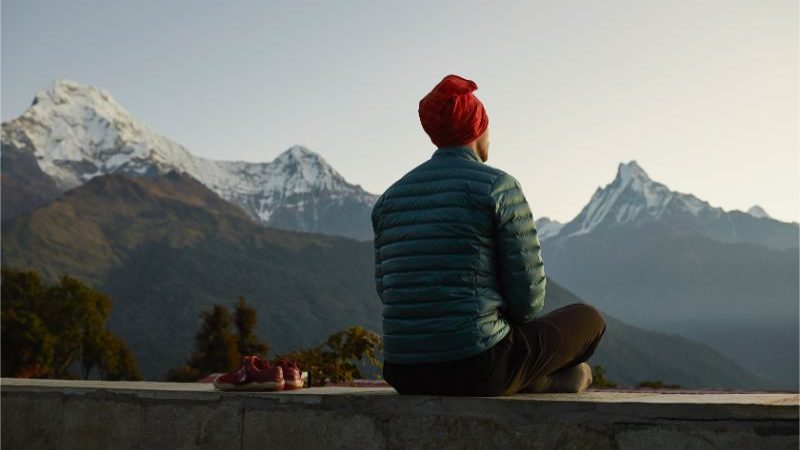 A warm down jacket
In the first few days of the trek, you'll wonder why you bothered bringing a puffer with you, but once you get over the 3000 metre/9842 feet mark, you'll be thankful you did. Invest in a quality down jacket, preferably one that packs down into a bag or internal pocket – it'll save room in your pack.
A warm hat
For keeping your head warm. I slept wearing my woollen beanie at Machhapuchhre Base Camp and Annapurna Base Camp and you probably will too.
RELATED: YOUR ESSENTIAL ANNAPURNA BASE CAMP TREKKING GUIDE
Gloves
Nothing spoils the serenity of a glorious sunrise more than frozen fingers, so invest in a pair of warm fleece-lined gloves.
A cap
Keep the sun off your face (and your dirty hair hidden away) with a baseball cap.
A fleece buff
Protect your neck! A fleece buff can also double as an ear warmer or hat, and won't get caught on the breeze like a scarf might.
Non-trekking shoes for kicking around at the teahouses
Give your poor feet a break at the end of each day with a comfy pair of shoes. I opted for Birkenstocks with a warm pair of socks and, while I looked tres chic, it was supremely comfortable. Sneakers or flipflops are also great options.
FOR YOUR MAIN PACK
When you trek with Intrepid, you'll be accompanied by a local leader, an assistant guide, and a team of local porters. The porters will carry your main bag, which needs to be under 10 kilos/22 pounds. This bag should be packed with gear you won't need during the day.
Sleeping bag
Depending on the time of year you trek, nights at lower altitudes don't get too cold, but you'll definitely need at least a four- or five-season sleeping bag when you get to Machhapuchhre Base Camp. There are plenty of places in Kathmandu and Pokhara to hire or buy good-quality sleeping bags – your leader can help you with this before the trek.
Sleep sheet (cotton, silk or thermal)
A sleep sheet will not only add an extra layer of warmth, it'll also provide a slightly more hygienic sleeping experience if you're hiring a sleeping bag (or opting to sleep under the teahouse-supplied blankets, which are often aired out rather than washed).
Comfortable 'teahouse' pants
Leggings or hiking pants will be your best friend by day, but come nightfall, you'll want nothing more than to slip into something more comfortable. Like some good ol'-fashioned fleece-lined track/sweat pants (preferably with pockets, for stashing a few sheets of toilet paper and your hand sanitiser). Comfort is key at the teahouses, and sweatpants – even a thick pair of flannel PJ pants – fit the bill perfectly.
Long-sleeved thermal tops
You'll want one or two long-sleeved thermal tops to wear in the evening, especially at Machhapuchhre and Annapurna Base Camp (honestly, you'll probably need to wear EVERYTHING on these nights, just to stay warm).
RELATED: WHY I LOVED DOING A SMALL GROUP ADVENTURE IN NEPAL FOR MY HONEYMOON
Thermal long johns
Likewise for the long johns – a pair of close-fitting pants you can pop on under your teahouse duds to keep the warmth in.
Lightweight quick-dry towel
While most of the teahouses Intrepid stay in do have shower facilities, finding one with hot water can be another story. But when you find that elusive hot shower, you'll want to take it, and you'll want a towel with which to dry yourself. Especially a towel that'll dry (enough) overnight, so you're not lugging a damp lump around in your pack.
FOR YOUR DAY PACK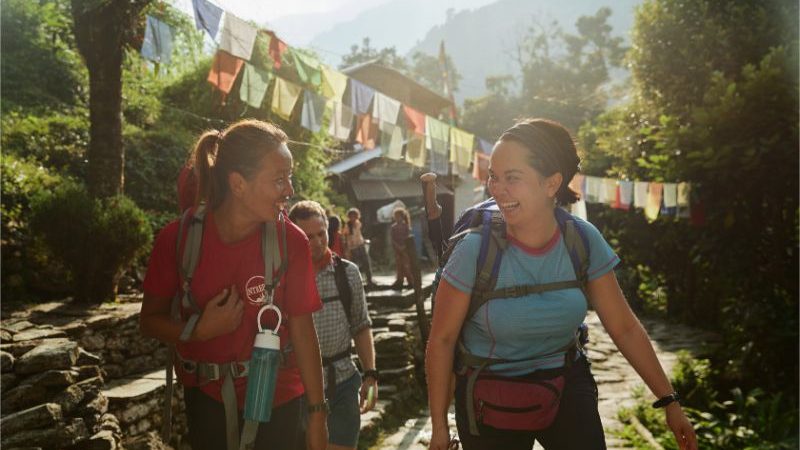 As mentioned, your excellent team of porters will carry the bulk of your gear in backpacks, but you'll need to carry everything you're likely to need throughout the day in your own pack. Choose a day pack with a strap you can buckle over your hips and across your chest to take some of the load off, and make sure you've got a waterproof cover for it.
OPTIONAL: A bum bag/fanny pack
A little bag you can strap around your waist is really convenient for your go-to items – toilet paper, hand sanitiser, your phone, lip balm, sunnies, and a chocolate bar. Great for channelling your inner Dwayne Johnson, too.
Waterproof pants
The last thing you want on a trek is wet legs (which later turn into cold legs), so keep a pair of lightweight waterproof pants in your daypack, just in case it rains.
RELATED: HOW TO CHANGE YOUR BRAIN, ONE HIKE AT A TIME
A wind-/water-proof jacket
For days when the wind is on the chilly side, but not chilly enough to break out the puffer. It's good to get a lightweight one that'll pack down to nothing.
Cash
Carry a small supply of cash with you for snacks, meals, toilet paper, drinking water, hot water for showers (be prepared for no actual hot water though), electricity (for charging devices), and WiFi (which, like the hot water, doesn't always work). There are no ATMs or EFTPOS facilities along the trail, so make sure you withdraw enough money in Pokhara. Your leader can let you know a good amount to bring.
A battery pack
A small battery pack is a super convenient way to charge your devices without having to splash out on a power point at a teahouse.
Toilet paper
There are plenty of toilets on the trail. Approximately 99% of them are squat toilets, and 100% of them won't have toilet paper, so make sure you have a roll in your daypack. You'll have plenty of opportunities to stock up on more in the shops along the trail.
A water bottle/bladder
You'll need to carry at least two litres of water with you on the trail. I trekked with a 2.5 litre bladder in my day pack, which meant I didn't have to stop walking every time I got thirsty. I also kept a one litre bottle in my pack, which I filled up in the evenings and came in handy for brushing my teeth. If you invest in an insulated bottle, you can fill it with hot water (which you'll need to pay for), then pop it in your sleeping bag as a literal hot water bottle. By morning, it's perfect drinking temperature.
RELATED: OUR 10-STEP GUIDE TO PREPARING FOR YOUR TREKKING ADVENTURE
Water purification tablets
Safe filtered water is available to buy along the trail in teahouses and shops, but if you're concerned about hygiene (or prefer to fill up using tap water), pop a purification tablet into your bottle. Follow the instructions on the packet – it's usually one tab per litre, and you'll need to let the tablet work its magic for at least 30 minutes before you take a drink.
Trekking poles
The Annapurna Base Camp trail has a lot of stairs. A LOT. Do your knees a favour and rent or buy a pair of poles in Pokhara or Kathmandu.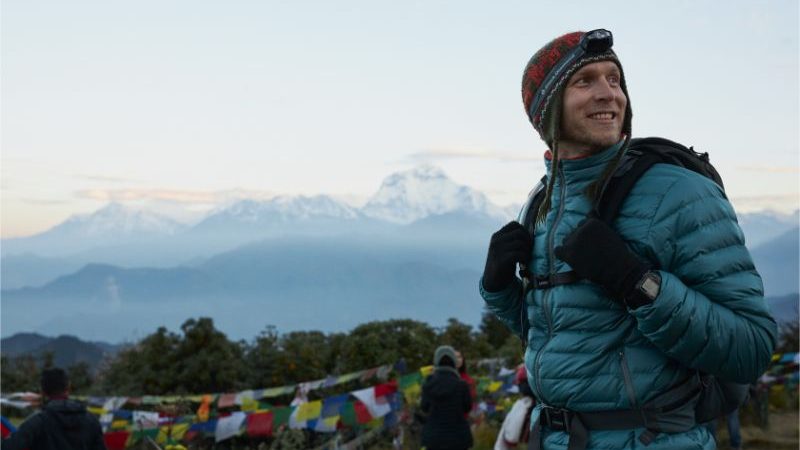 A head torch
You'll have a few early starts on the trail, including a pre-dawn trek up Poon Hill to watch the sunrise, so a head torch is essential (it's a lot more convenient than carrying a torch, and beats stumbling around in the dark). It's also possible some of the teahouses won't have electricity (power outages are common), so let a torch light your way to the toilets in the middle of the night.
TOILETRIES
Hand sanitiser
Keep a hefty supply of hand sanitiser on hand (sorry not sorry), for those squat toilet/no sink/no running water moments.
Medical kit
It's good to be prepared for everything on the Annapurna Base Camp trek – blisters, cuts, upset stomachs, sprains, sunburn, headaches – so pack your medical kit accordingly. Think about including ibuprofen, Panadol, electrolytes, gastro stop, anti-inflammatory cream, plasters, and strapping tape. Talk to your doctor about Diamox, a medication commonly used to quell the symptoms of altitude sickness. If you've got any concerns about your physical health – your heart, lungs, feet, joints – chat to your doctor about these too.
Sunscreen/lip balm/moisturiser
The sun in Nepal can be harsh, so protect your skin with a 50+ sunscreen. Same goes for a lip balm with SPF, and a moisturiser to slather onto your face in the evenings.
Biodegradable wipes
In lieu of showers, use biodegradable wipes. Traditional wipes can contain plastic and don't break down, so please invest in compostable wipes instead.
Sanitary products
If there's the *slightest* chance your period will come on the trail, make sure you have enough sanitary products packed with you. Tampons are almost non-existent in Nepal, so bring these with you from home. It's worth considering bringing applicator tampons, due to a lack of running water at some bathrooms.
Now you've got your packing list sorted, all that's left to do is book your spot on the trip! Check out all the details of our Annapurna Base Camp trek here (or see our full range of small group adventures in Nepal here).
All photos by Matt Cherubino. 
Feeling inspired?