If you have a passion for travel, great food and good times, Hobart could be your next foodie adventure.
Hobart is the cultural heart of Tasmania (or 'Tassie' as Australians call it) with museums, art galleries and music galore. It also has one of the most thriving foodie and dining scenes in the country. Tassie's temperate climate, rich seas and fertile soils serve up a bounty of seasonal produce and specialities including wild abalone, local oysters, black truffle and leatherwood honey. The island's exceptional produce has seen many top chefs leaving Melbourne and Sydney to set up new projects in the quiet winding streets of Hobart.
With its top-notch food, immersive art and incredible nature within easy access of the city centre, Hobart is a place that invites you to slow down and savour the moment with all five senses. So without further ado, here are some of Hobart's best restaurants to visit on your next trip.
Templo is an Italian favourite here in Hobart. Tucked away on a quiet back street with only 20 seats, it's everything an intimate dining experience should be. The chefs shake up the menu every week depending on what seasonal produce is available. But to give you a figurative taste, expect degustation style menus that could include artichokes with bresaola and stracciatella, Spanish mackerel with fennel and pistachios, Dory and potato cappellacci with chervil, and crispy gnocco fritto. Treat yourself to the five-course dinner for $95 per person, or pop in for a lavish four-course lunch for $60 per person.
Get a taste of la dolce vita at this European style, fun dining (this is what Fico calls 'casual fine dining') restaurant. The setting is laid back, the decor is sleek and the food will draw you back time again. Fico takes advantage of the abundance of local suppliers in Tassie with a mouth-watering menu that changes every week. Start with soft boiled eggs topped with caviar, followed by squid ink spaghetti or polenta with sea urchin and leeks. You'll want to leave some room for the sugar coulant with wasabi caramel, it's to die for. The waiters will suggest wine matches for each dish. You can also let Fico cook for you with the 'Let us Cook for You' menu priced at $120 per person. Don't mind if we do!
Peacock & Jones have a simple ethos: they are inspired by what grows in Tassie and keep food miles to a minimum. When you dine at Peacock & Jones you're not just going for dinner, you're going on a culinary journey to experience the island's harvest. Start with small plates of French onion souffle double-baked with Heidi gruyere, charcoal calamari with ink emulsion or stracciatella with purplette onion and kombu. For something more substantial, tuck into Lyndell Farm lamb served on fermented black barley, Strelleyfield free-range duck with radicchio and sweet potato, or market fish of the day served with clams, celery, fennel and lemon. Can't decide? Excellent. The tasting menu, priced at $95pp per person, always goes down a treat if you'd like to try a bit of everything. Wine matching is available for an additional $70.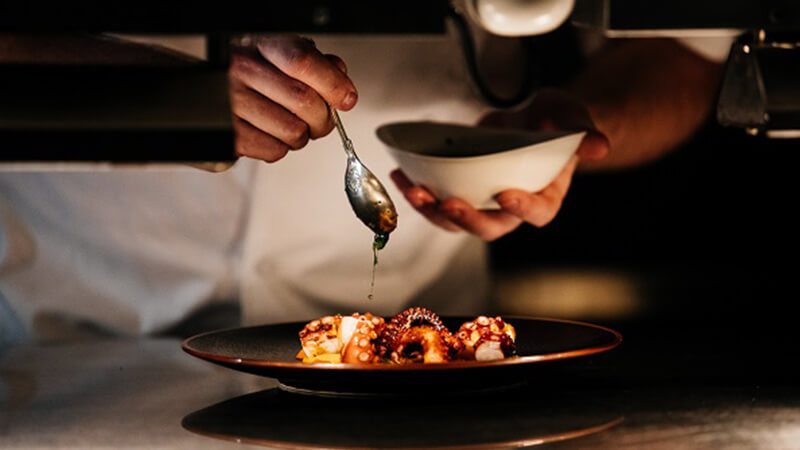 Sit inside the stone walls of the old IXL Jam Factory while indulging in dishes that have been inspired by the land and beauty of Tassie. The menu is a contemporary take on classics using only the very best local produce. Start with freshly shucked oysters, chargrilled Stanley octopus with potato and smoked wagyu dressing or Cape Grim beef tartare with smoked egg yolk jam. Continue with hand-cut potato gnocchi with Cygnet mushroom and local truffle, Wild Clover lamb loin and confit belly with roasted swede and kale, or market fish served with grilled greens and cauliflower. The food is cooked over bourbon timber casks to add a wonderful smokey flavour to the dishes. Wine pairing is available from a wine list curated by Landscape's in-house sommelier.
Aløft comes from the word Ā lopt – an Old Norse phrase meaning 'attic, high place, in the sky'. Tucked away on the top floor of the stunning Brooke Street Pier, Aløft showcases some of Hobart's best views of the glistening waterfront. The restaurant, dining area and bar are open-plan and you can watch the chefs cooking up your feast in real-time. The menu includes dishes with a pan-Asian take on flavour. Think sashimi and ponzu topped with cucumber and sesame, wallaby tartare with Sichuan and tapioca, and pork and macadamia miso served with charred greens. If you're looking for something casual, enjoy a glass of wine at the bar with a side of savoury snacks.
Simplistic, quirky and possibly featuring the tiniest open kitchen in Hobart, Dier Makr oozes that ineffable Hobart charm. Dier Makr started as a passion project by a young couple who wanted to escape the rising costs of living in Melbourne, and chef Kobi Ruzicka really knows how to cook up a storm. The ever-evolving Japanese-inspired menu is made with fresh, organic and ethically produced food from local farmers. Some of their signature dishes include baked pumpkin custard with pumpkin seed caramel, candied walnuts with thyme syrup, kingfish with carrot and rhubarb, and celeriac cream-filled ravioli. Pop into Lucinda, their trendy sister wine bar next door after your degustation to kick on into the evening.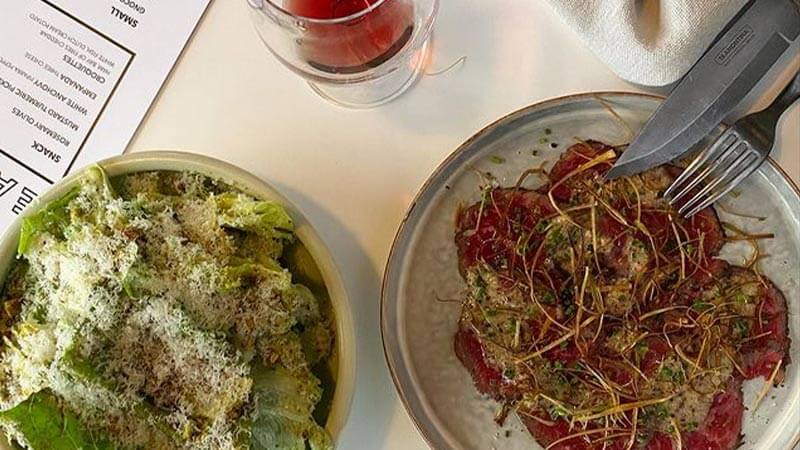 If you're walking around the harbour and don't fancy fish and chips, head over to Frank. Sink your teeth into hearty classics with a contemporary twist. It might be a succulent lamb shoulder with tomato and polenta, vintage scotch fillet with chimichurri, venison with black garlic and cognac butter, or market fish skewers served with pickled onion and herbs. If you're after lighter fare, you might like the mustard turmeric pickles, empanada's oozing with three kinds of cheese, whipped fish roe on rye, or raw kingfish with avocado cream and kohlrabi. A good option for indecisive foodies (aren't we all!) is Frank's feasting menu. The knowledgeable staff will create your menu with you on arrival depending on dishes you love, hate or are curious to try.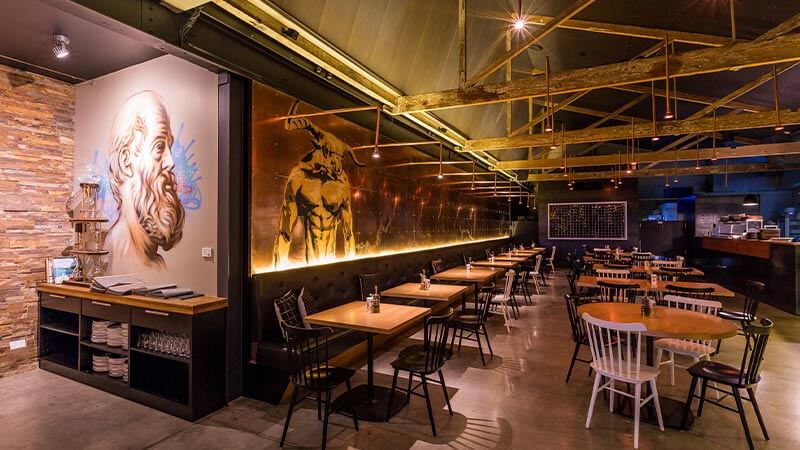 Urban Greek has everything an authentic Greek restaurant should have: great hospitality and even better food. The atmosphere is warm and inviting and you'll feel as if the staff are old-time friends. Tuck into authentic dishes that have been made with ancient recipes passed through the generations. It could be crispy and salty saganaki, Cretan style lamb and chicken with lemon roast potatoes, charcoal-grilled octopus, or seafood croquettes. You can always opt for the Banquet menu if everything tickles your fancy. For something more casual, keep it simple with homemade dolmades, warm pitta bread and dips including tzatziki, tirokafteri, Cretan hommos and pantzari.
Blue Eye is a bit of an icon in Hobart. Freshly caught seafood is brought in daily and cooked to your liking. It can be battered, fried, baked, grilled or however you like your seafood cooked. Think grilled snapper, freshly shucked oysters, Huon Atlantic salmon sashimi, seafood linguine, curried seafood chowder and crumbed catch of the day. Add a side of homecooked chunky chips, garden salad or buttery potatoes. Tassie's seafood is best washed your seafood down with delicious white wines, and there's plenty of this on the menu.
Feeling inspired?