I grew up surrounded by boats. I spent my summers at a cottage on a lake in Canada which meant that boats and all types of boat activities were a part of my everyday life.
I learned to waterski and wakeboard behind a boat, I learned to drive a boat long before I learned to drive a car, and I have an endless string of memories of hot summer days and evenings spent floating on boats in the middle of the lake, diving over the edge when it got too hot and I needed a swim.
Needless to say, I love boats. So, when I had the opportunity to spend 10 days sailing around the Cyclades islands of Greece, I jumped at the opportunity. After all, I was a boat girl, wasn't I?
However, as the sail dates came closer I started to question how much of a boat girl I really was. Sure, I loved being on a boat, but I also was used to getting off of them at the end of the day. I'd never slept on a boat. I'd never had to shower on a boat. Plus, my little Canadian lake is a whole lot smaller and calmer than the open sea.
So, was I really a boat girl? I was about to find out.
My Intrepid sailing tour started with a tour of our sailboat; a gorgeous ship that was exciting to be on but definitely prioritized functionality. The rooms were small and clearly meant just for sleeping. There was so little space that my roommate and I had to take turns getting ready in the morning and night. Unless we were both in our beds, there wasn't space for the two of us.
The bathroom was equally tiny. The overhead shower hose took a while for me to get used to and I soaked my poorly-placed clothes more than once during the process.
However, I was most fascinated by the kitchen, built to move with the swell of the sea. The stove could rotate and swing as the boat crested the waves. Even though I never used it, I thought it was brilliant.
As small as things were in comparison to the hotel, hostel, and Airbnb rooms I was used to as a traveller, they were practical. They did the job that they were meant to do and not much more. Which was fine. After all, you don't spend 10 days sailing around the Greek islands to sit underneath in the hull of the sailboat. At least, I certainly didn't.
Our days sailing through the Cyclades followed a pattern; about half the day sailing and on the water, and half on whatever island was scheduled for the day.
Our mornings started early, usually departing the port around 8 am. As a morning person, I ran around helping our skipper, George, get ready to leave. Small, simple tasks like bringing the buoys back in as we pulled away. I'd then scamper to the front of the boat where I'd sit for hours soaking up the sun and the occasional salty wave. Eyes peeled for the dolphins that George told me lived in the area. We got lucky and saw them twice.
Around mid-morning, we would stop for a swim and lunch break. Lunch was made on board and George always picked a sheltered cove with clear blue waters, mysterious cliff-side caves, and in one case a sunken WWII plane wreck for us to swim. As a wannabe mermaid, I lived for these swim stops far away from the crowds of the popular beaches and boat tours.
After a little more sailing we would pull up to the port of our island for the day where we spent the afternoon exploring. The towns looked straight out of a postcard; streets filled with white buildings, many of which were covered in tumbling vines of bright pink and purple flowers. I snapped photo after photo as I darted down random alleyways and popped into tiny boutique shops filled with local products like olive oil soaps and jewellery featuring the evil eye. When the daylight started to fade, I'd find somewhere to watch the sunset, often with a cold glass of the house white wine in hand.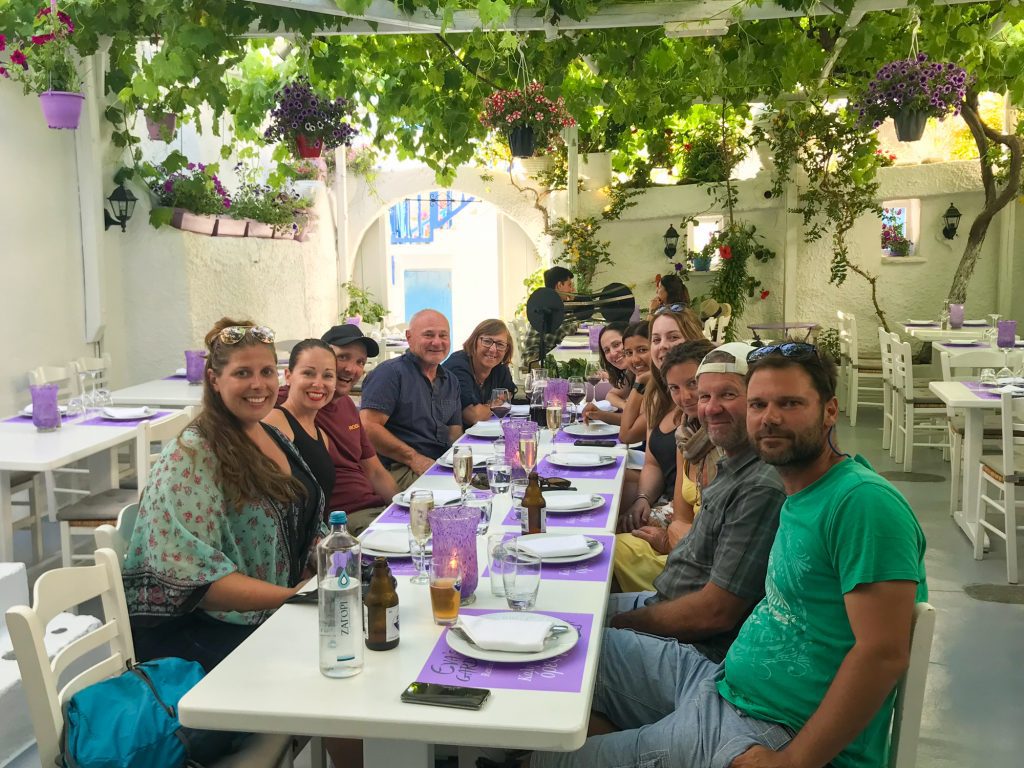 In the evening, we would all meet up at a nearby taverna and dine on Greek dishes. I became an aficionado for zucchini balls and learned that despite my dislike for eggplant, moussaka was actually pretty delicious. As primarily a solo traveller, I loved our group dinners and quickly began to think of the group as my boat family.
When the day drew to a close we all made our way back to the ship, bidding each other goodnight as we separated into our little cabins. My bed, the top bunk, had a little port hole above. I kept it open for the breeze, but I also loved that on some nights when it was dark enough, I could see the stars. As I lay there, rocking gently as the ship bobbed in the waves with the sea lapping at the sides, I reminisced about how incredible the day had been and realised that yes, I really was a boat girl.
Feeling inspired?