From sinking your toes into endless, golden sand to taking a dip in crystal clear waters, what's not to love about spending a day at the beach?
Answer: Absolutely nothing.
The Abel Tasman region in New Zealand is spoilt when it comes to natural beauty. Not only does it have an abundance of forested areas full of native flora and fauna, but it also has several stretches of shoreline that are up there with the best beaches in the entire world. If you think we're exaggerating (even just a little bit), we're not.
From secluded strips to forested headlands, these Abel Tasman beaches will not only take your breath away but provide the perfect place for you to relax, swim, catch some sun, and make a sandcastle or two.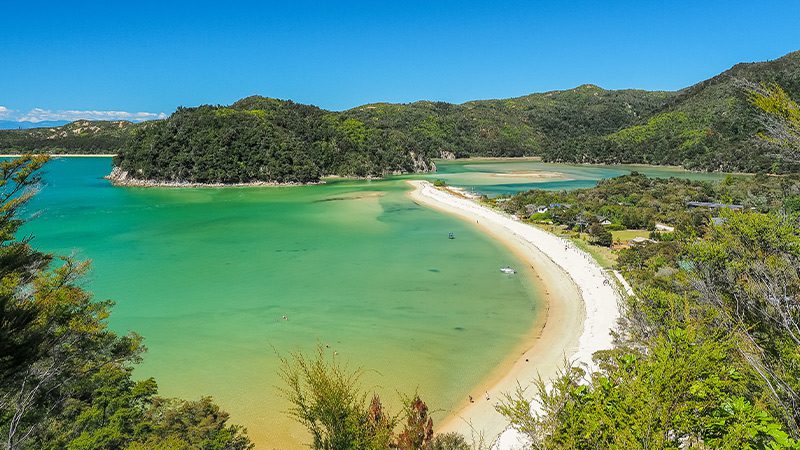 Think paradise on Earth and you've got yourself Torrent Bay. A super exclusive stretch of sand, Torrent Bay is nothing short of breathtaking. With the whitest sand you've ever seen (that is until you check out the rest of the beaches on this list), and crystal-clear waters that sparkle in the sun, it's no wonder that Torrent Bay is one of the best Abel Tasman beaches going 'round.
While Torrent Bay might be worth a visit, it's actually quite challenging to get to with locals extremely protective over the strip of beach. There are some restrictions to drop-off passengers by water taxi (you can only get dropped off before noon) and you can't get picked up at all.
Instead, you have to make your way through the park to a different location to be picked up. Despite this, visiting Torrent Bay is still likely to be one of the best things you do on your Abel Tasman trip.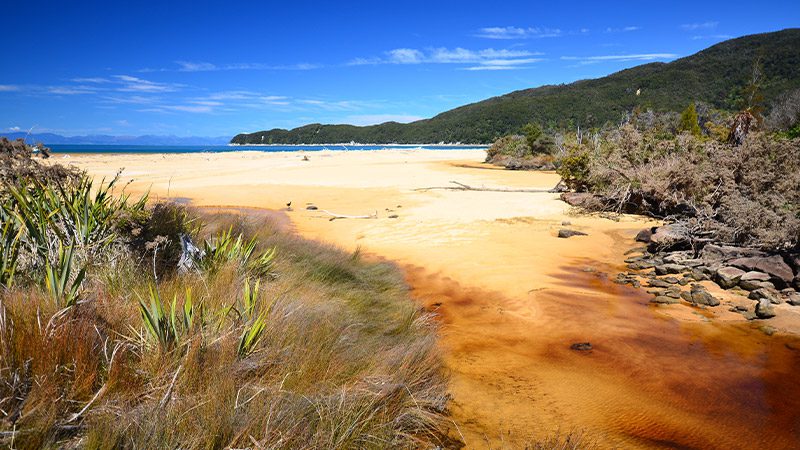 If you want one long, uninterrupted, gently curved stretch of sand then hop on a water taxi and make your way to Onetahuti Beach. Treat yourself to a stunning view of the beach as you descend from the southern end and get ready for a day filled with fun and laughter that'll turn into some of your best memories.
With picturesque scenery of Tonga Island directly in front and a newly constructed walkway that connects with the Abel Tasman Coast Track, you'll never run out of beautiful things to look at. Why not rent a kayak and venture out onto the sparkling waters of the bay? Or put up a sun umbrella and settle in for a relaxing afternoon spent by the water? However you decide to spend your time, Onetahuti Beach is sure to become one of your favourite places to simply be.
ENJOY ONETAHUTI BEACH ON OUR WALK ABEL TASMAN NATIONAL PARK TRIP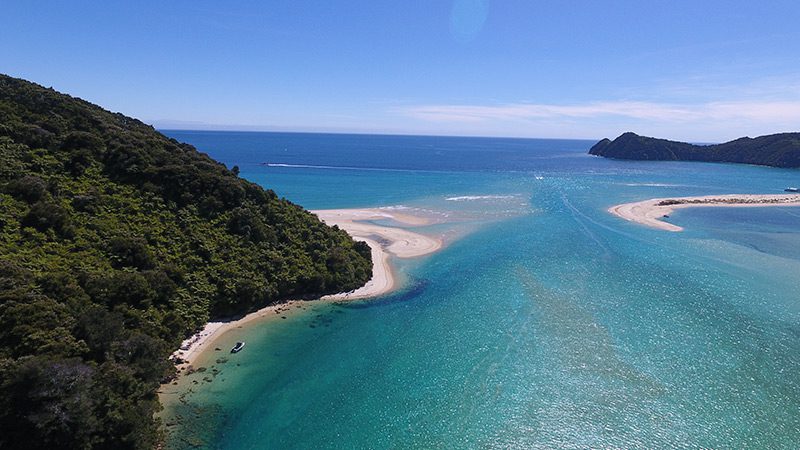 Internationally known as the beach that was bought via a crowdfunding campaign to ensure the continued use of the beach by the public, Awaroa is the best place to enjoy the great outdoors. Featuring an impressive tidal estuary that's shallow (and warm) enough for everyone to play in (even the little ones) and a gloriously long stretch of sand that seems as if it was made to build your very own castles, this slice of heaven is perfect for both swimming and exploring.
If you want to spend some time at the most popular beach in Abel Tasman, then Kaiteriteri is the place for you. Thanks to its picture-perfect scenery of endless golden sand, forested headlands, and crescent-like shape, Kaiteriteri Beach is pretty much iconic and it's no wonder why thousands of travellers flock to its shores each year.
From swimming in the cool, blue waters to relaxing under the sun, this beach has it all. Acting as a gateway to Abel Tasman National Park, Kaiteriteri (or Kaiteri to the locals) provides you with endless adventures, regardless of whether you're spending an afternoon on its beach or a couple of days. For a truly magical experience, sit on the beach at sunset and watch the colours in the sky as they turn from blue to orange and pink.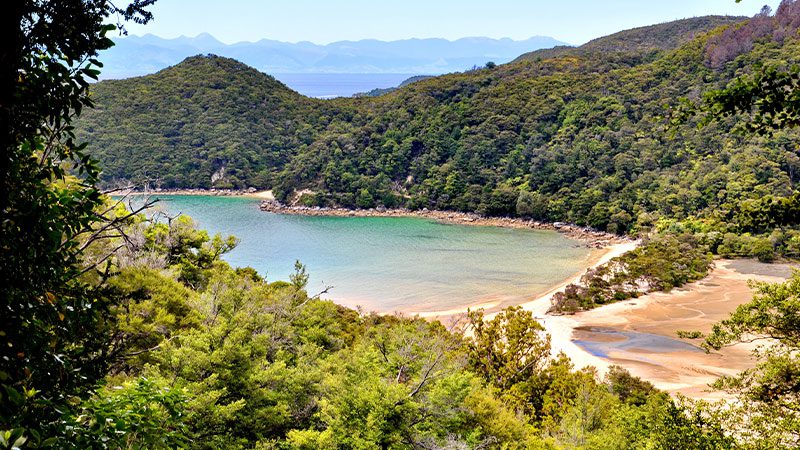 Beaches don't come any more classic than the beautiful landscape of Bark Bay. Named because bark was once harvested from the trees located at the beach, Bark Bay now features a tree-lined strip of land with a breathtaking beach on one side and a tidal estuary on the other. Perfect for kayaking and swimming when the tide rushes out through the estuary mouth, this beach is not only a great place for birdwatching and other activities but also for appreciating Mother Nature in all her glory.
SWIM AT BARK BAY ON OUR HIKE ABEL TASMAN & WEST COAST RAINFORESTS TRIP
Totaranui Beach not only makes for an excellent place to swim and play in the water but it also doubles up as the perfect spot to set up camp for the night so you can enjoy more than one day of outdoor adventures at this picturesque location. Featuring a small tidal inlet for kids and a few secluded beaches at the northern end of Totaranui, this stunning landscape will soon become one of your favourite places to spend time in.
From catching fish and walking the many trails in the area, to taking a dip in the crystal-clear waters and setting up a mini bonfire to roast marshmallows at nighttime, Totaranui Beach promises fun for the whole family.
7. Apple Tree Bay
You might think that if you've seen one beach, you've seen 'em all but trust us when we tell you there's nothing quite like Apple Tree Bay. Along with the cutest name for a beach ever, Apple Tree Bay is secluded enough for you to feel as if you've just stepped onto an undiscovered strip of paradise. From the seemingly endless sandy beach to the sparkling blue water, this scenic landscape provides the perfect opportunity for fun.
Whether you fancy kayaking out into the bay or sitting with your toes in the sand, taking in the magnificent outline of Adele Island in the distance, you'll never be bored at Apple Tree Bay. And that's a promise.
What Te Pukatea Bay lacks in size, it makes up for in quaint beauty and picturesque scenery. On the smaller size compared to some of the other Abel Tasman beaches on this list, this breathtaking bay is shaped in a horseshoe-like formation and is often referred to as the 'jewel' in Abel Tasman's natural crown.
Perfectly secluded so you can enjoy the tranquility of this beach without a hundred other people doing the same thing right next to you, Te Pukatea Bay offers a peaceful afternoon spent swimming in the clearest, blue-ist water you've ever seen or hours adventuring through the surrounding, native bush.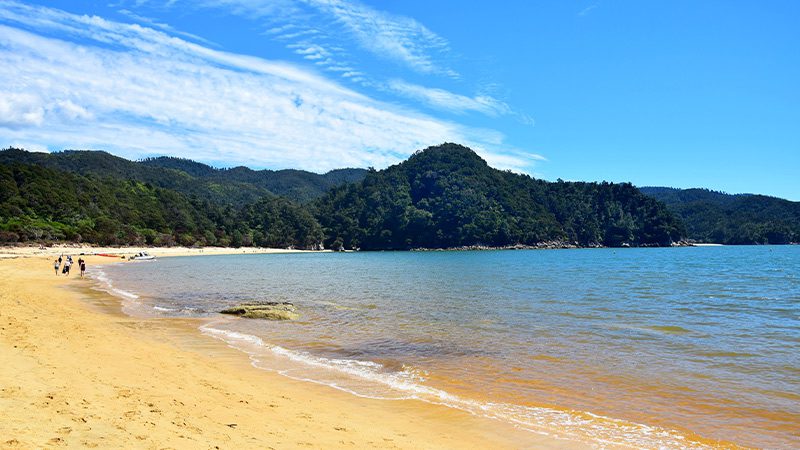 Following on from Te Pukatea Bay is Anchorage Bay, another naturally stunning, beachy landscape that's ready to take your breath away. An ideal spot for boats and yachts to send down their anchors (hence the nautical name), this perfectly preserved beach features miles of golden sand for you to play on and waves upon waves of sparkling clear water for you to swim in.
With a large camping area right next to the beach and small caves filled with magical glow worms and the-not-so-magical-but-equally-as-fascinating cave wetas towards the northern end of Anchorage, you'll never run out of things to explore.
Whichever Abel Tasman beach you choose to visit, you're sure to have a memorable and fun-filled time.
Feeling inspired?