Climbing an extinct volcano, spotting glow worms in a rainforest, strolling high above the treetops, and floating along a World Heritage-listed lazy river ride: Queensland has some truly unique travel experiences. Pack your sense of adventure and get ready for fun with these incredible things to see and do on your next Queensland holiday.
Polish your jewellery at Lake McKenzie
Fraser isn't just the largest sand island in Queensland, it's the largest one in the world. With a World Heritage listing equivalent to that of Uluru, this pristine spot really is something special. Rugged headlands tower over the island's fine-grained silica sand beaches, lush rainforests hug the shore and there are more than 100 freshwater lakes to explore. One of the most famous is Lake McKenzie which is more than a kilometre long and filled with nothing but pure rainwater. The velvet-soft water caresses your body and the silica sand on the bottom of the lake is super smooth, making it ideal for exfoliating sun-kissed skin and polishing jewellery to a dazzling shine. Most day trips only drop in here but if you book a Fraser Island Adventure, you'll have a several hours to soak up the beauty of Lake McKenzie.
Climb to the top of a volcano
Discover the untouched mountains, forests and ancient volcanic plateaus of the Great Dividing Range when you walk the Scenic Rim. One of the highlights of this trip is a climb to the top of Mount Mitchell, an extinct volcano which offers incredible views of the Fassifern and Millar Vale Creek valleys, and mounts Maroon, Lindesay, Barney and Ballow. The rugged beauty of the surrounding mountains stretches into the distance and everything is silent except for the sound of the wind. On a clear day, you can even see the distant buildings of Brisbane's CBD more than 100kms away.
Trek with donkeys in the Tropical North
If you've ever wished someone would carry your bag, walking the Atherton Tablelands with Intrepid is the trip for you. On this unique journey, you'll be joined by a specialist guide and a much-loved team of pampered pack donkeys which are experts when it comes to transporting bags across all kinds of terrain. With your trusty four-legged mate leading the way, you'll be able to venture beyond the usual vehicle routes and explore more of this special part of Tropical North Queensland. If you're lucky, you might even spot a rare Lumholtz tree-kangaroo along the Peterson Creek Walking Track.
Discover glow worms in the rainforest
Once Lamington National Park is bathed in a soft cloak of darkness, grab a torch and join your guide for a short walk to a secret spot deep inside the rainforest, not far from your accommodation. It doesn't take long before wooden benches lined up in front of a glittering creek bank appear in front of you like a mirage. Like performers on a theatre stage, the tiny glow worms which inhabit this secluded part of the rainforest near a creek glow even brighter once their audience arrives. Want to experience this amazing evening show for yourself? Check out our Queensland Hinterland Adventure.
Walk through the tree tops in Lamington National Park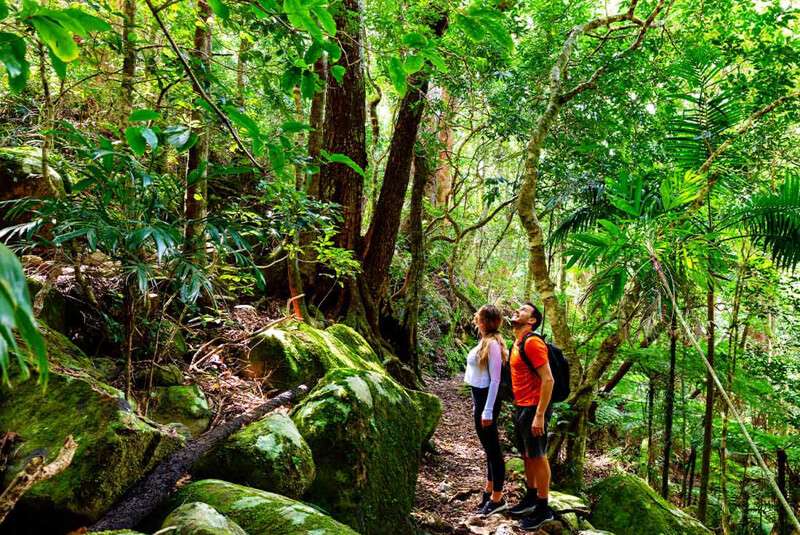 Breathe in the earthy scent of the rainforest and listen out for the 'wee-ooop' of whipbirds as you explore the lush surroundings of Lamington National Park, part of the Gondwana Rainforests of Australia World Heritage Area, on a Queensland Hinterland Adventure. You'll see parrots in every colour of the rainbow, from the brilliant red and blue of crimson rosellas to the magnificent greens of the Australian king-parrot, as you stroll along the Rainforest Return walk. Have your camera ready as you bounce along the treetop canopy walk and – if you're game – climb to the top of a 30-metre-high observation deck where you can enjoy superb views of the surrounding area and appreciate the grandeur of this ancient World Heritage-listed national park from the perfect vantage point.
Go wild in the Whitsundays
Queensland's Whitsunday Islands are home to some stunning resorts but if you prefer doing something a little more adventurous than reclining on a sun-lounger on holiday, a Whitsundays Camping Adventure is for you. Along with spending time at pristine Hook and South Molle Islands, you'll have one of the world's most famous beaches all to yourself for hours, two days in a row. Whitehaven Beach is popular with day trippers but once they've travelled back to the mainland, only the campers remain. Take a walk up to the lookout, visit Chance Bay or stroll right to the northern end of the beach. Don't be surprised if this entire 7km stretch of sand is yours alone as the sun sinks slowly toward the horizon.
Enjoy a lazy river ride at Fraser Island
Eli Creek is a narrow, fast-flowing watercourse on Fraser Island which pours around four million litres of water into the ocean every hour. Rain takes up to 100 years to seep through the sand and into Fraser Island's water table, making this creek one of the freshest you'll find anywhere in the world. Nothing compares to the fun of floating down Eli Creek at a surprisingly swift pace, bobbing around in the water or relaxing on a blow-up pool toy. It's just like a water park lazy river ride except it's 100 per cent natural and you're surrounded by the beauty of a World Heritage-listed national park. You don't need to be a strong swimmer to enjoy Eli Creek on a Fraser Island Adventure tour. Simply kick back and relax and let the water do the rest.    
Feeling inspired?