Finding relaxation on these golden stretches of sand is guaranteed to be a shore thing.
We all know New Caledonia is a wondrous place full of welcoming people, fascinating culture, and breathtaking landscapes but there's one thing about this island country that tends to captivate travellers the most: its sun-believable beaches.
While there are plenty of other interesting ways to spend your time in this bucket-list destination, laying out on pristine sand while listening to the waves gently wash upon the shore is one of the best – especially when New Caledonia's beaches are this good.
From spacious beaches close to the port to secluded islands you'll want to get lost on, we've put together a list of the best beaches in New Caledonia so you can spend less time googling and more time living out your tropical fantasies. We can hear the islands calling from here.
1. Poe Beach, Bourail
It'd be hard to find a location in New Caledonia that doesn't look like it's straight out of a glossy travel magazine but when we say Poe Beach genuinely looks too good to be true, we mean it. Stretching 13km in length, this stunning beach is an aquaholic magnet with shallow water for the little kids at the shore's edge and plenty of marine activities available to keep the big kids happy.
Whether you want to have a go at kitesurfing, take a spin on a glass-bottomed boat or snorkel your way along a signposted underwater nature trail (spotting sea turtles, yellow snapper, and cuttlefish as you go), you'll never get bored at this idyllic beach.
EXPLORE POE BEACH ON OUR NEW CALEDONIA ADVENTURE
2. Yejele Beach, Mare Island
Located on the larger island of Mare (pronounced Mar-ray) in the South Pacific, Yejele Beach is a must-visit if you're into spacious beaches with enough room to accommodate sun-seekers comfortably without feeling like you're on top of each other. Boasting postcard-perfect scenery, sparkling water you're not going to want to get out of, and refreshments available to purchase from nearby drink stands, this beach pretty much has it all.
If you're feeling more adventurous, swim out of the shallows to explore the vibrant marine life below with tropical fish and other sea species playing around the brightly coloured coral reefs. This New Caledonia beach is definitely one for the highlight reel.
3. Amedee Island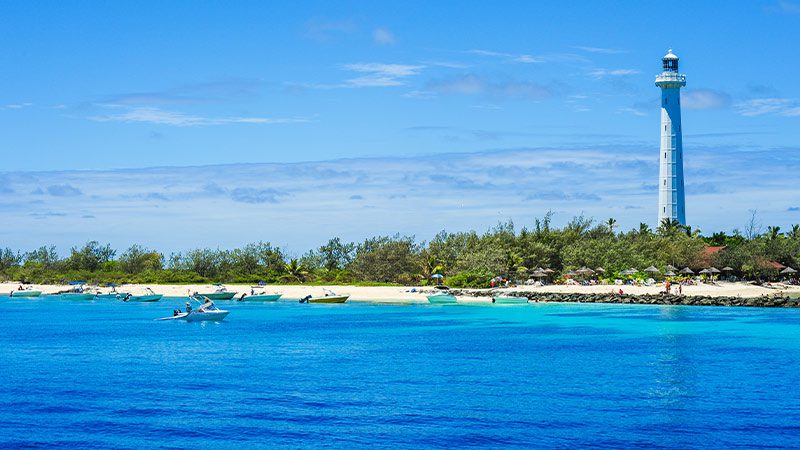 New Caledonia is full of mesmerising places, but Amedee Island has to be high on that list due to its beauty and seclusion. Essentially feeling like your own private island, Amedee is a short 45-minute boat ride from Noumea and boasts crystal clear water you can see colourful fish through and clean, pure white sand that'll run through your fingers effortlessly.
While there aren't any facilities such as sunbeds or umbrellas at this beach, you can rent diving equipment if you're keen to explore the island's underwater world. If that's not enough exploration for you, you can also trek to the island's lighthouse for enchanting views of the surrounding waters.
4. Luengoni Beach, Lifou Island
You might think that once you've seen one beach, you've seen 'em all but Plage de Luengoni is arguably on another level. While the pristine, white sand of Luengoni Beach is nothing to scoff over, it's what's beneath the water's surface that draws people to its shores.
Located around a 3–4-hour walk starting from the beach and nestled in thick vegetation lie the 'jewels of Luengoni': a collection of sinkholes that change colour from turquoise to cobalt with the sun's shifting rays. Make sure you bring a torch and a sense of wonder when snorkelling through these underwater caves for a magical experience you'll never forget.
5. Fayaoue Beach, Oveja Island
Considered to be one of the most beautiful places in the entire New Caledonian region (hard to do when the whole country is dripping in beauty), Fayaoue Beach is located on Oveja Island and promises a full day's worth of relaxation thanks to its secluded and quiet nature.
With a stretch of sand that's 22km long (we promise you won't have to set up your towel next to someone else's) and the purest turquoise water you've ever seen, having fun at this beach is more guaranteed than guessed at.
Add warm water (temperatures don't drop below 25C) and windsurfing, fishing, and scuba diving equipment into the mix and you've got yourself an unforgettable tropical adventure. We don't know everything, but we do know that while the tans might fade, the memories you make on this beach will last a lifetime.
Feeling inspired?