Looking for a new love in your life?
Well, with a $1* deposit on Intrepid trips until 24 September, now is the perfect time to put yourself out there.
No commitment, no strings attached, just a whole lot of new experiences. Whether it's meeting a cutie at Machu Picchu, falling under India's spell at the Taj Mahal or feeling the heat of Morocco atop a camel, you can lock in your dream Intrepid trip with just a $1 deposit.
From 14 August 2017 to 24 September 2017, only a $1 deposit will be required to secure your Intrepid Travel trip, when departing before 31 December 2018.
The $1 deposit can be paid towards any Intrepid small group adventure or short break with the below exclusions:
Polar trips – includes all itineraries in the Arctic and Antarctic
Expeditions
Private groups
Trips operated by third party suppliers, including Dragoman
Gorilla treks – pre purchased permits are required to secure the trek to see the Gorillas (excluded trips are: YXOG, YXOCC, YXOIC, YXOEC, YXOGC, YXOFC, UXODC, YGAG, YGAR) 
Inca Trail trips - pre purchased permits are required to secure the trek (excluded trips are: GGKY, GGBL, GGSQ, GGTA, GGHC-O, GGKP, GGKY, GGTBC, GGSEC, GGSO, GGSUC, GGRQC, GGRWC, GGRNC, GGRPC, GGRTC)
The discount applies to the land tour price only and cannot be used in conjunction with any other offer and are not combinable. Full payment is required 56 days prior to departure. If booking within 56 days of departure, full payment is due immediately.  All tours are subject to availability. Prices, itineraries and inclusions are subject to change without notice. Standard booking conditions apply as per Intrepid website www.intrepidtravel.com.  
The offer can be applied to new bookings only and cannot be used in conjunction with another offer or discount.
If the traveller wishes cancel and rebook or to change dates or tours, they will be required to pay the full $400 deposit towards the new trip.  This is applicable even inside promotional period. 
Our hottest trips
Our most romantic destinations
Explore by region
More from our blog
Aug 31, 2017
---
Music is playing, people are walking and praying, and the atmosphere is festive...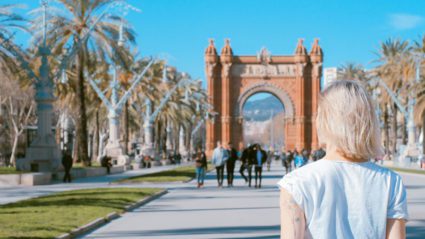 Aug 29, 2017
---
While much of Europe is welcoming and safe for LGBTQI travellers, here's a list of...