If you want the experience all the highlights of Australia's diverse landscape – without the rough edges – our Comfort range of trips are for you.
With a more relaxed travel pace, comfortable accommodation, more included activities and many meals along the way, you could be tasting fresh oysters in Tasmania, snorkelling on the Great Barrier Reef or hiking in the Grampians before you know it. 
And to help get you on your way, we're offering NSW Seniors Card holders an extra 500 Qantas Points* – that's 3,000 Qantas Points in total.
Please note, this offer is available exclusively when you book an Intrepid Australia or New Zealand Comfort range trip over AUD 1000.
Valid NSW Seniors Card holders will receive an additional 500 Qantas Points per person, per Intrepid Comfort style tour in Australia and New Zealand valued at over $1,000 when booked from 1 June 2018 to 31 July 2018, for departures prior to 19 April 2019. Valid on new bookings only. Excludes Independent Experiences & Private Groups. This offer can be used with other Intrepid offers unless stipulated in the terms & conditions of those offers. The offer is only available to the NSW Seniors Card holder, not their travel companions unless they also hold a valid NSW Seniors Card. The valid NSW Seniors Card must be produced/advised at time of booking, it cannot be applied retrospectively and cannot be applied to existing bookings. Proof of validity may be checked with Seniors Card. A deposit of $400 per person per tour is required at time of booking with full payment due 56 days prior to departure. If booking within 56 days of departure, full payment required on booking. All tours are subject to availability. Prices are per person, tour only based on twin share, low season.  Prices, itineraries, inclusions are subject to change without notice. For full booking conditions, please visit Intrepid's website.
Please note that this offer may be updated or withdrawn at any time.
Intrepid and Qantas Loyalty Program Terms and Conditions:
Intrepid travel has teamed up with Qantas to offer Qantas Frequent Flyer ('QFF') members the ability to earn Qantas Points when booking eligible Intrepid travel trips.
Qantas Frequent Flyer ('QFF') members are able to earn Qantas Points when they book an eligible Intrepid trip.
If you are not already a QFF member, you can join by visiting the Qantas website qantas.com.au
Qantas points will not be earned on:
Private Tours
Trips booked with Staff, Companion, Friends and Family discounts
Travel Industry Member discounts
Press and Partnership Trips and Prize Winners
Trip value does not include additional costs for single supplements, transfers and optional extras
Customer cannot earn points on any other land arrangements booked with Intrepid
If the trip is cancelled or a discount is applied and the value of the trip is less than AUD/NZD 1,000, then the trip will no longer qualify to earn Qantas Points.
Qantas Points will only be earned on transactions that occur after adding your Qantas Frequent Flyer membership number to a purchase.
You will only earn Qantas Points with Intrepid Travel if you've entered a valid QFF number and surname before the trip departure date. Please contact qantas.com.au to check your membership details.
Qantas Points will be credited to the QFF account on the day of the trip departure.
You can check the Qantas Points that you have earned with Intrepid Travel and your total Points balance at qantaspoints.com/your-account
Standard Intrepid Booking Terms and Conditions apply. As per Intrepid's website.
Intrepid travel reserves the right to change, suspend or terminate these Terms and Conditions at any time.
See Australia in style
Explore our New Zealand Comfort trips
Delve through the deep south of New Zealand – taking stops at the Catlins, Doubtful...
View Trip
Auckland, Rotorua, Gisborne, Taupo and more – discover the culture and natural beauty...
View Trip
Why choose Intrepid Comfort
Local expertise
A local leader is more than just a guide – they're travel experts and friendly locals who know their destination back to front, from hidden walks in the Grampians, to the best wine reccomendations in New Zealand, your leader is they key to getting the most out of your trip.
Real life experiences
We love the highlights, but for us the real magic is found off the beaten path. We're talking visits to an authentic marae in New Zealand, or a hike to hidden waterfalls in Far North Queensland, these and other hidden gems you'll only discover with Intrepid.
More inclusions
We've taken care of the details so you can focus on spotting wildlife and enjoying the view. Our comfort range include a selection of included meals and activities.
Responsible travel
On our trips you'll be travelling responsibly. We carbon offset all our trips on your behalf.
What our traveller are saying
Jonathan Rand
This was a terrific tour with great sites and activities nearly every day. Guide was exceptional.
Review submitted 20 Jun 2018
Elaine Morrissey
For anyone who enjoys being outdoors, breathtaking scenery and seeing wildlife in their natural habitat, I would highly recommend this trip!
Review submitted 21 Apr 2018
Further reading
Jun 21, 2018
---
It's the world's most liveable city they didn't tell you about.
Jun 18, 2018
---
It's one of the North Island's most unique and dazzling experiences.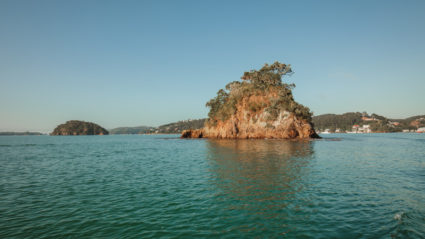 Jun 15, 2018
---
Calling the Bay of Islands the 'Winterless North' is a big statement, but this...