It's been 12 months since an earthquake hit Nepal – 12 months of rebuilding and recovery. When the quake struck on 25 April last year we reached out to you guys, our travellers, and the response was massive: together with corporate contributions, we raised over $700,000 for organizations like children's charity PLAN International. So on behalf of Nepal, we'd like to say a big thank you.
How did the money help?
The money our travelers so generously donated will be distributed to various projects in Nepal. Intrepid is working with a variety of NGOs and community groups. You can read more about them here.
As well as our work with smaller organisations, Intrepid has committed to support big not-for-profits in Nepal. Organisation like:
Plan International
When the earthquake hit, many schools were severely damaged. Plan International moved quickly to create Child Friendly spaces where kids could continue their education.  Initially these were temporary shelters - Plan built more than 300 temporary classrooms for children for children to continue their education - but they are now turning into permanent structures as Plan rebuilds schools across the country. In all, Plan has helped more than a quarter of a million people recover from the quake in the past year.
WWF
The Langtang region of Nepal was the most heavily damaged by the earthquake; almost 90% of local homes and other buildings were destroyed.  The region and local villages rely heavily on tourism, and as a result, we've dedicated a large portion of funds to rebuilding teahouses. This will provide an alternative income for the region, hopefully eliminating the need for poaching rare species like the snow leopard.
A personal thank- you
Many people opened their hearts and their wallets in the weeks following the earthquake. To say a big thankyou, we randomly picked 3 donors from around the world and surprised them with a trip to Nepal. Each one of them will fly to Nepal's remote Tamang region (an area hit hard by the quake) and see first-hand where their generous donations went.
Nepal in pictures
One thing we learned in the last 12 months is that there's more to Nepal than a single trek, or a single mountain. Despite the earthquake, the country is as beautiful and diverse as ever. From little villages high in the Himalayas to the humid waters of Pokhara – this is a snapshot of Nepal at its best.
Stories from Nepal
In the 12 months since the earthquake struck, we've sent journalists, photographers, videographers and writers into the mountains to see what Nepal is really like. We've interviewed Sherpas, met local women in Kathmandu and walked the trails of the Annapurna. These are the stories we brought back.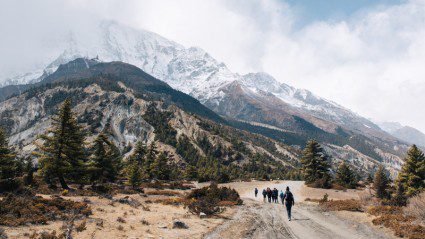 Apr 24, 2017
---
A year ago, it was Nepal's plea for help that drew me there. Today, it's the...
Oct 22, 2015
---
You've never seen Nepal like this before.
Jul 11, 2016
---
It's the choice facing every Nepalese adventurer: Annapurna vs Everest. Whose...
Our Nepal tours
Nepal's next big challenge is to get travellers to come back. Without tourism, the country suffers. That's why Intrepid has pledged to donate 100% of all Nepal profits for the April/May trekking season. The trails are open. The mountains are waiting. The only thing Nepal's missing now, is you.