Welcome to Morocco, a place of diverse landscapes, ancient cities, mouth-watering cuisine and friendly locals. You will soon discover there is something for everyone here…
Amble through the maze-like Medina of Marrakech, stopping to haggle for beaded slippers and tuck into traditional treats. Climb to the summit of Mount Toubkal and meet the fascinating Berber nomads living in the Atlas foothills. Ride camels across rolling sand dunes in the Sahara Desert and spend a night camping under a blanket of stars. Stroll the blue-washed streets of Chefchaouen and witness one of the most stunning sunsets you're ever likely to see. Experience an assault on the senses with a visit to Fez's potent tanneries. Or, take a break from the chaos and soak up beautiful ocean views in the weather-beaten port city of Essaouira.
There is so much to be enjoyed in Morocco, where will your Moroccan adventure take you?
Top Trips to Morocco
Reviews from Morocco trips
Our trips score an average of 4.8 out of 5 based on 2581 reviews in the last year.
Alexander Lester
Overall, Intrepid did very well in terms of selecting local guides, accommodation, food and activities undertaken during the trip. Service provided during the booking process was prompt with excellent communication. A good choice for those wanting to travel to far flung places and enjoy cultural experiences that would not be possible on your own.
Review submitted 17 Jul 2018
Elizabeth Perales
Great trip owing to great guides who gave us clear instructions and also directed us on free time to make the most of our trip. Both guides very conscious of safety of travellers both culturally and in the countries visited. eg no photos in homes
Review submitted 17 Jul 2018
Elizabeth Perales
I had a fab holiday mainly due to our guides knowledge expertise in navigating their areas and enjoyed their help when we had free time to go on little trips. Not having to navigate train stations independently and situations that required full local language made the trip relaxing.
Review submitted 17 Jul 2018
Need some inspiration
Jul 11, 2018
---
Not sure of the difference between a gite and a riad? We've got you covered.
May 25, 2018
---
We are delighted to announce that once again an Intrepid leader has been...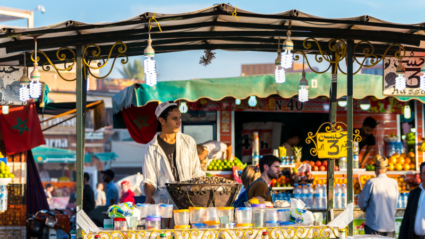 May 21, 2018
---
Getting to the core of Morocco's incredible and diverse food scene starts with...
Video