Trekking to Machu Picchu 
This trip offers you the best of both worlds. You'll get to avoid the crowds while hiking along the Inca Quarry Trail which offers breathtaking Andean scenery and lesser-known archaeological sites, and finishing off with a one-day hike along the infamous Inca Trail trek to Machu Picchu. The overall distance hiked on this trek is 22 miles (36km), the maximum altitude reached is 14,599 ft. (4,450 meters) above sea level. Never fear! GFit is here to help train and condition you for your journey! 
Training details 
Location
Mountain View and Sunnyvale, California
Training packages available

* Pre-trip in-person conditioning series,

 led by a dedicated GFit performance coach

* Free self-guided training materials upon registration

Duration
8 weeks  
Pricing

$300 per person for the in-person fitness coaching series

(family and friends permitted in gym facility for this series!)

Start Date

August 27 - October 12

Point of contact for training
David Delgado (ddelgado@)
A once in a lifetime hiking experience
There are a few really important things to consider when preparing for your experience. Proper training ahead of time will help you maximize your experience; no matter what your fitness level or hiking ability. A foundational base of strength and cardiovascular fitness is critical first to your safety and second to your enjoyment of the experience. Train with a Gfit performance coach in-person for eight weeks ahead of departure, or make use of curated GFit training packages to help you prepare for the hike in your own time. Free training materials will be provided at time of booking. Your Intrepid Travel local leaders and porters will be out there to support you on your journey to reach Machu Picchu! 
Note: *must be registered for GFit (go/gfitregistration) - must have @google.com email to access. Additional training plans and content available at go/journey
Trip details
| | | | |
| --- | --- | --- | --- |
| Start | Cusco, Peru | Physical rating | 4 out of 5 |
| Finish | Cusco, Peru | Ages | Min 15 years |
| Price | $2, 215 USD Twin Share | Group size | 1-12 people |
| Departing | Saturday, October 13, 2018 | Style | Original |
Note: Please contact your Travel Specialist grantz@google.com to register. Full payment required at time of booking. Bookings close 23 August 2018. All further spaces will be 'On Request' basis beyond this date. 
Why we love this trip
Lima's grand colonial facades, Spanish houses and endless culture make it one of the prettiest cities to explore in Latin America. Adjust to the altitude with a pisco sour and some ceviche

The Quarry Trail will take you away from the crowds, on a remote and scenic trek through the Andes. You may even have the trail to yourselves

Machu Picchu may just be the greatest icon of ancient South America. There's a reason this site is so famous, and it has something to do with how truly amazing it is

Explore Cusco, South America's oldest continuously inhabited city. The city has ancient foundations, an interesting blend of Inca and colonial influences and endless things to do and see
Itinerary
Inclusions
Meals
7 Breakfasts, 4 Lunches, 5 Dinners
Transport
Plane (Lima to Cuzco), Private minibus, Train. Please note: International flights not included. 
Accommodation
Camping with basic facilities (2 nights), Hotel (5 nights)
Activities
Learn more about Peru
Apr 15, 2020
---
Reading Time: 2 minutes You ran the Inca Trail three times before I arrived to...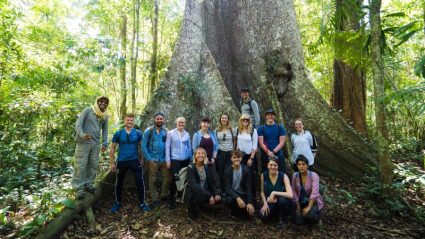 Mar 19, 2019
---
Spanning 5.5 million square kilometres, the Amazon is the largest rainforest on...
Important notes
SINGLE SUPPLEMENT
A single supplement is available on trip. This includes the Inca Trail where a single tent will be provided.
INCA TRAIL PERMITS
Inca Trail permits are sold on request basis only. Once deposit is paid and passport details provided, Intrepid will endeavour to secure a permit for you.
If Inca Trail permits are unavailable by the time you book, you can opt to hike the Inca Quarry Trail instead.
https://www.intrepidtravel.com/en/inca-quarry-trail
The Inca Trail closes in February to allow cleaning and restoration works. If the trek portion of your trip starts in February you will be automatically booked to hike the Inca Quarry Trail.
Should you choose not to hike at all, please let us know in writing at the time of booking so alternative arrangements can be made. Without this prior warning, local fees may apply.
PASSPORT DETAILS REQUIRED
Full passport details are required at the time of booking in order to purchase Entrance fees to certain sites. Additionally, on certain trips it's needed to book bus, train or flight tickets. Delays to provide this information may result in booking fees or changes to your itinerary.
INCA TRAIL OR INCA QUARRY TRAIL
While hiking the 1 Day Inca Trail or the 3 Day Inca Quarry trail portion of this trip you may be joined by other Intrepid and/or non-Intrepid travellers.
More Googler Exclusive Trips