It's one of the universal laws of nature that time speeds up on a holiday – annual leave in particular. Weeks can pass in the blink of an eye, making time-off a precious (and fleeting) resource. So this year, when you wave goodbye to work, will you A) stay home for two weeks and re-watch all seven seasons of the West Wing? Or B) head out into the world and see something extraordinary? 
Intrepid's small group style means you'll stay under the radar, travel the local way, eat the local way and sleep the local way. With your accommodation taken care of, a comprehensive booking team to handle all your flights, insurance and transfers, plus real local leaders giving you a grassroots edge in over 100 countries around the world, we make adventure look easy.
Small groups. Big adventures. That's the Intrepid edge. 
To kickstart your travel dreams we're also offering a 10% discount.
1.            Please quote promo code 27000 at time of booking to utilise the offer. Bookings must be made through http://www.intrepidtravel.com/anzstaffclub or by calling 1300 458 437 or enquiries@intrepidtravel.com only.
2.            The 10% off discount is available for bookings made during the period 1 January 2019 and 01 December 2019.
3.            Travel is valid from 1 January 2019 until 31 December 2019.
4.            Offer available to ANZ staff Club members and one travelling companion. Proof of entitlement is required at time of booking and must be provided to Intrepid Travel for validation (these docements will be kept on file).
5.            A deposit of $400 is required at time of booking. 
6.            Full payment is required no later than 60 days prior to departure. If full payment is not received it could affect the status of your booking.
7.            The discount can be applied to new bookings only. This discount will not be applied to existing bookings.
8.            There will be no extensions to the travel or booking periods listed above.
9.            The discount is valid on all Intrepid operated trips with exclusions of Intrepid Family Adventures, Antarctic and Arctic, Short Break Adventures, FIT and Private Groups, Urban Adventures, Adventure Cruising, Expeditions and any third party operated trips. For a full list of exclusions please contact our sales team.
10.          The discount can only be applied to land bookings; it cannot be applied to airfares, trip kitties, travel insurance, extra accommodation, single supplements or visas etc.
11.          Intrepid Travel's Booking Conditions will also apply to the trip booked, and it is imperative that you examine those conditions before booking with Intrepid Travel. The most up to date Booking Conditions are accessible at https://www.intrepidtravel.com/ourtrips/howtobook/bookingconditions.php 
12.          As outlined in the Intrepid Travel Booking Conditions, travel insurance is compulsory for all Intrepid Travel travellers and should be taken out prior to or at the time of booking. 
13.          The trip is subject to availability and confirmation by Intrepid Travel at time of booking.
14.          This offer cannot be used in conjunction with any other discounts or special offers and must be taken up in full at the time of booking.
15.          Trip prices and itineraries are subject to change at any time, including after booking. If there is a significant price change to a trip that is outside the control of Intrepid Travel (for example a significant increase in third party service provider costs), travellers may need to be re-invoiced at the new price.  Promotions & discounts will still apply to the new price.
Ways to book and booking services
We've tried to make it as easy as possible to book an Intrepid group tour. 
ANZ Staff Club members can use any of the following:
1. Browse our home page, find a trip you like and click the big 'Book Now' button and quote your promo code to do it all online
2. Give us a call on 1300 458 437 to chat to an adventure specialist in real time 
3. Send us an email with your enquiry and one of our adventure specialists will be in touch
Our booking team can also find the perfect flights to synch with your trip, lock in travel insurance and airport transfers, organise extra accommodation, visas and anything else you might need.
Our top trips
Explore trips by destination
Looking for some travel inspiration...
Mar 25, 2019
---
In my teens and 20s, I daydreamed about going out into the world solo, yet my lack...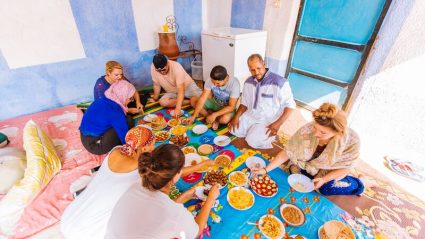 Mar 20, 2019
---
Food experiences are far more meaningful than just pleasing your taste buds. Here...
Mar 14, 2019
---
Move over beer, you've hogged the limelight too long when it comes to Czech cuisine.