The traditional greeting in Nepal is 'namaste', spoken with a slight bow and the palms pressed gently together. It's the acknowledgement of the soul in one by the soul of another, and there's no gesture or word that better sums up the spirit of Nepal.
It's a country that welcomes over half a million travellers each year with open arms, offering its endless snow-capped beauty and asking for very little in return.
We've been travelling to Nepal for decades, quite literally. Our office is full of Nepal stories, misty-eyed anecdotes of the perfect mo mo, a stunning Himalayan sunrise or the simple kindness of locals. We thought now would be the perfect time to share them, along with a few photos of our staff doing ridiculous poses in front of mountains (it's the little things).
This is why we love Nepal.
Michelle Ouw, 2010
Getting to the top of things makes me happy. In this case it wasn't quite the summit, but experiencing Mt Everest at sunrise from the top of Kalar Pattar is simply gob smacking. There is a true sense a belonging when you share the challenge with people you hardly know, and find yourselves encouraging each other to take just one more step forward. I made instant besties (in addition to the two I brought with me). I climbed to 5,643 metres-above sea level. And I even tried mo mos made before my eyes by a sherpa's mum. With spectacular landscapes and the most genuine hospitality and passion of our fearless leader and crew, this is nothing short of my best travel experience ever.
Julia Poecki, 2015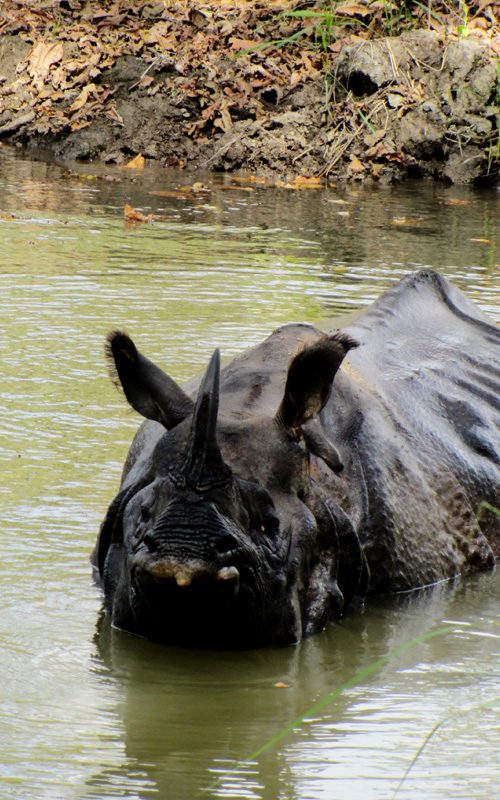 Chitwan was nothing like I imagined Nepal to be. Beautiful lush, green rainforest played in perfect harmony with the wild elephants and rhinos roaming freely. This was not the towering mountainous terrain I was expecting, but something even better. After three days of spotting animals by jeep, canoe and walking safaris we thought we'd seen everything. But on our last game drive we finally spotted an elusive rhino! We tried to get as close as possible, taking a few pictures on the way, when suddenly the rhino moved its head and began running towards us. We all frantically ran to the jeep. Despite the close call it was an experience I will never forget. We were in the wild, seeing animals the way nature intended. Everything in Nepal was incredible, but this day was definitely one of my highlights.
Tom Svensen, 2015
Twelve days of trekking among some of the most beautiful scenery and highest mountains in the world was behind us as we walked into Gorak Shep, the last stop before a final push to Base Camp. We still had four hours of trekking in front of us as we stopped for a quick lunch and a few cups of masala tea. Outside the snow began to fall once more; a beautiful sunrise and morning had quickly turned into a small blizzard. This was going to make our final walk to Base Camp all the more challenging, but there was something incredible in seeing how quickly and powerfully these mountains could change. The next two hours of hiking over rocks, snow and ice flew by, and as I approached Base Camp a few tears rolled from my eyes. For me this was the highlight of one of the most amazing things I have ever done, a day I will never forget. Nepal will always have a special place in my heart.
Vicky Rodford, 2010
The mountains were being elusive. Low cloud meant that eight days into our Nepal trek, there hadn't been a peak in sight and our guide was starting to get some gentle ribbing about whether they actually existed or were just a fantastic marketing ploy. On the last morning we all woke early to see the sunrise over the Annapurna. There was still a lot of low cloud, but our leader Hari seemed optimistic. We drove to the viewing spot and waited for the sky to brighten. Hari was grinning, and we were a bit confused. 'Well?' he asked. Still confusion reigned. All we could see was cloud. 'Look higher,' he suggested. Again, just cloud. 'Higher,' he said, and we tilted our necks and there it was. The peak of Annapurna III was peeking through a small gap in the clouds. All at once we were part of something bigger but also just specks in time. A weird feeling that you can't quite conjure back, but that stays with you.
Anne Von Osterhausen, 2015
When I think of my Nepal adventure, most of all I remember the people that helped me while there – our crew Pasang, Bikash and Chandra, who brought us hot water every morning, who baked us birthday cakes, who played endless games of cards (or in fact the same game every day for 16 days). Our porters who never failed to smile, whether when carrying our heavy bags through the metre-high snow in the Gokyo Valley, when we 'high-fived' them when reaching our daily destination or when we called them 'malik' (boss) and they silently chuckled away. The crew who showed us photos of their children and wives back home, who were proud to teach us their language and who made us feel welcome with uncountable pots of masala tea. Meeting these people is what made my time in Nepal the most life-changing, exhilarating and wonderful experience, and one that I will never forget.
Emma Grey, 2010
When I got home from Nepal the one thing that I could not stop talking about was the people! I have met some kind, hospitable, welcoming people in every corner of the world, but the Nepalese are at the top of that list by a mile. Despite not having much themselves, the Nepalese are always giving and making sure you are as comfortable as possible. You will always be greeted with a warm smile that will melt your heart, along with a cup of tea – and then another. But it's their caring and friendly nature that really sets them apart. They have a genuine interest in every person they come across. Wanting to know all about you and your life and wanting to tell you all about theirs. I remember wandering the streets for hours spending most of my time chatting to the locals and playing with the gorgeous children.
Intrepid Travel will be donating all profits from our 2015/16 Nepal trips to on-the-ground rebuilding projects supported by our not-for-profit organisation, The Intrepid Foundation. To learn more about our trips or this initiative, click here.
Feature image c/o our very own Steve Wroe.