The Coronavirus pandemic and the restrictions that came along with it, brought travel to a standstill in just a few short weeks.
Travellers around the world have found ourselves homebound to varying degrees, in order to look after the health and wellbeing of ourselves and our community. I have found myself at home in Australia, paused, daydreaming about my next adventure anywhere outside of the confines of my home.
And like many, I am wondering when and what travel might look like in the future, with so much uncertainty. Certainly, travel won't be exactly the same as it was, with major changes required to keep ourselves and those around us healthy and safe.
LEARN MORE ABOUT INTREPID'S BRAND NEW SAFE TRAVELS GUIDELINES
But, while there is a lot of uncertainty, when the time comes there are ways we can ensure our return to travel is better than ever for the communities we visit and ourselves too. Here are four ways we can be better travellers in the future.
1. Support local communities who rely on tourism
When you travel you're supporting an industry that creates jobs for people all over the world, from a chef on a Halong Bay overnight boat, to a porter on the Inca trail, to a hotel cleaner. Right now, the jobs of many of those people employed within the industry have been severely impacted, with estimates are that 100 million jobs are at risk globally as a result of the pandemic and changes to travel. This pandemic and the subsequent financial impact has been hard on many, with lots of prospective travellers also impacted and unable to travel for the foreseeable future.
While you might not be able to travel right now, if you can, try to support those employed in tourism globally and locally by planning, delaying or booking your future travel. If travel isn't on the cards for you in the future, you can still support communities that rely on tourism by donating to organisations like KOTO, who normally rely on visitors to their restaurants in Hanoi and Ho Chi Minh City to provide hospitality training programs for underprivileged youth in Vietnam.
SUPPORT COMMUNITIES IN CRISIS THROUGH THE INTREPID FOUNDATION
2. Reduce your carbon footprint
Since the lockdowns have been in place, many reports indicate improvements to air quality in the world's major cities. At the low point in April, global air travel was roughly 95% below 2019 levels, so combined with lower industrial activity and emissions from road transport, carbon dioxide levels below were well below those prior to the pandemic. Improvement to air quality and reduction in greenhouse gas emissions is a positive amongst this global crisis, and gives us a reason to consider the environmental effects of our actions as travellers. Are there any steps that you can take to reduce your emissions when you can travel again? Taking trips closer to home might be more realistic in the near future, and will help reduce your carbon footprint. Adventures that include travel by rail, bike, car-pooling or even on foot reduce greenhouse gases, as do less carbon-intensive activities at your destination, like hikes and bike rides. For the carbon you can't avoid producing, consider offsetting it through a program like Ecologi.
TRAVEL CLOSER TO HOME ON ONE OF INTREPID'S NEW LOCAL EXPERIENCES
3. Be kind to animals and help preserve their habitats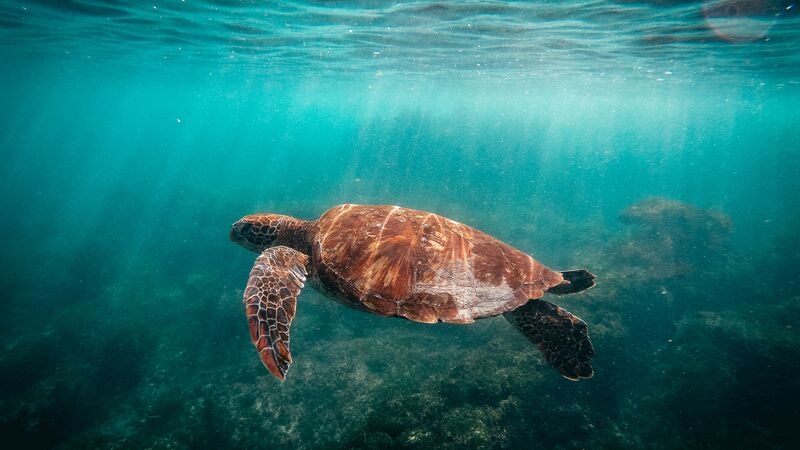 The environmental impacts of tourism extend beyond carbon emissions to helping local communities preserve natural environments and wildlife. In some cases alternative sources of income are limited and communities may turn to exploiting natural resources. Tourism offers an alternative to empower locals to protect these environments, and to educate the wider community and visitors on the benefits of protection. Unfortunately, with the lack of safari tourism currently in Botswana and South Africa, there are reports that poaching of Rhinos has increased.
In contrast, we have seen other glimmers of hope in the effects on wildlife with increasing numbers of rare leatherback turtle nests on beaches in Phuket, Thailand, after decades, with the lack of tourists and locals on the beaches. Again, this should remind us that as travellers our behaviour has an effect on the environments and eco-systems we visit, and particularly in sensitive areas or those that over-run with tourists, this is compounded. Plan your future travels to avoid areas of overtourism, support conservation programs and take the time between to learn about the environment and wildlife.
WANT TO AVOID THE CROWDS? HERE ARE 6 REASONS TO CONSIDER OFF-SEASON TRAVEL IN EUROPE.
4. Use travel as an opportunity for self-care and improvement
Who can deny the benefits of a holiday or vacation on your mental health and sense of connection with yourself and others? Aside from this, travel helps to build cultural awareness and understanding by getting to know more about people and places different from us, as well as sharing our stories with others. After isolation, you might be craving human connection and while virtual experiences can help to bridge the gap,  it's hard to beat face-to-face interactions. When you can travel again, savour the opportunity to meet other like-minded travellers or strangers from other walks of life, and make the most of what you gain from them and them from you.
LEARN MORE ABOUT OUR RANGE OF INTREPID RETREATS
While your international travel plans might be delayed, or your next trip might be a little closer to home, your commitment to travelling better in the future will help support those people and communities that have been struggling. There is hope of adventures to come.
While you might not be able to head overseas today, you can start planning your future travels. What does 2021 have in store for you?
Hero image by Matt Cherubino.
Feeling inspired?