If you dream of spotting sloths and sea turtles in Costa Rica or channelling your inner Attenborough on a gorilla-tracking expedition in the depths of Uganda's Impenetrable Forest – in a way that puts the welfare of these precious creatures first – let this be the year you make it happen.
This year, as part of our Travel Goals for 2023, we're encouraging travellers to choose wildlife experiences that give back. Like all of our wildlife-themed trips, our new and improved itineraries for the year ahead support conservation efforts in some of the world's most vulnerable ecosystems and engage with the communities who are taking action to protect local species.
1. Explore untouched wilderness in Comoros
Go where few travellers venture to explore a recently designated UNESCO biosphere reserve in Comoros, off the east coast of Africa. This lesser-known island nation is home to some of the world's richest marine biodiversity. On our brand new nine-day expedition you'll have the chance to spot humpback whales and spinner dolphins, watch sea turtles nest and snorkel among manta rays, parrot fish and reef sharks along vibrant coral reefs.
2. Encounter endangered mountain gorillas in Uganda
Our refreshed Remarkable Rwanda & Gorillas of Uganda trip features more wildlife experiences than ever, and the itinerary reads like a who's who of the animal kingdom. You'll spot elephants, buffaloes, lions, hippos, zebras, birds galore and more as you make your way from Rwanda's capital to Uganda, staying in eco-lodges and safari camps en route. Top it all off with one unforgettable jungle trek followed by a precious hour with endangered mountain gorillas in Bwindi Impenetrable National Park. On a special one-off departure in August 2023, you'll join a gorilla vet for a fireside chat and even attend the annual gorilla-naming ceremony.
3. See orangutans in the wild in Indonesia
Go ape for orangutans? On this 11-day expedition through Kalimantan (the larger, Indonesian part of Borneo) you'll have plenty of opportunities to spot these gentle giants in their natural habitat – plus a plethora of other critters, including proboscis monkeys, macaques, monitor lizards and more – as you explore the region's national parks. You'll also visit the Orangutan Survival Foundation (BOSF) to learn all about their work rescuing, rehabilitating and releasing critically endangered orangutans back into the wild.
4. Take a walk on the wild side of the Great Ocean Road
It's not called the Great Ocean Road for nothing – the dramatic beaches littering this stretch of Victoria's south coast consistently attract road trippers from across the globe. But if you can tear yourself away from the incredible sea views, you'll find plenty of inspiration inland. On our new Great Ocean Road and Grampians Adventure you'll spend a morning at Wildlife Wonders, a Conservation Ecology Centre in Apollo Bay. On a guided bushwalk with a local conservationist, you'll learn about the challenges facing this region's wildlife, while keeping a lookout for koalas, kangaroos and colourful cockatoos.
5. Shop for souvenirs that protect endangered wildlife in Zambia
Any journey through East Africa is bound to be jam-packed with wildlife encounters – and your chances of spotting the Big Five are high. But it's not just the safari game drives that will impress wildlife lovers on our Vic Falls to Stone Town trip (and its reversed itinerary). In South Luangwa, Zambia, you'll have the chance to visit Mulberry Mongoose, an incredible woman-run workshop and boutique that directly benefits local people and wildlife by turning poachers' snare wire into beautiful jewellery.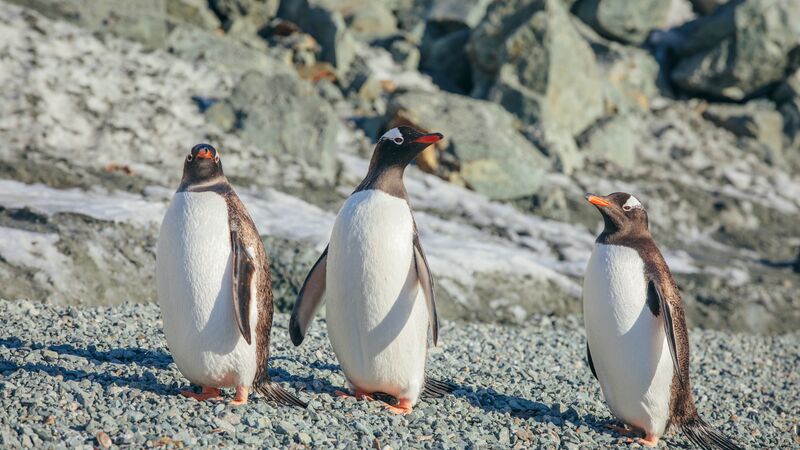 6. Spot penguins and whales in Antarctica
Is 2023 the year you'll make it to Antarctica? If you want a white Christmas (100% guaranteed) then our Best of Antarctica Christmas itinerary could make your dreams come true. Penguins your number one priority? The Pristine Wilderness route takes you to the Antarctica Peninsula during nesting season, meaning there will be plenty of activity to be seen at the rookeries. Whatever trip you choose, you'll travel on our sturdy ship, the Ocean Endeavour, accompanied by expert naturalists, historians and marine biologists who can answer all your questions about this wild and windswept continent.
7. Meet the community fighting to protect Costa Rica's riches
Costa Rica is a haven for countless colourful critters – from nesting sea turtles and canopy-dwelling sloths to majestic scarlet macaws and more. You'll visit some of the country's wildlife-filled national parks on our Classic Costa Rica trip and – in a new experience for 2023 – visit the Indigenous Maleku community, who are deeply connected to their home's natural habitats and are working to protect and regenerate local forests for the good of their people and the planet.
Feeling inspired?