The first time I went on an Intrepid Travel trip – exploring India from Delhi to Goa –  I was late for the welcome meeting.
Sure, I was exhausted, having arrived from Ottawa via London earlier that same day and the hotel bed felt amazing after two days of plane seats and airport benches. But my sluggishness wasn't just jetlag. As I fumbled around in my hotel room, battling my bedhead and desperately trying to freshen up, some tiny mechanism deep in my subconscious was slowing me down, procrastinating, delaying the inevitable.
Truthfully, I was a little anxious about what was to come next. This was my first solo trip with a group, and I was about to meet my travel companions for the next 14 days – the 'mystery people' as I had come to think of them. Who were they? Would they like me? Would I like them? Would spending two weeks with strangers ACTUALLY be fun? I was stepping far out of my comfort zone, and these questions, which had seemed so abstract and inconsequential when I booked my trip, now seemed all too real and very consequential.
It was blistering hot outside, but suddenly I had cold feet.
Two weeks later, one of the best experiences of my life came to a close. India was incredible. I was awestruck by the Taj Mahal, and I was thrilled to dip my toes in the warm Arabian sea at Goa – a place that had been on my wishlist for years.
But perhaps my warmest memory of the entire trip was the evening I spent drinking Kingfisher lagers on a rooftop patio overlooking the pastel city of Udaipur with a couple from Britain – a pair with a wild streak that, on a whim, had traded in a conventional vacation to instead trek through India. And when the trip was all over, that goodbye was particularly hard. I had expected India to be epic and iconic, but I hadn't expected that.
READ MORE ABOUT THIS WRITER'S STORY: "LIFE AFTER CANCER ON AN INTREPID TRIP IN INDIA"
As it turned out, friendships forged on dusty Delhi streets, on sunrise hikes to Hindu temples, on crowded overnight Indian trains had become surprisingly strong, fast.
I had uncovered the best-kept secret of group travel. I was hooked.
Why travel anyway?
There are so many reasons why people travel. To break out of our daily routines. To see beautiful landscapes and iconic sites. To experience life lived elsewhere. To learn and to challenge ourselves. To fulfill dreams and feel alive. I am no different. Going somewhere – anywhere – is exciting, challenging, new, and expands your own world. Group travel makes it easy.
But at least for me, now there's something else. What I came to realize on that trip to India is this: the adventure is as much about the people you are with as it is the places you go. Discovering who your travel companions are – sharing experiences, sharing perspectives, sharing laughs – is woven into every step of your journey, and when you get back home, you can't help but feel richer for having shared a small slice of life together.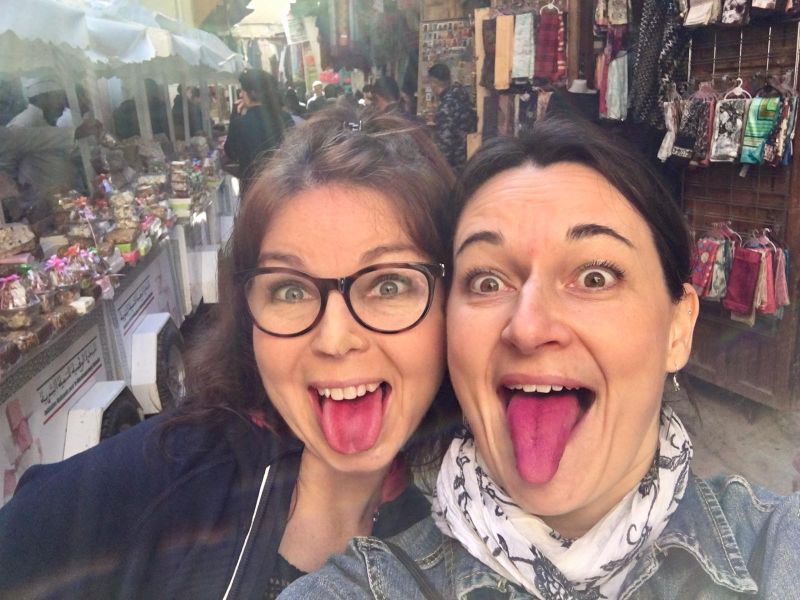 Think about it. When you travel with a group, you are setting out on a social adventure. You are on the road with a motley crew. You would likely never cross paths with these people in your daily life. They may not even be anything like your friends at home. Now, don't get me wrong: we cherish the people that fill our lives on the regular, but isn't different what you are looking for?

And, especially as a solo traveller, you arrive with a clean slate: no expectations, no metaphorical baggage. You are only exactly as you are in the present moment – as is everyone else – and without the definitions of who you are in your regular social circle to limit you, you can push your own boundaries and tap into undiscovered parts of yourself. As adults, how often do we do have the opportunity to be that free? Personal growth is immensely fulfilling.
Still, despite the newness, the hint of the unknown, something binds you together – after all, you are all there, in that one place, ready to go. You are all wanderers. You are all like-minded souls. That is powerful common ground.
The best of the best
Looking back on that first day in India, I really need not have been anxious at all, and science seems to back that up. Research suggests that there are three important conditions for making friends: proximity, opportunities for spontaneous and recurrent interactions, and a setting that encourages people to let their guard down and confide in each other. And this is what groups travel is all about.
READ MORE ABOUT THIS WRITER'S STORY: "REDISCOVERING TRAVEL AS A MOM"
Fast forward to my next Intrepid Travel trip one year later, this time to see the Best of Morocco. Was I late for that kick-off meeting? Absolutely not. I could hardly wait for the adventure to begin.
The group was (self-described!) the best: two couples from Canada – one from Vancouver on an epic retirement journey across multiple countries, the other from rural Ontario, the kind of people you'd want by your side if you were ever lost in the woods; a foodie couple from India with high-end tastes; two solo women from big American cities, one from Las Vegas with a bit of the wild west in her blood, the other a straight-talking New Yorker with an insightful mind and a heart of gold; a 20-something man from the U.S. who hadn't really been home in years; an unflappable German woman whose quiet energy was limitless; and me, a suburban mom of two boys. How lucky was I?!
Three days into the trip, we had outlasted the locals at the neighbourhood couscous restaurant in Fes. The tone was set.
BROWSE ALL OF INTREPID'S SMALL GROUP TOURS IN MOROCCO
And the connections were as stellar as the experiences – in fact, they were one and the same. Imagine being out on the sand and under the stars in the Sahara, huddled under camel hair blankets, talking and laughing the night away with a kindred spirit while everyone else was asleep in the tents.
Or, sharing a breathless moment as you and your friend are pulled to safety by a local vendor when a fight breaks out in the Essaouira fish market where you've decided to go for lunch. Then at last, drinking ridiculously expensive but brilliantly mixed cocktails at the Royal Mansour in Marrakech with your girl squad, getting teary-eyed at the thought of the trip coming to an end. All true stories, and when I think of them, the memories are so good.
Now, back home months after Morocco, I sometimes find myself recalling snippets of conversations, or considering how a particular person might react, when something comes up in my life, and I see this as a testament of how meaningful and influential these compact friendships are, at least to me. Even if I never see the squad in person again, that's alright. Those ladies left their mark on me – in fact, everyone did in their own way.
I'm ready for the next adventure.
Ready for your next adventure? Check out Intrepid Travel's top trips in 120+ countries.
—
(All images courtesy of author Lani Innes and taken on her adventures with Intrepid Travel.)
Feeling inspired?