Meeting local people is one of the great highlights of any travel experience and most travellers will want to photograph the interesting faces they encounter on the road.
The problem is though, how to do this without annoying and offending the very people you want to remember.
It always amazes me how so many people think that they have a right to stick a camera in someone's face and take a picture without asking or interacting in any way. Photography is what I do for a living: it is how I feed my family, and yet there are so many times when I won't take a picture of someone as I know it is against their wishes.
I have seen (and on a number of occasions intervened) when people have treated locals as if they are simply animals in a zoo – there to be photographed irrespective of their whether they consent or not. Some people on being requested not to take a picture, will deliberately try to sneak off shots, relying on the massive cultural imbalance between themselves as relatively rich tourists and poor locals to get away with it. I have lost count of the number of 'great portraits' I have been shown, which are actually shots of angry, or intimidated people in the process of saying "no" to being photographed or remonstrating with the photographer.
Shooting portraits responsibly is remarkably easy though. All it takes is a little bit of courage, and a little bit of morality. Courage is needed if you are going to walk up to someone in a strange location and ask for permission in some way to take a picture. If there is not a cultural, or religious reason for them to refuse, I have often found people to be incredibly open to being photographed.
I tend not to ask people who are walking anywhere: I figure that they have somewhere to go and stopping them to ask anything can be an intrusion. I also try to establish some sort of rapport with someone first, rather than just appearing out of the blue and waving a camera.
If people are seated on the ground, I will try to get on the same level and I will simply look them in the eye, smile and say something to them. Even if you don't speak the same language you can indicate that they have a great face, or impressive jewellery or that you are interested in what they are doing.
It is important to make sure that everything is ready on your camera before you approach people, and then only have the camera up to your eye for a few seconds at a time. Drop the camera out of eye level to maintain eye-contact with your subject and say a few words. This will help you to re-engage and avoid your subject from being intimidated by the camera.
People often claim that shooting candidly without someone knowing is a good way to get natural portraits; yet I feel that spending a little bit of time with someone will often produce far more intimate shots. Simply wait for someone to relax and go back to what they were doing and you can shoot away from a much closer position, and take pictures that might look candid, but were shot with full knowledge and permission.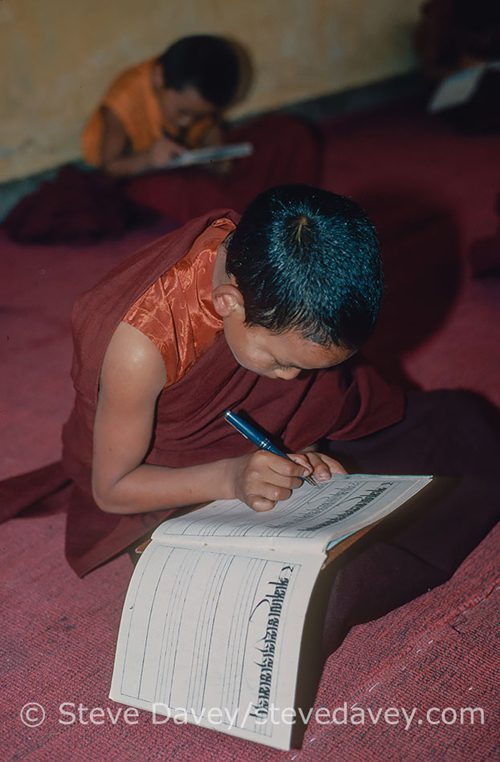 That doesn't mean that there isn't a place for candid, or so-called street photography, but I don't think that you should ever use this technique to photograph people whom you suspect don't want to be photographed: especially if this is for cultural or religious reasons. This is where the morality comes in.
If people are in crowded public places, such as markets or festivals, then candid photography is less intrusive, but there are some techniques you can employ to make it even less so.
Try to work quickly. Prepare the camera, take a few shots and move on. People will be more offended by having someone pointing a camera at them endlessly, than someone who works fast. Also, be aware of intruding on someone's personal space and try not to even point the camera at them at all. If you use a wider lens, you can compose your picture with someone at the edge of the frame, and they can be completely unaware of being in the picture at all.
Above all, don't try to take the same shot candidly, that you would have taken if you had had the courage to approach someone, only from a distance with a telephoto lens!
Remember that approaching someone will not just give you the opportunity to take a more engaged portrait, it will give you the chance to strike up a conversation, find out about someone's life and even make a friend for life.
If you would like to learn a lot more about photographing people responsibly, then why not join my unique photography tour of Nepal. Impressions of Nepal departs Kathmandu on the 10 November, 2014, for 12 days, with all land arrangements provided by Intrepid Travel.
More information on other Nepal treks and small group adventures can be found on Intrepid's website, plus make sure you check out the latest travel deals.
Nepal photos c/o Steve Davey.