Reading Time:
3
minutes
By Lucas Handley – Ocean Guardian, Scuba for Change & The Underwater Academy 
The ocean, until very recently, had always seemed a place of limitless plenty. Covering more than 70% of the earth's surface, it was hard to imagine that we could ever make a difference to it. We used it as our dumping ground, and we believed that it was our endless pantry. How could we, being so small, have an impact on something that was so large?
I was drawn to the oceans because of adventure. I saw the side of it that was unruly, untamed and vast, and I left to explore the furthest reaches I could. In the most remote places, I found reefs teeming with life, and cultures living directly from the sea. As I travelled, I would dive on the reefs where I stayed and talk to the local people. I would hear about the loss of tuna stocks because of fishing pressure, or simply that the seasons were losing their predictability. The ocean means so much to so many people, and yet we still knew so little about it, and what was happening within it. The things I saw, I recognised, were not how they had always been. This fascination for our oceans grew. Now, as a marine scientist, I still travel, but with a focus on understanding the impacts we are having.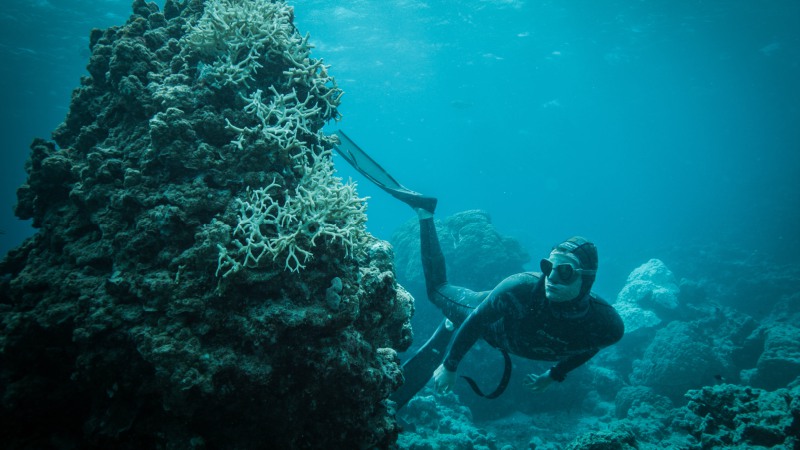 One of the greatest threats facing our oceans and the communities that rely on them is climate change. Our oceans are warming faster than they ever have before, and this rate of change is very worrying for the life living in our seas. When the water becomes too hot, corals begin to become stressed. In extreme situations this leads to bleaching and then often, to death. Our reefs are made up of millions of organisms, which exist as part of an intricate, interconnected unit. In tropical reefs, corals are the foundation on which all this life relies. If we start removing the building blocks of that system, because the water gets too hot, the rest starts to fall apart. Our fisheries, our coastal protection, the invaluable living spectacles that provide opportunities for tourism on our coastlines.
In 2014 we saw the beginning of a global mass bleaching event. It began in the North Pacific and expanded to the South Pacific and Indian Oceans in 2015. These extreme ocean temperatures continued, and in 2016 reefs from the Caribbean to Hawai'i to Australia's Great Barrier Reef were also turning white. It is important to know that reefs can recover. But it takes time, and it needs temperatures and other ocean chemistry to go back to normal. If it doesn't and this pattern of uncharacteristic temperature continues, we will lose our reefs as we knew them.
With 7.4 billion people now living on earth and 40% of them living in coastal areas, we need to make sure we keep our oceans healthy. We have never needed them so much, or demanded so much from them. Our oceans are so important, not just for the life that they sustain, the cultures they support, the mouths they feed or the industry that relies on them; but also because of the connection we get as humans to our environment. When we go beneath the surface, when we visit these wild places we see life outside our technocratic world and what we stand to lose if we don't act. When we connect as people, when we become a part of something, we begin to care. If we let this slide now, if we lose what makes our oceans useful, or beautiful, our generations to come won't know what they've lost, and I fear the motivation to fight to get it back will be absent.
Intrepid is committed to protecting our oceans and the marine life within them. That's just one of the reasons why we're a carbon neutral company and when you travel with us, we offset the carbon emissions from your trip by investing in renewable energy projects. We're proud to support the release of Blue, the film, and join the Ocean Guardian campaign. Through our not-for-profit, The Intrepid Foundation, we also support Greenpeace's efforts to decrease carbon emissions in an attempt to halt destruction of the Great Barrier Reef. Head here to donate, and we'll match your contribution dollar for dollar.
Feeling inspired?