Ah, Bali. This beach-fringed paradise seemingly has it all – sprawling rice fields, ancient Hindu temples and active volcanoes sprinkled throughout. And now Bali can boast having something very special within its borders: the Obama family…
Former President of the United States, Barack Obama, and his family are currently traveling throughout Bali and Java. Hiking, rafting and meeting locals, the Obama clan isn't wasting any time. Being in such a diverse and geographically stunning destination as Indonesia, can you blame them?
While you may not be Barack, Michelle, Sasha or Malia (if only, right?), you can still have a Bali adventure fit for a former President. Here's our guide to traveling through Bali like the Obama family (minus the security personnel).
Enjoy a traditional dance performance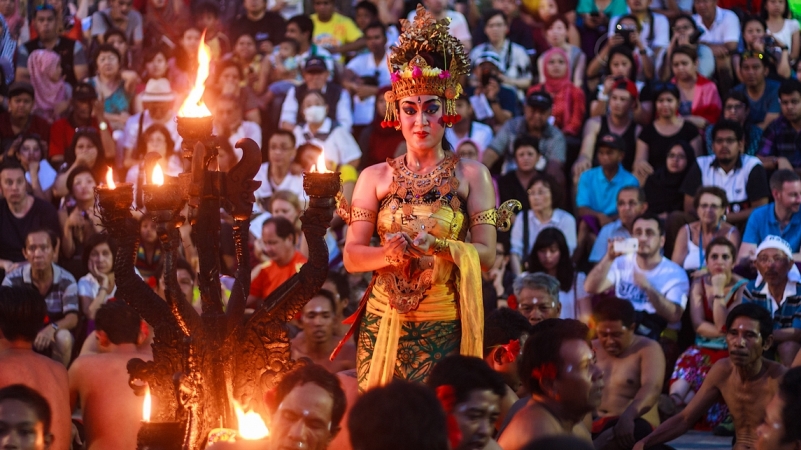 On special occasions – like a certain high-profile family visiting – a traditional dance, called Pendet, is often performed to welcome these guests. However, regular folk like us can still enjoy Balinese dance performances at most temple courtyards and historical sites throughout the island. And one of the most fascinating to watch is the Kecak dance, which involves chanting, fire and elaborate outfits. Catch a Kecak performance at Pura Dalem Taman Kaja in Ubud.
Hike through rice fields
You didn't think the Obamas would holiday without some physical activity, did you? The former First Family hiked through picturesque rice fields – you know, the lush terraces that Bali is so famous for – in the Jatiluwih Rice Terrace in Tabanan. But the Tegalalang Rice Terrace in Ubud is another great choice for a walk or bike ride. Stepped landscapes, swaying palm trees – what more could you ask for?
Walk, bike or hike through these picturesque rice fields on our Bali tours. 
READ MORE: WHAT IT'S REALLY LIKE TO CLIMB BALI'S MT BATUR
Meet locals
The Obamas reportedly met with local farmers on their holiday. There are endless ways you can get to know Bali's friendly locals too. Our tips? Head out on a bike ride to a local village, have a home-cooked dinner at a homestay and stop by a local market, such as Seririt Market in Lovina (Intrepid Travel does all these things on its 9-day Beautiful Bali tour in case you were wondering).
Take in the Balinese culture
In true diplomatic fashion, the Obama family visited cultural sites in Bali, like Agung Rai Museum of Art – a museum that showcases cultural events and fine arts. The Balinese have a strong attachment to their cultural practices to this day. You may come across celebrations for births, weddings and cremations. And the most prized cultural sites in Bali are Hindu temples: Uluwatu Temple, Ulun Danu Beratan Temple, Besakih Temple and Tanah Lot are among the holiest and most visited temples in Bali.
Experience Balinese culture and visit temples on our range of Bali tours.
FOR MORE TRAVEL INSPO, GIVEAWAYS & COMPETITIONS, SUBSCRIBE TO INTREPID'S NEWSLETTER
Go white water rafting
As if the life of Barack Obama couldn't get any more exciting, he took Michelle and their daughters white water rafting on the Ayung River. If that sounds like your thing, you can cruise down the calm rapids of the Ayung River too during a stop in Ubud on your Bali tour. Or better yet, Intrepid Travel's Bali & Lombok: Hike, Bike & Raft tour is definitely at Obama's adventurous level.
Ready for a Bali adventure yourself? Don't miss out – check out our range of small group adventures in Bali!
Feature image c/o iStock
Feeling inspired?