Being able to communicate a little more than the basics when visiting somewhere new will only enrich your travel experience. It'll help you to immerse yourself in your surroundings, learn from locals, gain cultural context and potentially get you out of a tight spot too if needed.
So, without further ado, here are six very different local activities you can enjoy across Europe that'll enable you to pick up some key phrases you can then us for the rest of your adventure…
Hands-on pasta making in Bologna, Italy
Famous for one of the world's favourite dishes, Ragù Alla Bolognese, Bologna is the charming historic capital of the Emilia Romagna region. Home to delicious tagliatelle, pistachio-studded mortadella, and subtly spiced cured meats and salamis, this Italian city is a dream come true for real foodies. The perfect way to get under the skin of Bologna is by mastering the fine art of pasta-making. Taking a class taught by a local master will have you rolling pasta like a pro in no time, and you can even try your hand at a traditional Bolognese recipe in the city where it all started. Buon appetito!
Take me there: Italy Real Food Adventure
Learn the language with Babbel: Italian
READ MORE: THE ULTIMATE ONE WEEK GUIDE TO ITALY
Meet pilgrims on the Camino de Santiago, Spain
Every year hundreds of thousands of people, from all walks of life, descend upon the pilgrim routes that form the Camino de Santiago (or Way of St. James). Some come for religious reasons, others for the sense of achievement, or most commonly for a bit of escapism. Starting from a French commune in the Pyrenees and ending at St. James' tomb in Santiago de Compostela, the trail is 800km long and completing it is no easy feat. Joining walkers on the final stretch is a special experience; a lovely way to understand the different reasons people are taking part and the spirituality surrounding it.
Take me there: Classic Spain and Portugal
Learn the language with Babbel: Spanish
READ MORE: 6 SPANISH CITIES TO VISIT BEFORE EVERYONE ELSE DOES
Enjoy local living on a homestay in Kahta, Turkey
Little-known Kahta is a small yet atmospheric town at the foot of Mount Nemrut. Life for people here revolves around providing food, accommodation and transport for those climbing the mountain. The summit of which is littered by antique statues, dating back to the ancient Armenian kingdom of Commagene. Before heading off, learn all about the local culture on an authentic homestay. Bask in the simple pleasures of village life; playing with local children, ambling through fields, picking the vegetables for your supper and then curling up on a traditional mattress or sleeping under the stars.
Take me there: Turkey Explored
Learn the language with Babbel: Turkish
READ MORE: 6 DELICIOUS DISHES TO TRY IN TURKEY
Cheer on Ajax at the Amsterdam Arena, Netherlands
Ask someone to imagine Amsterdam and thoughts of winding canals, vintage bikes and vibrant Van Gogh paintings will spring to mind. Whilst these are all spot on, what about the love affair many Amsterdammers have with the beautiful game? A brilliant way to mingle with the Dutch is by getting tickets to an Ajax match and joining 54,000 other supporters in the stands of the Amsterdam Arena (or Johan Cruyff Stadium). Alternatively, find yourself a buzzy local pub showing the fixture, sit down with a beer and a plate of bitterballen, and get ready to cheer on the home team. Kom op Ajax!
Take me there: Barcelona to Berlin
Learn the language with Babbel: Dutch
READ MORE: THE BEST CITIES IN EUROPE FOR LGBTQI TRAVELLERS
Tuck into a home-cooked meal in Suzdal, Russia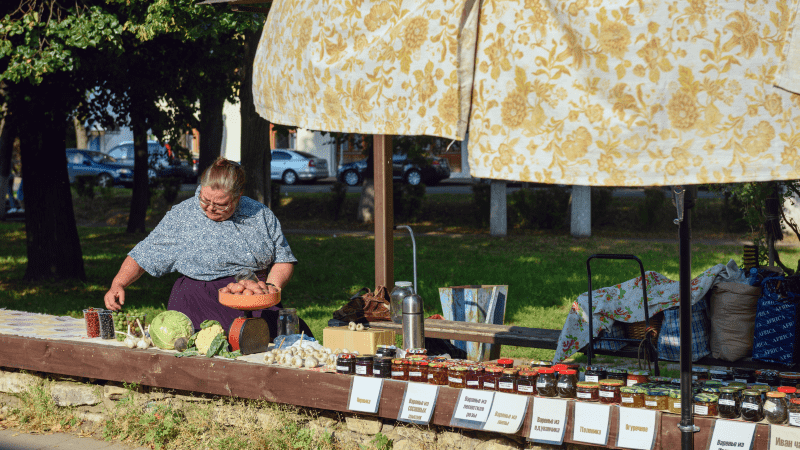 Picturesque Suzdal is one of eight cities northeast of Moscow that forms Russia's Golden Ring. With its onion-domed churches and rolling green pastures, you'll feel as though you've stepped out of reality and into the pages of a fairy story. Playing a key part in the formation of the Russian Orthodox Church and now holding the memories of significant events throughout Russian history, Suzdal has been likened to an open-air museum. Get to grips with the local cuisine at a home-cooked dinner in one of the town's quaint guesthouses, and familiarise yourself with the hearty, regional flavours here.
Learn the language with Babbel: Russian
READ MORE: LIFE ON THE EDGE OF SIBERIAN WILDERNESS
Visit Hamburg's famous markets, Germany
The major port city of Hamburg hosts over 100 markets every week, that's more than anywhere else in Europe. And whilst European markets require far less haggling prowess than their Asian or Middle Eastern equivalents, being able to communicate with sellers will surely enhance your market-going experience. Go to the Fischmarkt for an early morning fish sandwich or sample gourmet cheeses and speciality olive oils at the Isemarkt. Get your flea-market-fill with the vintage clothing and retro furniture at Flohschanze or unwind in a beer garden with live music at the St. Pauli Nachtmarkt.
Take me there: A Taste of Scandinavia
Learn the language with Babbel: German
READ MORE: A GUIDE TO SCOPING OUT BERLIN'S STREET ART SCENE
—
Feature image C/O Joanna Yee.
Feeling inspired?