I always assumed that cycling holidays were reserved for the rolling hills and river trails of Europe. It never really occurred to me that I could explore other parts of the world this way, until I heard about Intrepid Travel's Cycle Iran tour.  
With its sprawling landscapes, bejewelled cities, friendly locals and tasty cuisine, Iran is a joy to explore – even more so from the saddle of a bike. Here are seven reasons to book your tickets and get there now.
1. There's so much to see
Iran is a land full of epic contrasts. Picture booming cities with glistening mosques, barren deserts scattered with UNESCO World Heritage-listed sites, tiny villages in lush valleys and jagged, snow-capped mountains. Incredible, right? 
But what's even more incredible is experiencing these landscapes from atop a bike. Navigating the hustle of Tehran feels a world away from riding the seemingly endless, lonely stretches of road through the desert, or pedalling through a small village, dodging wayward sheep. Feel the sun on your back, the breeze on your skin, and the scent of fresh-baked sangak bread in the air as you cycle by families, waving 'Salam!'.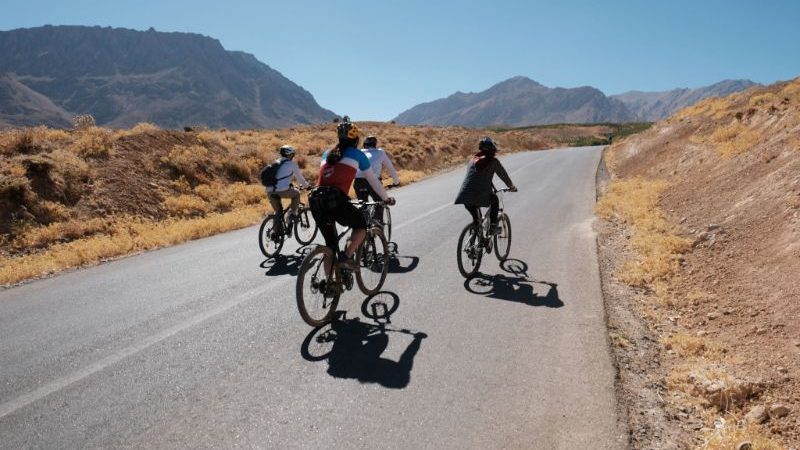 Travelling this way is naturally slower, emphasising the journey over the destination. There's more time to look around and soak it all in, which is a refreshing concept in a world where we're always hustling to get to the next stop.   
EXPLORE OUR RANGE OF ADVENTURES IN IRAN HERE
2. It's a great way to meet the locals
Ask anyone and they'll warmly recall that Iranians are kind-hearted, friendly and generous. They are also especially curious about seeing travellers cycling through their country, where bikes aren't an overly used mode of transport. You're much more approachable on a bike than in a bus, so it's almost guaranteed that you'll be stopped, offered snacks, or invited in for tea. At the very least, expect to be regularly quizzed on what you think of Iran (and why you're cycling there!). Interacting with the locals like this, as well as getting to know your leader and crew, is the best way to learn more about the country's complex culture.    
3. There's no need for 
energy gel
s
Iran is the world's second-largest producer of dates, which is good news for cyclists. The delicious bite-sized fruit is an all-natural (plastic free!) alternative to energy gels and bars, thanks to their high-carb and fibre content. Just one an hour will provide the energy boost needed to power through those inclines, so stock up before your ride! 
INTERESTED IN A CYCLING ADVENTURE SOMEWHERE ELSE? CHECK OUT OUR CYCLING TOURS HERE
4. You'll w
ork up an appetite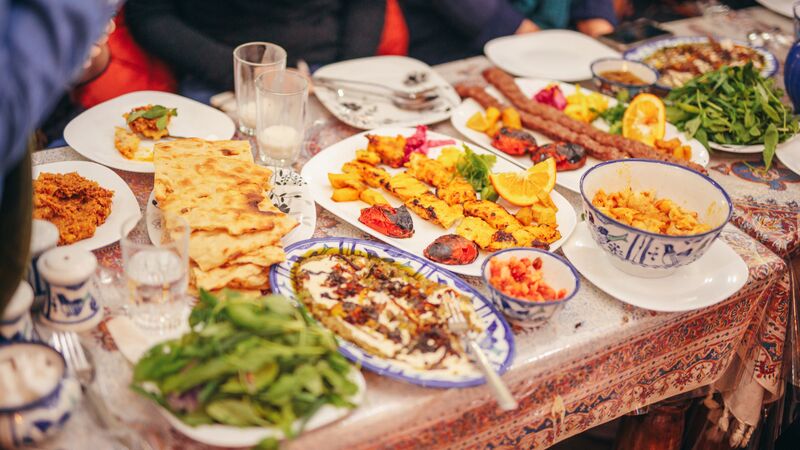 You'll never be short of motivation to conquer the next ride once you realise what's waiting for you at the end of the day. Get ready for slow-cooked lamb, chickpea and vegetable stews spiced with turmeric, a mountain of just-baked sangak bread, and biryani, a saffron-infused rice dish. Of course there'll be a generous helping of Persian feta, pistachios, pomegranate and rose-water sweets, as well as plenty of chances to stop for apricots and figs along the way. Your local leader knows where to get the best kebabs you've ever had too. Good thing you'll be hungry! 
SUBSCRIBE TO INTREPID'S NEWSLETTER FOR TRAVEL STORIES, COMPETITIONS & MORE
5. It can be 
challenging
Varying road conditions – perfectly smooth one minute, loose gravel the next – and a few ups and downs is all part and parcel of cycling in Iran. While the route has been carefully selected by the local crew, there's no pressure to ride the entire time; there's a support vehicle on hand to give you a ride, if your legs and lungs need a break. 
RELATED: WHY I'M SO GLAD I CHOSE TO VISIT IRAN WITH INTREPID TRAVEL
6. It's a lycra-free zone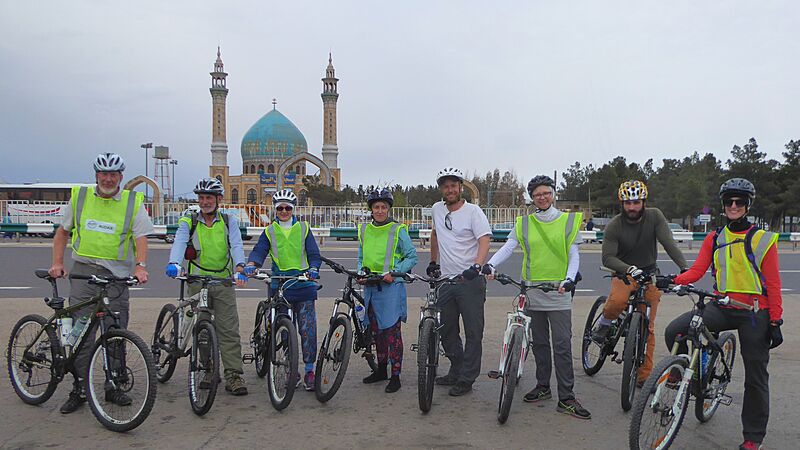 Cycling is permitted in Iran as long as religious customs are adhered to, which means that both men and women need to dress appropriately. Men should dress in long pants and tops with a short sleeve at minimum, while women are required to wear loose-fitting pants (covering the ankle), a loose-fitting long-sleeve top, and a hijab (headscarf) under their helmet. 
RELATED: WHAT IT'S LIKE SPENDING THE NIGHT IN A QASHQAI HOMESTAY ON A WOMEN'S EXPEDITION IN IRAN
7. It
's an adventure
Cycling in Iran is cited as a real once-in-a-lifetime adventure that pushes you well out of your comfort zone. Expect to come away with a greater understanding of Iranian culture, a deep appreciation for the landscape, and much (much!) stronger calves. You're also guaranteed to be the most interesting person at the next dinner party – just be prepared to be peppered with questions (or show them this blog). 
See a different side of Iran on a cycling adventure with Intrepid. Check out our 16-day cycling tour here. 
Feeling inspired?