It's almost universally agreed that mobile technology is changing the way we live, the way we work, the way we shop, and the way we travel.
This change was perfectly captured by some of Intrepid's 1100 local leaders when they visited our Melbourne headquarters for the first time.
We asked them: "what is the most common question you are asked by travellers?"
Five years ago, their answer was "where is the bathroom?"And now? Without fail, it's 'Do you have the Wi-Fi password?'
We recently undertook a survey to look at the impact that this constant connectedness has on travellers. The survey showed was that all this shiny new technology is distracting people from the real reasons they travel. Amongst the results was the rather alarming fact that 21% of those surveyed would give up sex rather than lose their Wi-FI connection! We also found that 50% of people will spend more than 1 hour a day searching for Wi-Fi while on holiday. And 31% of people admit being so concerned with getting a good photo that they missed out on experiencing it. Just last month an American tourist destroyed a 126 year old statue in Portugal while trying to take a selfie!
Travel has always been driven by our desire to escape our everyday lives, to discover new places, to meet new people and cultures, and to learn more about the world and our place in it. There will be many predictions on the future of travel – but the one thing I think we can all agree on is that there will be change. The real challenge for the travel industry is on whether that change will actually be for the better.
How do we ensure that the future of travel is actually better for our customers, better for our people, better for our communities, and better for our environment?
I come from a background in investment banking, so it's fair to say that I care about running a successful business. I made the switch to the travel industry because I wanted to work in an industry which had more meaning than helping the rich get richer – and I was drawn to Intrepid because of the company's long history as a leader in responsible tourism.
The company was started by two guys from Melbourne University 27 years ago with a vision of giving back to the places and people that we visit on our trips. While we are now the largest provider of adventure travel experiences in the world, carrying more than 250,000 travellers to more than 130 countries, our two founders care just as much about having a purpose beyond profit as they did when they started the company.
It's my job to make sure that we make a profit, so that we can have that purpose beyond profit. The thing that most excites me about the future of travel is seeing that it is possible to do both.
This time last year Intrepid made the commitment to help to rebuild Nepal. We're one of the largest tour operators in the country, and at the time of the quake we had almost 200 staff and another 200 travellers on the ground. Fortunately all were safe and well, but our connection with the people of the country made the impact of the disaster feel very personal.
Intrepid always matches fundraising dollar-for-dollar through the Intrepid Foundation, and we quickly launched an emergency appeal that had an overwhelming response from our community – raising $40k within 12 hours, and then $400k in the following weeks.
We know that after a disaster that travellers tend to stay away because they are worried about their own safety, the impact on their holiday, and also about being a bother to locals. The two objectives for Intrepid's Namaste Nepal campaign were, firstly –fundraising, and secondly, to get travellers to return. Tourism is Nepal's number one source of foreign currency and number one employer – it's of particular economic importance to women and rural communities. So to get tourists to return to Nepal we did two things. Firstly, we commissioned an expert engineering assessment of the Everest and Annapurna trekking regions to identify any hazards that needed to be fixed. Then we made a public commitment to return all the profits from Intrepid's Nepal trips back to Nepal.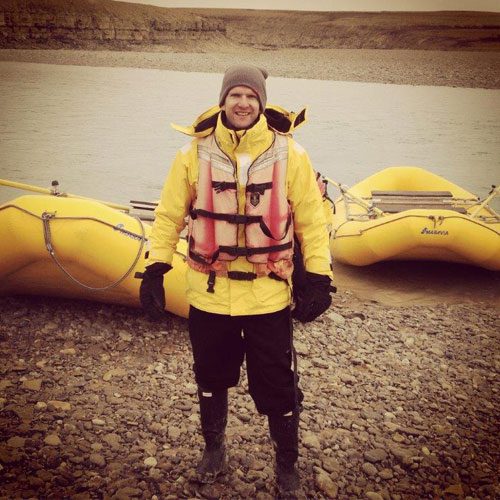 The campaign included supporting media and filmmakers to visit the country, fundraising screenings of award-nominated Australian documentary Sherpa, and even hosting David Beckham as part of his BBC programme to play football in seven countries. One year on from the quake and we're incredibly proud of the results. We have raised over $700k AUD for five local and international charities, including World Wildlife Fund and Plan International. We have also now seen our bookings to Nepal not only bounce back – they have actually gone up year-on-year!
This is just one example from one travel company on the tourism industry's ability to have an impact on the places and people we visit.
The latest report from the World Travel & Tourism Council predicts that, despite the challenges, tourism will grow 4% per annum globally over the next ten years. As it stands the tourism industry now supports 284 million people in employment – that's 1 in 11 jobs on the planet. And the ability to have positive social and economic impact on rural communities, and to preserve culture, heritage sites, and wildlife and natural resources, well it's huge.
The reality is that we now live in an age where countries – and brands – must be prepared to be transparent. Technology and globalisation has taken us to a point where there are very few places for bad business decisions to be hidden.
Social media is forcing brands that may have been slow to take a stance on issues to move quickly. Nobody wants to be the last one to do the right thing, but as industry leaders we shouldn't be content with following the crowd either. Average is just failure in disguise. Being the first to tackle an issue means putting your brand's reputation out there.
In 2010 we agreed to support World Animal Protection, a long-time partner of the Intrepid Foundation, to do some research on wildlife in entertainment venues across South East Asia. The specialist veterinarian inspected 118 venues over several years – including many elephant sanctuaries which promoted 'animal friendly' elephant rides and found that only 4 of the venues past the basic test of animal welfare. The research also highlighted the cruel process that elephants have to go through for tourists to ride.
As a result of the research Intrepid made a significant business decision to phase out elephant rides from our trips. This was a difficult decision as Thailand made up a big chunk of our business, and we knew that elephant riding was on the bucket list for many of our travellers. Despite this – we knew it was morally the right decision to make. So in 2014 we became the first global tour operator to end elephant rides. We announced this decision in a blog post from our company founder Geoff Manchester that we were ending elephant rides and explained the reasons why.
The response was phenomenal. The blog post is still the most shared piece of content we have ever written. Media coverage reached hundreds of millions of people around the world. The positive sentiment that we received has been used as a case study by World Animal Protection – who have now managed to sign more than 100 tour operators up to a pledge to no longer ride elephants. .
This initiative has changed the industry and it all began with Intrepid taking a tough business decision to do the right thing. It also meant we had to have faith that our customers would support us once they understood the reasons behind that decision.
I don't have a crystal ball to be able to predict the future of the travel industry, but travel companies can have a huge influence on what that change should be.
We need to have faith that people, you guys, want to travel better, and ensure that our businesses are doing a better job of delivering value to everyone in the long term.
For me the most satisfying thing about working in tourism is not all the travel perks that we can show off with on social media. But that we have the ability to change the way travellers see the world. That's an incredible way to spend your career – and for me it is the future of travel.
Feeling inspired?