In June, I was lucky enough to travel through India with travel photographer and Instagram juggernaut Lauren Bath (@laurenepbath). It was a beyond-brilliant experience, a the perfect way to see a country renowned for providing photographers with limitless subjects to capture. For those who haven't been to India yet, there are the expected clichés: contrasts, colour, curries, chaos and cows. But there's also much to photograph beyond people chucking coloured powder at Holi Festival (although that's a pretty awesome sight too).
Here are some of Lauren's never-before-seen images that didn't find their way on to her Instagram feed (due to India creating way too many insta-worthy moments to choose from).
They see me rollin'
On a visit to a Sikh temple in Delhi we got backstage access to the volunteer-run kitchen that pumps out thousands of chapattis and curries to the masses each week. The women working in the kitchen were quite simply exceptional, throwing down chapattis onto the hot plates like nobody's business. Two of our group members (Charissa and Alisha) stepped in to help out with the extreme chapatti-making, learning the tricks of the trade straight from the chapatti-making bosses themselves.
The Showstopper
The Taj Mahal is a beautiful nightmare for a photographer. It's supernaturally photogenic, yet there are also plenty of distractions and elements to contend with, including masses of people, sweltering heat, haze and strict rules forbidding the use of tripods. Patience, persistence, skill and a healthy sense of humour were required to capture the quintessential front-on shot but this image shows another side to the Taj. With most of the people visiting that day being locals or domestic tourists, it goes to show that the Taj Mahal isn't just popular with foreigners.
Holy cow
Is there anything cuter than a one day old calf? This little buttercup of bovine beauty was found resting out the back of our heritage hotel in Karauli. Precious enough to turn people vegan on sight! To get this shot Lauren had to crouch down on the floor of the shed among straw and cow faeces, but it was all worth it. And you thought travel photography was a glamorous profession? 
Samosa time
Although there weren't many food shots featured on Lauren's Instagram feed from India, you'd be wrong to think that food wasn't a focus for us. From eating naan three times a day to dabbling in Indian street food favourites, we gave most things a red hot go (and some of them in turn, gave us a red hot go back). This selection of deep fried treats is a good indicator of what you'll get on any street in Northern India. Fast, cheap, easy-to-eat and vegetarian-friendly, is there anything the samosa can't do?
Stepping into the light
The abandoned city palace of Karauli was a true highlight of the trip for many of us. While travellers can sometimes come down with a case of 'palace fatigue', no one grew tired of this place. With room after room of faded frescoes and ornate lattice work, Lauren had lots of dramatic backdrops and killer compositions to choose from. This is but one of them.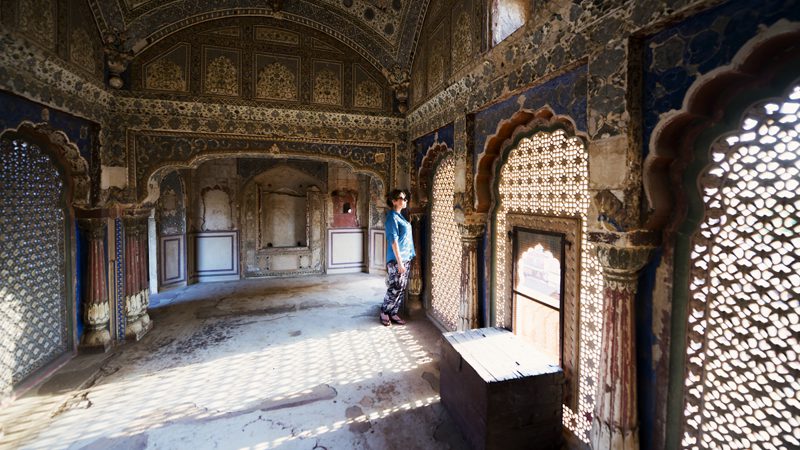 Secret squirrel
Much to the bemusement of our trip leader, many moments of our trip were dedicated to chasing squirrels. What is it about seeing an animal that you don't have in your home country? Being from Australia, possums, fruit bats and kangaroos are a dime a dozen, yet squirrel sightings are non-existent. Therefore, their stock immediately rises. Yes, we may have spent a good hour trying to take photos of cute squirrels at the Taj Mahal. This is the best we could do (they are such skittish little critters).
Inspired? Explore India with Intrepid Travel.  
All photos by Lauren Bath. Follow her on Instagram and scroll through to see more of her travels in India with Intrepid and find out where she is in the world right now: @laurenepbath
Feeling inspired?