Indoor air pollution from kerosense or wood stoves is the second highest cause of death by disease in India. Pollinate Energy is a social business with a simple mission – to improve the lives of India's urban poor by giving them access to life-changing and affordable products. With a focus on sustainable solutions, such as portable solar lights and improved cookstoves, people are able to reduce indoor smoke, have better quality light, use less fuel and save money. This is the story of a handful of our customers in India – all of whom are on the road to a better, healthier life.
Aminbir
Aminbir lives in a tent in an urban slum community in the south of Bangalore with her husband Rajesh and two sons. She is originally from Gulbarga and has lived in the slum community for six years.
She constructed a second tent next door to her home from which she operates a shop and restaurant business for locals. Her special dish is bhajis served with tea. A month ago, Aminbir purchased a Pollinate Energy solar light from her local Pollinator to use in her restaurant. Her husband told her she needed to buy the light to replace the kerosene lamp because she was suffocating in smoke. Aminbir is happier at work now – she can see the food she is cooking and there is less smoke in the tent from the kerosene.  She says that her customers are also happier – they spend longer at her restaurant socialising, which is of course better for her business.
Ghandiyappan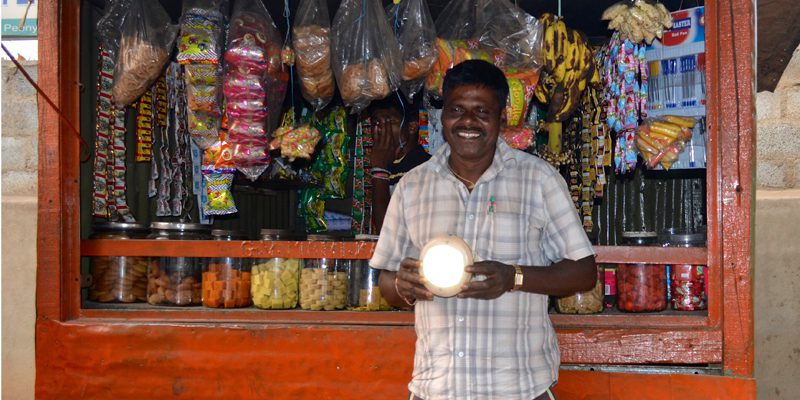 Ghandiyappan is from Chennai and has lived in Bangalore for 35 years. He has been based in the Merina community for 22 years and lives with his wife and four children. He works during the day in scrap metal recycling far from Marina and returns at night. He also  owns a snack shop nearby, which services residents and factory workers.
He owns three Pollinate Energy solar lights. Two lights are used for his home and one for his shop. The solar light has improved his life; it allows his children to study, it keeps snakes and rodents away from his house and it makes household tasks easier. In his home, Ghandiyappan uses the light throughout the night.
Ghandiyappan has recommended the light to many people in his community and commonly speaks highly of his light everyone he meets. He no longer uses kerosene lamps at all, and he's hoping that Pollinate Energy will develop solar TVs in the future.
Janardhanareddy
Janardhanareddy recently moved to Bangalore from Karnool with his wife and three children.
He has used candles for lighting and was not aware of the Pollinate Energy solar lighting products. He was introduced to Balaji, a Pollinator, and decided to purchase a light on the spot. He was very excited about the purchase and the benefits it would bring to his family.
Subu
Subu's story is much like everyone else's. Having moved from Andhra Pradesh and settled in the farm community, he tends to his cows, chickens & goats, feeding his cow's milk to his baby and earning a living playing the drums for Hindu weddings.
The kerosene lamp Subu has in his home was not nearly bright enough. So when Pollinate Energy came to their community with the solar lights, Subu found the answer to many of his problems.
Fast forward nine months, and Subu is now selling Pollinate Energy's lights as a Worker Bee of his local Pollinator. He has bought two lights for his family, sent around 20 lights to his hometown – where the lighting is unreliable – and is lighting up many more homes in his community.
For his family on the farm, the savings from not purchasing kerosene, alongside his earnings as a Worker Bee, go towards helping his relatives back home and savings his first house.
Pollinate Energy helped him brighten up his family's life and so he wanted to spread the benefits with his community. The safety, the savings and simply being able to see his family at night has changed his life, so much so that he now endeavours to improve the lives of others.
Intrepid is partnering with Pollinate to help shine a light on India's poor urban communities. Find out more here. 
Feature image c/o Pravin Tamang

Feeling inspired?