If you've ever been on an Intrepid trip before (and if you haven't, welcome!), then you'll know that it's the experiences you have in a destination that create moments you remember long after you arrive back home.
Think attending a Moroccan tea pouring ceremony or a Vietnamese water puppet performance, which when combined with expert knowledge from your local leader and many shared laughs or learnings from your fellow travellers, makes for some pretty special memories.
And when it comes to our new range of Intrepid Premium trips, we're excited to unveil a whole new range of experiences that have never before been seen on an Intrepid itinerary. Designed and led by locals, these exclusive included activities will help immerse you in all the highlights that you know about… plus the ones you don't. But no matter what, you can guarantee that they will be exceptional, authentic and give you a greater appreciation of the people and places you're visiting.
Here are a few of our favourite new Premium experiences.
1. Enjoy a private classical music concert, Russia
When you're staying in St Petersburg, there's no reason why you shouldn't join high society and spend an evening at the opulent Polovtsov Mansion. The house was originally built in the 1710s before being completed reconstructed by a local architect in 1835, in celebration of Neoclassicism and Eclecticism. In 1864 the house was gifted to the then-owner's son-in-law whose name was Polovtsov, and has since retained the name while undergoing various upgrades ever since. On our Premium Russia trip, you'll be treated to a guided tour where you can learn all about the history and architecture of the property, which will be followed by a private concert and champagne. Listening to classical Russian music under glorious gold ceilings is a magical memory that will be sure the stay with you through the ages.
Experience it on Premium Russia
2. Learn to cook with a local celebrity chef, Morocco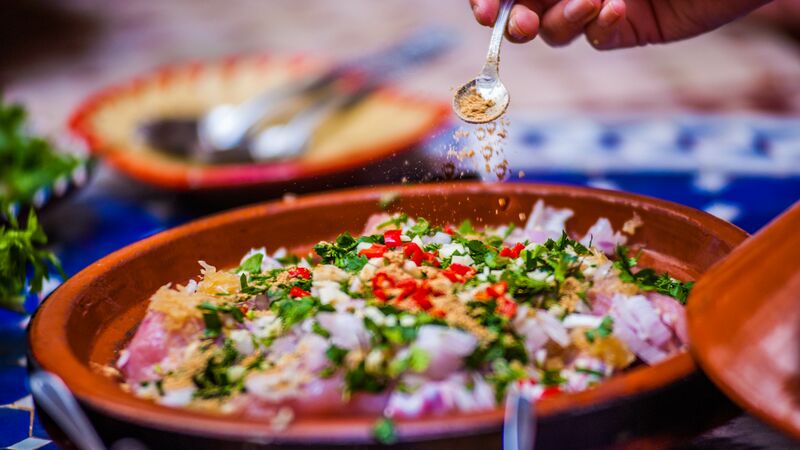 If you love Moroccan food but have never mastered the art of cooking it yourself, then a hands-on cooking class with a celebrated local chef in Tahanaout might be the answer. Chef Tarik is known for his healthy Middle Eastern recipes, focus on organic, local produce and authentic flavours. On our Premium Morocco in Depth trip, you'll explore his bio-restorative organic kitchen garden, olive grove and orchards, set in a traditional Berber douar. Then, you'll have the chance to harvest ingredients of your own and let the chef teach you how to make Moroccan delicacies like tagines and local salads.
Experience it on Premium Morocco in Depth
READ MORE: 7 MUST-TRY MOROCCAN VEGETARIAN DISHES
3. Share a meal with a wildlife ranger, Uganda
On our Premium Rwanda & Uganda trip, you'll be treated to a visit by a local ranger from the Uganda Wildlife Authority. They'll join you for dinner at your jungle lodge and provide you with special insights into the crucial and challenging role rangers play in conserving the local gorilla's natural habitat. Learn about the intimate and life-saving relationships they form with gorillas and ask any questions you may have on gorilla conversation or the unique life of a ranger. In an often-harsh environment, they are on the frontline of protecting the gorillas and their habitat from the wider world and act as the eyes, ears and voice of the forest.
Experience it on Premium Rwanda & Uganda
4. Spend a day like a local, Argentina
Buenos Aires might be a popular destination for visitors but there are still plenty of places where you can go to avoid tourists. On our Premium Argentina & Brazil trip, you'll explore the nearby northern city of Tigre and its surrounding delta region. A guided bicycle tour around Puerto Maldero and the Buenos Aires Ecological Reserve is the perfect way to explore the region just like a local would, followed up by a walking tour in the city to see hidden gems pointed out by your local leader such as the fruit market or the culturally rich Paseo Victorica street. Finally, a boat ride through the third-largest river delta in the world, complete with a stop off on an island to enjoy a delightful homemade lunch is the perfect way to end your morning of immersion in the local way of life.
Experience it on Premium Argentina & Brazil
READ MORE: 8 AWESOME EXPERIENCES YOU MUST HAVE IN ARGENTINA
5. Discuss politics with a local, Israel and the Palestinian Territories
If you've grown up with the Middle East dominating international news headlines, this is your chance to gain a greater understanding of issues you've followed for years. On our Premium Israel & The Palestinian Territories you'll have the chance to meet with a local expert for a lively conversation about the fascinating geopolitics of Israel, the Palestinian Territories and the Middle East. This person will have had firsthand experience working in the region and will tell you all about their experiences before allowing the group to ask them anything about the religion and contemporary history and politics of the region.
Experience it on Premium Israel & the Palestinian Territories
6. Spend time in a Cham household, Vietnam
The Champa Kingdom was a prominent power in central and southern Vietnam from the 2nd century AD until 1832 when it was annexed by the Vietnamese Empire. On our Premium Vietnam in Depth trip you'll have the chance to learn more about this former kingdom by spending time with a local Cham descendent in their family home. Learn about their origins and way of life over a warming cup of Cham tea and traditional sweets and desserts, before listening to some folk music. Your host will be very keen to tell you anything you want to know about the history of the Cham people and how the culture lives on today.
Experience it on Premium Vietnam in Depth
READ MORE: 5 STUNNING WAYS TO STEP OFF-THE-BEATEN-PATH IN VIETNAM
7. Immerse yourself in village life, Iran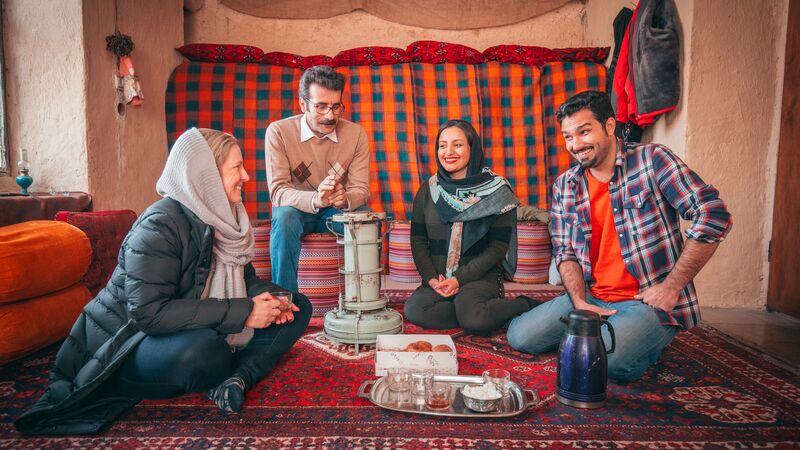 Ever wondered what life is like in a tiny village in Iran? Sharing a homecooked meal with a local Zoroastrian family in Taft will give you a taste. After spending the afternoon learning about the history of Zoroastrianism (one of the world's oldest continuously practised religions), you'll have the unique opportunity to speak to your hosts about how the religion plays into their modern lives. Learn how to make a special Zoroastrian bread then sit back and enjoy a traditional meal among the house's pomegranate and tamarind trees. Total bliss!
Want to learn more about Intrepid Premium trips? Visit our website and browse the full range today.
Hero image by Ben MacNamara.
Feeling inspired?