It is a universal truth that a person in want of overseas experiences must eventually hop on a plane. I acknowledge how lucky we are to have the benefits of aerodynamic engineering which means we can sit in somewhat comfortable repose, as though we were in a teeny tiny lounge room, while being transported magically to far-off lands. However, it is nothing but a necessary evil for me, for I am too tall and slightly claustrophobic. I also have a small bladder and no amount of dumbing-down will ever adequately explain how we are able to stay in the air, so I am your basic nightmare flyer. I would be much better suited to the ocean liners of old, minus the scurvy, the over-crowding and the icebergs.
Long haul flights require a bit of mental preparation, but this pays off once I alight at the other end, getting my feet on the ground and extending my legs to their full, straight length of 3 metres. On sitting in my seat – always on the aisle – I have already had a rescue remedy pastille, and swabbed my wrists with essential oils that calm and soothe; I have my own ear-buds and will immediately commence looking for a movie that promises complete absorption. To that end, I will have avoided movies for as many months as possible prior to the flight simply to broaden the options of distraction available to me. Rest assured, I will stop the movie to watch the emergency procedures presentation, making lots of smiling eye contact with the presenter. I do this hoping it doesn't come off as creepy, but rather as an engaging connection so if anything goes wrong later, the staff will be sure to help me remember how to undo my seatbelt and/or save my life.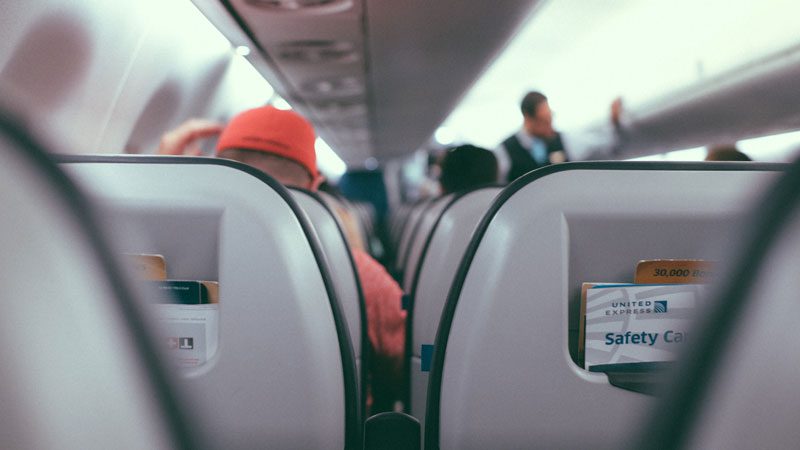 In the event that there are no movies, or visual distractions, I turn to audio-books or crappy magazines because it is important that I am completely engaged to stop me fidgeting, or overthinking, or wondering if I should pee now before the meals trolley comes through again. Eating is a handy distraction that helps use up time and drinking alcohol often seems like a good idea, but the effect on the bladder has taught me otherwise.
Day-time flights are much easier to my mind: the plane progresses through the day quite naturally and, at its best, it can be like binge-watching Netflix at home, sitting in a box with a seatbelt on. Night-time and red-eye flights are killer because sleep deserts me on planes. The one time I took a sedative, it transformed me into a sluggish, slow-motion version of my worst freaked-out self and I couldn't feel my toes.
It might seem as though I would be a terrible person to be seated with on a flight, but I'm fairly sure this is not the case. A large amount of my overthinking has to do with whether or not I am annoying or inconveniencing you as my row mate, because clearly I don't have enough to stress about. My plane-spotter partner says he is largely oblivious to my discomfort, but that's possibly because he has an eye mask on and is sleeping the sleep of the dreamless… or at least pretending to. My best flights are when I find a fellow freak, usually in line for the loo. We both stand there doing our calf lifts and foot circles to ward off DVT; funnily enough my new-found friend is usually around the 5 foot 10 mark too. Inevitably we reassure each other and have a laugh about our eccentricities, both of us knowing all the while that we are likely the only sane people on the flight. It is always a comfort to discover a shared neurosis, and sometimes it can come as a shock to find there are people with real problems: I once met a person on a night-time flight from Bali, who was equal parts fearless and phobic: she managed her flight anxiety by sneaking in and cleaning the toilets.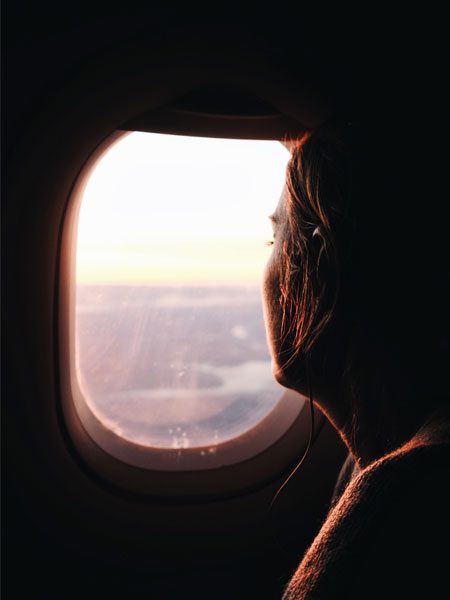 The only cure for my own flight-anxiety is landing, preferably the proper way at the airport. Even the awkward removal of carry-on luggage and standing bowed under the overhead lockers wondering who gets right of way when the queue moves, makes me smile. Again, I remain hopeful that this doesn't look creepy, it's just the out and out pleasure of knowing that very shortly, we will all have our legs stretched out walking and our feet firmly on the ground again.
Prepare for take off on an Intrepid small group adventure (the flight will be over before you know it!).