This article originally appeared on UrbanAdventures.com.
Chiang Mai is one of those destinations that people often visit — and then stay long past the date they planned to leave.
That's thanks to a ultra laid back atmosphere, some of the best street food in Thailand, an abundance of beautiful temples, and proximity to waterfalls and jungle trekking. Even though there's a wide range of things to see and do here, Chiang Mai's Old City is small enough to experience in 24 hours, and filled with enough markets, food stalls, temples, and shops to keep you busy during a shorter stay.
Here's how to make the most of a quick trip to Chiang Mai.
Early morning (7am – 9am)
First thing in the morning, stop by a local market to grab some breakfast and get a taste for local life. Somphet Market is a smaller market, so not too overwhelming first thing in the morning when you're just getting a feel for the city.
Here you can get a coffee and juice, or a fresh fruit smoothie to start your day from one of the stalls blending fruits or selling caffeine-laden drinks (some sell both). Flavour options are abundant (from strawberry to mango to watermelon) and drinks run about 25 to 30 THB.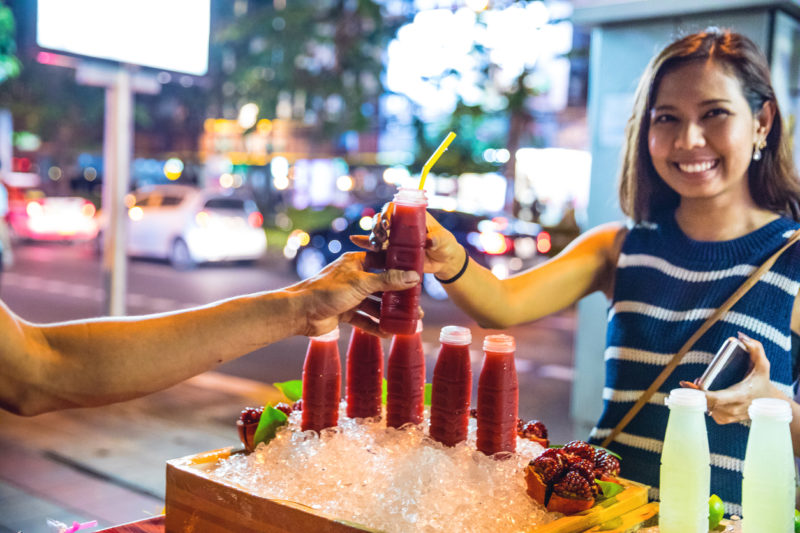 Explore local produce and spices as you sip your liquid of choice — or if you need more sustenance, there are many noodle shops and food stalls adjacent to the market where you can pick up a heartier breakfast.
RELATED: THE ULTIMATE GUIDE TO 7 DAYS IN THAILAND
Morning (9am – 12pm)
From the market, it's a quick songthaew ride to see some temples and experience some of Chiang Mai's cultural heritage. Wat Phra Singh is a good place to start and is known as one of the most beautiful temples in the city, as well as one of the most important.
Founded in 1345, Wat Phra Singh is an active temple so you're likely to see novice monks going about their day throughout the grounds. The complex consists of several ornate buildings including the scripture library, chedis (pagodas), shrines, sermon halls (called viharns). Plus, murals and very old Buddha images can be found in some of the buildings.
Next, make your way on foot to Wat Chedi Luang, another of Chiang Mai's most revered and popular temples. This one is home to Chiang Mai's largest Buddhist chedi, at 98 metres tall and 54 metres in diameter. But this one is a replica as the original was destroyed in an earthquake back in 1545. Note that when on temple grounds (no matter the temple) it's important to dress respectfully, which means legs and arms should be covered.
Continue to the Chiang Mai Historical Centre, a relatively new museum in the city, where you can learn about the history of Chiang Mai Province.
CHECK OUT URBAN ADVENTURES' LOCAL-LED DAY TOURS FOR A STRUCTURED ADVENTURE IN CHIANG MAI
Evening (6pm onwards)
Once you're ready to eat, Warorot Market is close to the riverfront, which is an ideal spot to base yourself for pretty waterfront views while you eat.
The River Market and The Riverside Bar and Restaurant are two popular options among locals and tourists. Each offer varied menus, river views, and there's also live music at the latter restaurant. If you feel like taking a cruise along the Mae Ping River, Riverside Bar & Restaurant also offers dinner cruises.
Following dinner, it's a short walk to the Chiang Mai Night Bazaar where you can bargain for a few souvenirs, stop for a snack from one of the many food vendors, have a post-dinner drink at one of the many bars in the area, or simply take in the buzzing atmosphere.
SUBSCRIBE TO INTREDPID'S NEWSLETTER FOR TRAVEL INSPO, COMPETITIONS, GIVEAWAYS & MORE
If you're in Chiang Mai for a layover
If you want to see Chiang Mai in two hours in the morning or afternoon, there are a couple of options. You can easily take a songtheaw into the Old City and explore on foot, stopping here and there to pop into shops or temples, or grab a bite to eat at a market or food stall.
Or, if you're looking for more of a structured stopover, make your way to the Chiang Mai Historical Centre to get a better sense of the city's history. In the same area you'll also find the Chiang Mai City Arts and Cultural Centre and the Lanna Heritage Museum.
If you're in Chiang Mai for an evening or nighttime layover, head to the Chiang Mai Night Bazaar. This will give you a feel for the street food scene in Chiang Mai and offer you a chance to fill your belly with some local goodies before heading back to the airport.
—
Tempted to visit beautiful Chiang Mai? Check out our epic 8-day Explore Northern Thailand tour.
—
Words by Amy Charoenwong, tour guide, sales & marketing manager @ Chiang Mai Urban Adventures.
Images credits from top to bottom: iStock/SeanPavonePhoto, iStock/Evgeny Ermakov, iStock/Theerapong28,  iStock/SeanPavonePhoto