Deb and Dave, collectively known as The Planet D, are kind of a big deal in the travel blogging circuit. They've been to over 100 countries on all seven continents and their travel blog was awarded 'Best travel blog' in 2014 by the American Society of Travel Writers. So yeah, these guys mean business.
By way of embarking on awesome adventures, Deb and Dave have also become experts on travel through the Polar regions. They've been all over the Arctic and Antarctica, and have a stack of stories to prove it. We figured there'd be no better team to ask about Polar travel so we dropped them a line. So if you're thinking about a trip to the cold, read on, get inspired and get planning.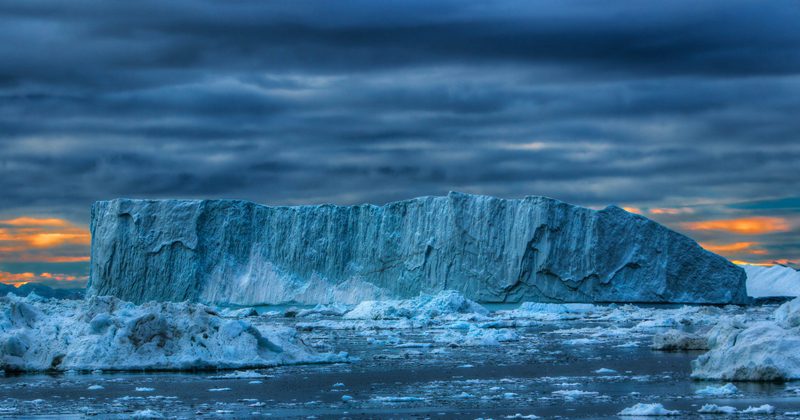 Michael: Why were you drawn to travel to the polar regions?
The Planet D: For us it was the last frontier. When you travel the world, you realise these regions really stand out as the ones yet to conquer. We always had these milestones of what defined a true traveller… When we finally checked Antarctica and the Arctic off the list, we finally felt like we were true travellers.
How do you pack for a polar expedition?
You need layers, waterproof outer layers, midlayers, merino wool base layers. You will be exerting yourself out in the cold and the temperatures are so changeable, you don't want to be stuck bundled up in a huge coat when you're out trekking, layers are integral. Most cruises will provide a parka and gum boots, so you don't need to worry about that.
The most important thing to remember is that you don't need to pack a lot. Everyone's an adventurer, you don't need special clothes for dinner for example, everyone is very casual, they generally wear technical gear to dinner. The only thing I would pack more of is base layers, so you have something fresh to put on after a long day. Other than that just keep it comfortable, warm and sporty.
Major differences between the regions? Wildlife? Scenery?
For wildlife, Antarctica is where you want to go, nobody lives there, there isn't any culture. In the Arctic on the other hand, it's all about the culture. You may not see as much in terms of wildlife, but the icebergs and culture make up for it.
In Antarctica, you'll be blown away by the penguins and whales. The penguins have no natural predators so they will come up to you, they are curious. In the Arctic hunting is much more prevalent, so the animals fear humans, they're more easily spooked. The polar bears are obviously a big draw card of the Arctic though.
The native culture in Greenland and the Innuit culture of Northern Canada is fascinating. We went into the villages, you can see kayaking demonstrations, eat whale. It's a very different experience.
They say it's the journey not the destination. Describe the journey to Antarctica and Arctic?  Drakes Passage vs. Arctic.
We had a rough crossing on the Drake Passage on the way home. Even the staff were sick. The lectures were cancelled. But that's why you do it. A lot of people tell us they would fly to avoid it, but taking the boat is part of the adventure, surviving it, it's an important part of the journey, the whole package of Antarctica. You spend two full days crossing it, gripping your sheets so hard at night you wake with tired arms. For us it was all part of the experience.
The Arctic is quite the opposite, it is just a quick flight from Ottawa up to Greenland, with a short refueling stop in Nunavut on the way. Much easier!
Has your polar trip changed the way you see the world or changed you as travellers?
Travelling to the Polar regions made us more aware of the impact of global warming and the environment, especially up in the Arctic. The captain of the boat was astounded by how far into the Fjords we were able to get because of the melting ice, he'd never been that far before. It was suddenly very real.
And Antarctica is just so massive, you realise how little you understand. You feel so tiny in the world, surrounded by whales and this vast ice. You really appreciate mother nature and the power of the sea. Being so rugged and out in the middle of nowhere. There aren't many places in the world you can go and feel so remote. It is truly amazing.  Around every corner and with every paddle stroke, you're left speechless all over again. It's unbelievable.
What advice would you give to someone considering a polar trip?
We would recommend researching the ships, thinking about how you want to enjoy Antarctica. No two ships are the same. There's luxury cruises, mid range, and very basic ships… It's the trip of the lifetime, make sure you're experiencing it how you want to. And when you're there, make sure you take advantage of every opportunity. If you can camp on the continent, do it. If you can do the polar plunge, take the polar plunge.
Save up. It's an expensive trip. But it's a dream trip. Make it happen and do it right.
What was your most memorable Polar experience?
I had this one day in Antarctica, that I've since named 'the perfect day in Paradise Bay'. When the day was over, I realised that I probably wouldn't ever experience a more perfect day in my life. We started off kayaking in the morning, floating past seals, and going through ice. Then we went ashore and walked and saw penguins. The day was perfect, the bluest sky. We did the Polar plunge in the afternoon. We had lunch on the deck and camped on the peninsula under a full moon.
You just can't beat that day. I will always remember it.
Then in the Arctic, visiting a village in Greenland and talking with the locals was so memorable. After we visited the village we hiked up a ridge and came out on to this incredible mountain range, and the graveyard for the village was right in front of it. It was a very emotional moment. Realising these people really live here. This is their life. They live and die here. There are only 80 people, it's so remote. And we were lucky enough to meet them and talk to them learn from them. It was special. Seeing the northern lights for the first time was also pretty spectacular. We'll never forget that.