Chris Burkard is really, really good at taking photos. He's so good, in fact, that he's made taking photos his job, and gets sent to different places to take photos for different people. Man – what a life.
He's a dab hand at capturing the landscapes of the world. And he recently released a book, Alberta, which contains stunning images gathered solely from the incredible untempered wilderness that is Alberta, Canada, a place we recently started running trips. 
Chris' book makes us equally want to pick up a camera and become a photographer and visit Alberta, so we figured we'd drop him a line and ask him about both.
Did your idea for compiling a photography book on Alberta come before or after you first visited?
The idea came afterwards. In the end, I was inspired by so much of its beauty that I had to create a book for my fans.
What is it about the landscapes there that made it a good subject? What makes it special?
They are so grandiose and majestic but with a touch of uniqueness that you don't see often in California, where I live. Snow covers the mountains perfectly and the waters are crystal clear blue – all the time.
How many trips and how long did it take to compile your book?
It took a good two trips to get all the shots but even then I feel like there could've been more shots we needed. Alberta is so expansive. There's so much to explore!
Many photographers attach a deeper meaning or message to their work. Does Alberta have any underlying meaning or any commentary on y'know, life, attached to it?
You know, I always try to include a deeper meaning into my work other than the fact that they are beautiful landscapes. I want to inspire people to get out there to explore the beauty our world has to offer.
But really, I  want folks to know that these grand landscapes and places won't be around forever. The impact we have on the planet is definitely showing its sign and I hope my photography can show people that there's a change we need to make.
If you went to Alberta without your camera, do you think you would've seen it in a different light?
Definitely! I would've been more immersed in my experiences and feel more relaxed without having to shoot so much photos. But I feel like if I didn't have my camera I would've done injustice to my friends and fans by not sharing with them all the beauties of Alberta. Very rarely will I not have a camera though — I ALWAYS have my iPhone with me so I can always shoot with that too!
Where was your favourite place there?
There's just too many to name! But I really liked Athabasca Falls and their beautiful blue/green water — we got some epic kayak shots down there. Mt. Assiniboine offered up so much great shots when I was shooting from above. Just too many to name!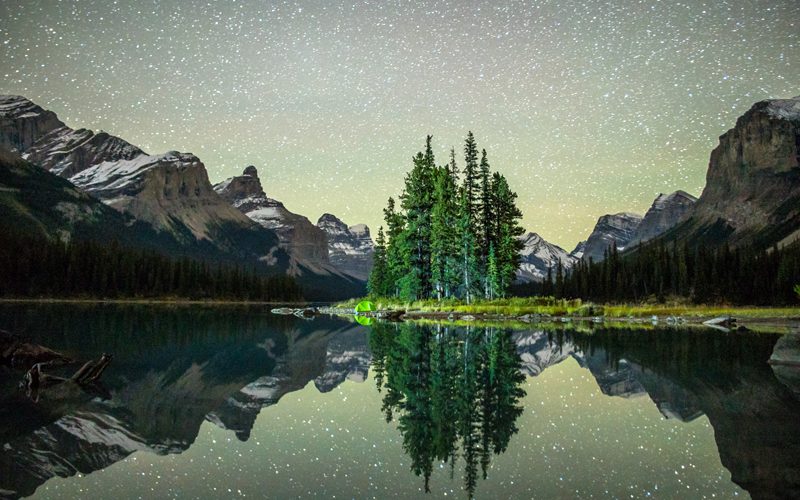 What tips do you have for anyone hoping to make the most out of a visit Alberta?
To make the most of it, you really have to plan out ahead of time what spots you want to visit since there are quite a bit to choose from. But really, if I could, I would try to spend another two weeks there to explore it all since my one week stay was definitely not enough.
Do you think photography can improve travel or offer a different dimension to it? Obviously it forces you to pay closer attention – is this always a good thing?
I think serious photography can be a wonder but also a hindrance at the same time. It does force you to pay closer attention to the smaller details and be really in tune with the sun and the times when to shoot. But when you're so focused on getting the shot sometimes you forget to take a step back and breathe it all in.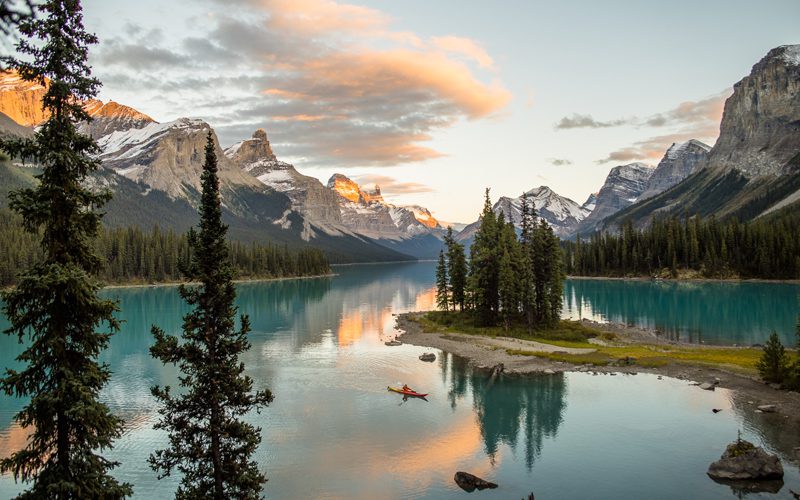 When trying to capture the perfect landscape, what do you try and keep in mind to help ensure you get the shot you want?
The perfect landscape varies from time-to-time but the essentials are always good lighting so either sunrise or sunset shot, good composition and use of rule of thirds, and lastly, depth. Always have to have depth in the shot to give the viewer a point of reference for the landscape whether it is a human or a prop.
What do you think the most useful piece of advice you could give to budding photographers is?
SHOOT! If you don't shoot you won't learn the mistakes you need to make to become a better photographer. Lastly, you have to share your work as well to keep yourself on your toes and continuing to shoot for your audience.
Explore Alberta with Intrepid Travel. 
Check out more of Chris' incredible photography in his book, Alberta. Out now.
All photography c/o Chris Burkard
Feeling inspired?