This post was written and snapped by Pete and Dalene Heck (aka the lovely team at Hecktic Travels). Check out their instagram feed for more sweet travel shots. 
It was a cool morning in Tanzania, and my husband and I rose a little earlier than most to sneak into the sheltered kitchen and grab coffee before the breakfast rush. The tents were beginning to stir, but we had a few minutes alone to enjoy the first of the sun's rays, the squawking of unnamed birds, and to stares of the giraffes nearby.
Yes giraffes. We were sharing our coffee in the Serengeti with half a dozen of them, at least that's all we could see through the trees. But they all appeared as interested in us as we were in them. They tilted their heads to munch on overhanging leaves, but barely did their eyes leave our camp.
For us, the draw to Tanzania began with the desire to encounter animals and we were overwhelmed with our drives through both the Ngorongoro Crater and the Serengeti. Within two days we saw the Big Five, a near-kill, and sunsets for the record books.
The best experiences in travel are those that shred your expectations. And that is exactly what this country did for us, because while the excitement began with the sacred beasts, it certainly didn't end there. Where we expected to hopefully see a couple of lions – we saw over eighty. Where we wondered of the reception we would receive from locals – we were greeted with gracious hospitality that ranks among the most endearing we've met throughout the world. And where we hesitantly took our first steps into a continent relatively unknown to us – we emerged raving and making solemn vows to return.
Our Instagram feed soon reflected Tanzania exactly as we saw it: boldly vivid and diverse.
In the small town of Mto Wa Mbu we were guided through the streets and into a local's home for lunch.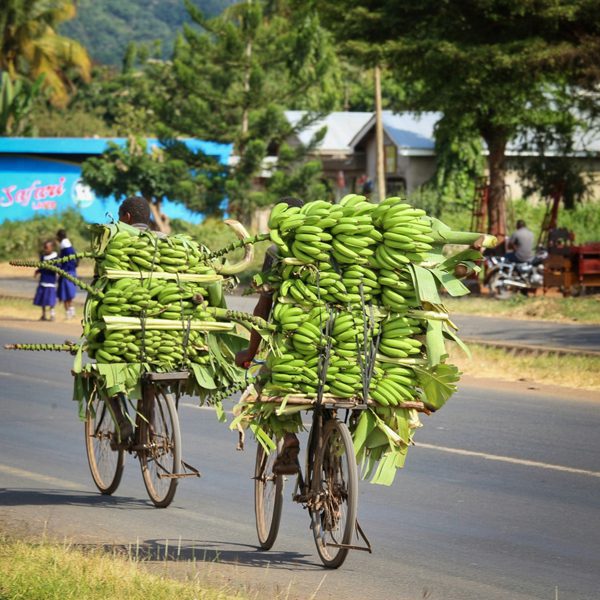 Bananas are a big part of the local culture in Mto Wa Mbu. We tried all kinds and then tested some freshly made beer – so fresh that it's not bottled and only lasts a few days. One of the main purposes for the beer is to share it between elders of the Chagga tribe when meeting to negotiate marriages.
Taken on the rim of the Ngorongoro Crater – this formant volcano caldera holds a perfect microcosm of Africa. On our short drive through we saw four of the Big Five.
Zebras are like cows in the Crater and in the Serengeti – they are everywhere. They are also brilliant creatures, standing head-to-toe like this to confuse predators and also to swat flies off of each other's face with their tails. Smart stuff.
Just into the Serengeti we came across three male lions lounging right beside the road. Even our guide was pulling out his camera to record the scene.
There ain't no sunset like a Serengeti sunset. Nightfall was as exciting as our daily drives – from our tents we could hear hyenas calling and lions roaring into the night.
After the Serengeti we headed for the mountains, catching a mere glimpse of Kilimanjaro before it disappeared into the fog and cloud. This shot was taken at the small town of Marangu.
This chameleon is unique to the Usambara mountains in the northeast. This little guy even turned blue while sitting on one of our bags.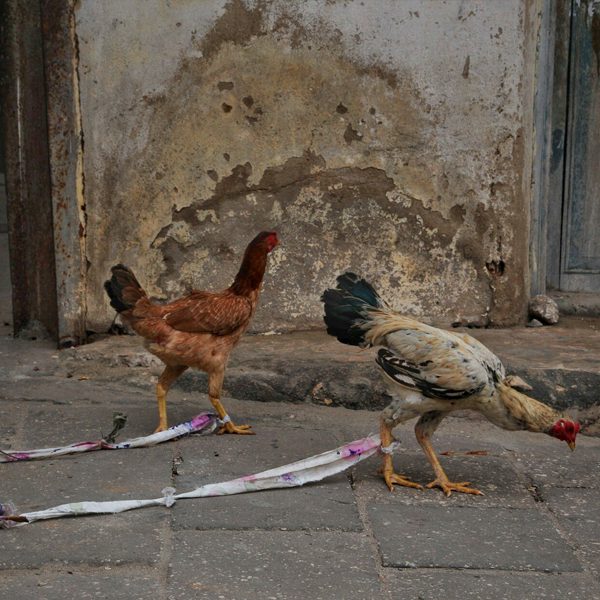 Why yes, those are chickens on their daily walk. From the mainland, our tour took us to Zanzibar, and our first couple of days in Stone Town introduced us to all kinds of characters.
Spices are a significant export of Zanzibar and a tour of the plantations was well worth it. We got to chew cinnamon bark right from the tree and smear extract from Annatto on as lipstick.
This is where it all ended, on the brilliant Kendwa Beach in the north west.
This post was written and snapped by Pete and Dalene Heck (aka the lovely team at Hecktic Travels). Check out their instagram feed for more sweet travel shots.