To help us all feel a bit closer while we're physically apart, we're sharing letters to and from those who made their adventures extra special. Today, we're celebrating the highs and lows (physical and emotional!) of active adventures. #BeTogether
—
Dear Victor,
In March 2019, you were my tour leader on the Inca Trail Express. I was incredibly sick with food poisoning but determined to make it to Machu Picchu.
You may not know it, but you're the reason I actually finished the Inca Trail. Between the fatigue and sickness, I contemplated turning back many times but your patience with my glacial pace, words of encouragement, and inspiring stories of travelers who completed the trail is what ultimately kept me going.
It's been one year since I completed the trail but it's a memory I'll never forget and you played a huge part in that. Thank you for your support, patience, and encouragement. I'll forever cherish The Inca Trail in my memories.
Sally
—
Dear Ram,
You were my very first Intrepid guide, and still 9 years later, it's your face that I can still see most clearly when I think about our Everest Base Camp trip.
Nepal was my first leap onto the Asian continent, and EBC was the most physically and mentally demanding challenge I had faced up until then. However, any angst or nerves I had about embarking on the trek were put away by your calm demeanor, quiet wisdom, jolly chuckles, and one-line "Ram-isms" that had us all laughing all the way up and down the mountain (which still make me smile when I think of them now).
It was not only your prowess as a leader that made that trek so memorable, but something about you reminded me of my father, who had passed away just months before our trip. Your mannerisms, quirks and habits that I noticed along the way somehow made me feel like he was there with me, adding an extra layer of comfort, even though I was so far from home.
Thank you for being part of my story.
Chrissy
—
Dear Karen,
How are you keeping, down in Wisconsin? I was thinking about you and Doug today. Do you realize it's been almost a whole year since we first met on the Cycle Morocco tour?
I have so many incredible memories of that adventure, but one that sticks with me was how lucky I was that you both were in my tour group.
It's no secret that two weeks of biking up mountains for my first ever cycling trip was an intense physical challenge for me. At the beginning of the trip, it was incredibly tough to keep up with the group, and I honestly wasn't sure I could finish it. But from the very first hard hill climb, I remember you both at the top, cheering, waiting to give high fives. Your support really did make a difference.
When you go off on a tour as a solo traveller, you're never sure how you will connect with others. You guys made me feel like part of a team.
Thanks for the riding advice, the kind words of encouragement and great memories. Safe journeys and I hope our paths cross again.
Liisa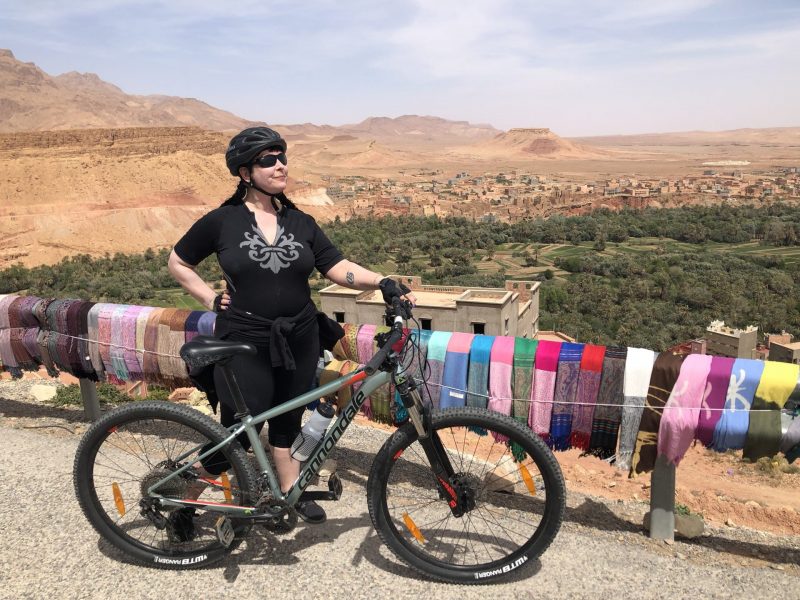 —
Dear Julian and Robert,
I hope you and your families are well and healthy in Peru. Over the last few weeks as all our travels have been put on hold, I have been feeding my wanderlust by reliving my past travels including the Choquequirao trek I took with Intrepid Travel last fall.
It was one of the most exhilarating adventures and physically challenging things I have done in my life.
Part of my memories are the meals you prepared for us every day so that we could recover from the miles we had just conquered and gain energy for those yet to be covered. Not only that, but the food was incredible, way beyond my expectations (we were trekking and camping after all) and another great way to give us a taste (ha!) of Peru. I also remember you two sprinting up ahead of us after each stop and each meal we had, while our group was huffing and puffing on the trail, only to be waiting for us at the next stop with another body and soul nourishing meal.
Your food was delicious and your always upbeat and positive attitude infectious. There is no victory without a great support team and we could not have done it without you.
Thank you for being part of some of my fondest travel memories.
Take care and stay safe,
Vera
—
Dear Joshua,
I hope you are staying safe and healthy! I wanted to thank you for helping my sister and I summit Mt. Kilimanjaro at the end of January. I know we would not have made it without you!
We had an amazing group of climbers, guides, porters and cooks that made the trip incredible. However, you took us under your wing and made sure that we made it to the top on summit day. Our group decided to summit half a day early because of bad weather at the top and you were right there telling us we would make it from the moment the group decided we were going for it.
Every break we took on our way to the summit you were there with a drink of water or a piece of chocolate and an encouraging word. You never let us think that we weren't going to summit, even though each step was tougher than the last. Making it to Uhuru Peak is the hardest thing we've ever done and I know that neither one of us would have made it to the top without you there with us.
Thank you!
Erin (and Lisa)
—
Dear Sapinggi,
We have done many Intrepid trips and met many wonderful guides but the guide that stands out for me is you. You are such a kind, gentle person nothing was too much trouble and even when I was ready to give up on myself ever getting to the top of the mountain – you weren't.
You kept coaxing and encouraging and eventually even took my hand. And yes, I did get to the top – well after the rest of my group.  But I made it and then we raced down for hot chocolate at Laban Rata Resthouse before it was time for my group to descend.
A heartfelt thank you to you, Sapinggi. You are a truly inspirational person and I will always remember you and your kindness with great fondness.
Helena
—
Dear Wael,
I am still amazed that I actually managed to cycle round Jordan.
I was a solitary traveller, but your friendship and leadership brought the the group together and we became a cohesive and supportive group – thanks to you. I realised, very quickly, that I was lacking in stamina and technique for some of the rides, but you never judged me.
Thank you, thank you, thank you.
Hope you and your family are well,
Jill x
—

Feeling inspired?