Asian food in all its sweet and sour glory continues to influence world cuisine. Ginger, cinnamon, pepper and turmeric were the stuff of legend in the 1600s, and sticky stir-fries, fragrant curries and juicy dumplings have all made their mark on today's global palate. But nothing beats the real thing, fresh from the wok. Come with us on a food tour through the night markets of Thailand, chaotic Vietnamese beer halls and the delicate teahouses of Japan. One tip? Pack stretchy pants. 
1,000 holidays, 120 countries 20% OFF everything
Get 20% OFF all trips when you travel before 31 March 2018. Hurry - offer only available until midnight on 25th September 2017.
Terms & Conditions
Our food tours in Asia
Meet our local leaders
Chinese food is very different to Western food. There is a big variety depending on the province you visit. In the north-west, people eat a lot of kebabs, while in Beijing there's a lot of savoury and less spicy food. In southern China, there is not much spice either but a lot of dim sums and snacks. Every region is quite different.

– Jane, China
Reviews
Valdene Diprose
The food experience trip was a wonderful way to gain an insight into the culture of Vietnam. The Pho breakfast, eaten at a local restaurant where we were the only foreigners on the first morning on Hanoi was an unforgettable beginning to our food adventure.
Review submitted 25 Sep 2017
Graeme Hadfield
The Real Food format is great for anyone into food culture and includes a good balance of history, culture and food experiences.
Review submitted 24 Sep 2017
Stories from the kitchen
Asian recipes
Jun 30, 2015
---
Everyone knows you don't make friends with salad. But everyone also knows rules...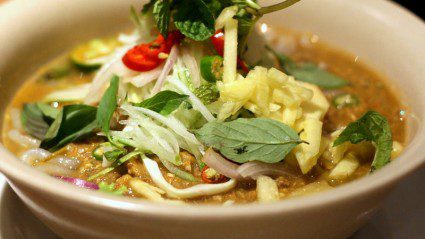 Apr 29, 2015
---
For renowned food writer and blogger Robyn Eckhardt, there's only one recipe that...