Intrepid's Community Based Tourism researcher-extraordinaire, David Knight, has since mid 2013, enthralled us with his entertaining tales of life in communities of the Sacred Valley of Peru.
Now it's time for David to put his head down and write up his PhD thesis…but not without sending us some more enchanting observations…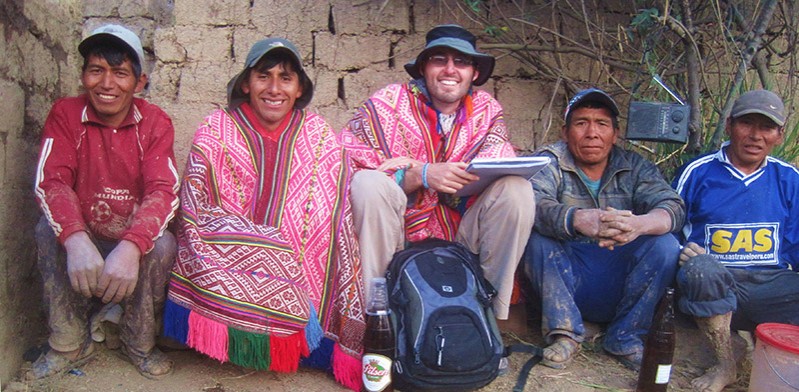 Our 'hairy neck' in Peru, David Knight, has shared with us many wonderful insights into Peruvian life the past 6 months. But now as his time as Intrepid's Community Based Tourism researcher is drawing to a close, it's hard not to wonder if his alternative career ambition is to be a world food writer!
We've heard all about spicy aji on the side of soup, the delights of cuy (guinea pig), chicha (corn beer), ceviche, the best quinoa soup around, fresh honeycomb and 'spider' punch. Now David shares with us the triumph of the humble tater…
Some adrenaline junkies will go far and wide to find the next big thing. For David Knight, Intrepid's Community Based Tourism researcher in Peru, an adrenaline rush came quite unexpectedly the other day during a mini-van ride from Cuzco to Urubamba in Peru's Sacred Valley…
"Keep hands and feet inside the car at all times, 'cause this here's the wildest ride in the wilderness. The final words of warning from the old cowboy on Disney's Big Thunder Mountain kept running through my head as our driver took one harrowing turn after another. A woman walking beside the highway with her baby strapped to her back appeared entirely at ease as we sped by, the baby barely turning its head beneath a brilliantly-colored cloth.