Saving Antarctica from man
"Had we attempted to retrace Shackleton's polar survival journey as recently as 1962, a knock on the door of the managers' house at Stromness whaling station would have met with a greeting in Japanese not Norwegian," recounts polar explorer and environmental scientist, Tim Jarvis.
"When whaling in South Georgia was finally wound up in the mid-1960s the whole South Georgia whaling fleet could find only one solitary blue whale to kill, down from more than 29,000 blue whales caught in the 1930-31 season alone.
Whaling has left blue whale numbers at a fraction of what they were before whaling. Ominously however, it is now the impact of man's activities in the form of fossil fuel burning, land clearance and population growth beyond Antarctica, that pose the biggest threat to the great white south.
The opening statement of the IPCC's latest report: Climate Change 2014: Impacts, Adaptation, and Vulnerability is unambiguous: "Human interference with the climate system is occurring, and climate change poses risks for human and natural systems." Indeed, such activities have contributed to a more than three degree Celsius temperature rise since the mid-1950s in the western part of Antarctica.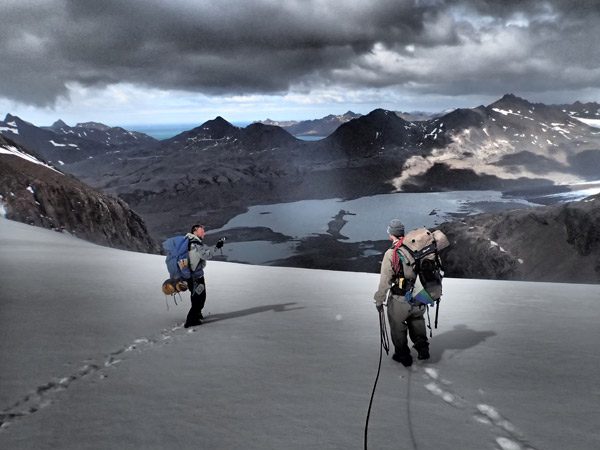 For the Shackleton Epic team such effects meant that our bid to follow in Shackleton's footsteps involved a wade across a glacial lake where the Konig Glacier had formerly been. This is because the Konig Glacier, along with 80% of the 160 glaciers of South Georgia, has been in wide-scale retreat due to climate change ever since his journey. Shackleton had to cross three glaciers. We only had to cross two.
For this reason I continue to work with Sir David Attenborough's conservation group, Fauna & Flora International, on projects that help reduce the carbon emissions that so threaten Antarctica's ice. And I celebrate Intrepid's approach to sustainability across their business and beyond. It is also why I make my expedition lectures, films and books tell an environmental back story. To save Antarctica we must change the way we operate and that means both spreading the message about the extent of the problem, as well as offering clear solutions and leadership to deliver them.
Shackleton's goal was to save his men from Antarctica, whereas the goal for us 100 years on, is to try to save Antarctica from man. Our survival journey, and that of Antarctica, can only be accomplished if we take another leaf out of Shackleton's book and pull together as one to achieve it."
Intrepid Travel was a proud major sponsor of the Shackleton Epic.
You could join Tim Jarvis in the Arctic this June!
The 3-part Discovery Channel documentary of the Shackleton Epic is now out on DVD.
Shackleton: Death or Glory is available:
In Australia from here.
In the UK here.
The USA release, called Chasing Shackleton is available on the PBS website.
For more information on Tim Jarvis – web-site, Facebook and Twitter.

Photos: credit Tim Jarvis, Shackleton Epic
Top: The South Georgia scenery was spectacular, but dangers lurked just below the surface.
Bottom: Barry Gray and Paul Larsen, crossing South Georgia.