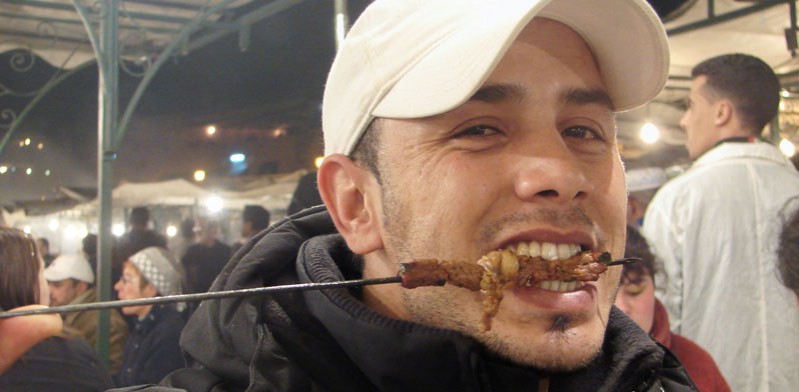 Frogs in France. Tick. Grilled cockroaches in Thailand. Done. Guinea-pig in Peru. Just like rabbit. Well what about dog in Vietnam? No doubt we've all photographed the menu boards, gasped at the tales of inadvertent consumption, and possibly put our fork into unorthodox 'delicacies', but how far should our gastronomic limits be pushed? Intrepid's Taz Liffman explains how the responsible traveller can avoid local food leaving a bitter taste…
"When it comes to opportunities for new sensations, experience and adventure, travel has few rivals. While overseas, the symptoms of FOMObia – that is the 'Fear Of Missing Out' – typically become more acute and pronounced as time and again we're encouraged to be open to new ideas and try new things; to transcend the norm; enliven the senses; test the boundaries; awaken the taste buds. But when it comes to gastronomic novelty, would we be pushing these so readily if we knew the realities they entailed? What would we really missing out on?
SPLAT. Did you hear that? That was the sound of a few thousand packed lunches being thrown out the window. Yep. The Intrepid Food Truck is in town!
Lunch-ladies, waiters and stale-sandwich makers of the world, have the day off, because we're taking over Sydney and Melbourne's hungry-hot-spots and serving up a complimentary mouth-watering street food feast – and everyone's invited.
Daniel Klein, of the adventurous and sustainable eating team The Perennial Plate, has just enjoyed another taste of India and he explains why the best food experiences are right under your nose…
"When you arrive in India, whether it's Mumbai or Delhi, you'll think to yourself, "I better eat at the hotel, or the fancy TripAdvisor recommendation. Well that is WRONG. Embrace the streets! Indian street food is your most delicious, and in my opinion, safest path towards a wonderful culinary experience in the land of spices. Just think about it: at a street food stall you can see how everything is made, the cleanliness is clear and the popularity of the stand is obvious. Meanwhile, a fancy hotel has a hidden staff of young cooks that don't care if you come back, and the kitchen and cooking conditions are hidden to the public. To me, the choice of popular public display of delicouness trumps the restaurant kitchen behind door number 4.